Dollar beer night at Cashman Field taps a younger crowd
August 14, 2013 - 3:06 pm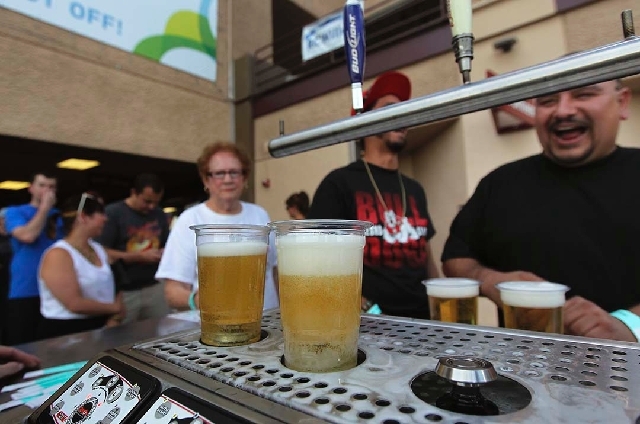 When your ballpark is badmouthed for lacking modern fan amenities and situated in a tough neighborhood, sometimes you fall back on fan-drawing promotions with a tried-and-true track record.
Welcome to Budweiser Dollar Beer Night at Cashman Field, home of the Las Vegas 51s baseball team.
Cheap beer may not be the most sophisticated or creative baseball promotion. And the 51s spend $2,000 for extra police and another $800 for added security on beer night to handle any beer-induced behavior problems.
But Don Logan, the 51s veteran front office leader, said it's worth the investment to attract the 21-35 demographic that otherwise wouldn't visit the 30-year-old stadium on downtown's northern edge.
"It's a younger crowd," said Logan, 51s president and chief operation officer. "You have to appeal to different parts of the your fan base."
You might expect the 51s to enjoy a spike in attendance when 12 ounces of Budweiser or Bud Light get peddled for a buck. But it's not always the case.
Of this season's eight dollar beer nights, half drew more fans than the attendance average of 4,797:
— 5,178 on April 25;
— 5,212 on May 9;
–5,559 on May 30;
— 5,218 on June 13.
And four drew less than average:
3,901 on April 18;
4,458 on July 11;
4,660 on July 25
3,750 on Aug. 8.
Regardless of attendance on beer night, some of the fun happens even before fans quaff the suds. Beer fans enjoy watching a draft beer machine called, "Bottoms Up," pump the suds into a plastic cup through a hole in the cup bottom. A magnet floats up when the beer is rushing into the cup from the bottom, then drops to cover the hole. It takes a mere three seconds to fill the 12-ounce cup.
Fan Bettie Nacht of Las Vegas watched the machine fill a beer cup from the bottom during last Thursday night's 51s game and uttered, "What the hell?"
Cashman Field deploys five portable beer stands, where vendors work in two-person teams to fill 600 to 1,200 cups a night at each station during the beer promotion. Thirsty fans deplete 60 to 70 kegs on beer nights, said Don Watkins, Budweiser's beer night technician who handles special events.
Vendors Nicole Boley and Julie Ludlow work as a team to check IDs, apply wristbands and purvey the beer. They each make about $150-$200 per night on beer night.
"People are so impressed by it," Boley said of the Bottoms Up beer machine.
And her beer pal Ludlow noted the Bottoms Up machine fills the cup with less wasted beer and a smaller foamy head.
Beer nights are common in Minor League Baseball and can be traced back to a "Thirsty Thursday" promotion held 30 years ago by the Asheville Tourists in the mountains of western North Carolina.
The Tourists registered Thirsty Thursday as a trademark in 1995 and allow other minor league clubs to use the phrase at no cost as long as they sign a user agreement and "use it tastefully," said Brian DeWine, the team owner and president.
DeWine said as many fans attend Thursday night games as they do on Friday or Saturday thanks to Thirsty Thursday. Domestic beers sell for a buck, while craft beers go for $2.
"Part of it is that people love a bargain. Everyone loves a good deal," DeWine said. "We get calls on Thursdays all the time, 'Are you home tonight? Are you guys home tonight?' "
University of Nevada, Las Vegas professor Nancy Lough, who studies sports marketing deals, said beer night allows teams to cater to specific demographic groups: namely young beer-drinking fans who love a bargain.
"Beer and baseball are nearly as synonymous for adults as baseball and hotdogs are for kids," Lough said. "People love a bargain like cheap beer, but they also relish the opportunity to enjoy the baseball experience with other fans."
She did cite the promotion's "risk management" side, too.
"Of course the caveat to this promotion, is making sure there are limits to how much beer is accessible. Meaning from a risk management standpoint, and image protection standpoint, the 51s need to be sure no fans are leaving the park under the influence, or behaving badly during the game or after the game."
Jason Franke, assistant general manager of the Triple A Nashville Sounds, said his stadium's "Throwback Thursday" when beers cost $2 a pop lures a younger crowd like the one at Cashman Field.
"For us it's huge. It brings in college kids and the 26-to-35 year old crowd, which is a big plus for us," Franke said. "If we took away the beer, we'd take a way a couple of thousand people."
But not all minor league teams buy into beer nights.
Bear witness to the Albuquerque Isotopes, which hold two or three 50-cent hot dog promotional games a season. But no dollar beer night, said John Traub, the Isotopes general manager.
"I have never done. It doesn't fit in with the philosophy of what we've tried to do," Traub said. "We're conscious of the sensitivity of serving alcohol, or too much alcohol."
But he did understand some ballclubs that want to use cheap beer to lure a different audience such as a young adult demographic.
"There's a lot more competition for the entertainment dollar in Las Vegas," Traub said.
Only two dollar beer nights remain on the 51 schedule — Thursday and Aug. 22.
You might even see baseball fans Steve Juhasz and Art Aylesworthy, two-fisted beer drinkers who enjoyed last Thursday's game, return for the beer deal.
"It's cheap and quick," Juhasz said.
"And the girls are friendly," Aylesworthy quipped.
Contact reporter Alan Snel at asnel@reviewjournal.com or 702-387-5273.