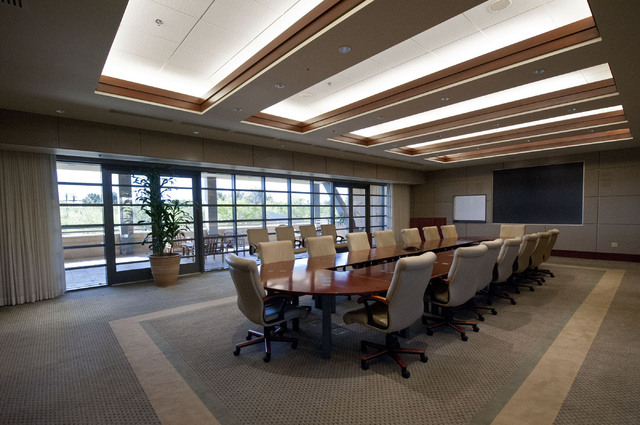 There's Class A, and then there's Class AAA.
For an example of the latter, look at 1701 Village Center Circle in Summerlin, where perhaps one of the highest-end office buildings in the Southwest has come on the market.
The Donald W. Reynolds Foundation, which owns the building, has given away nearly all of its money and is set to wind down in the next three years. Because it will no longer need its two-story, 22,291-square-foot headquarters, the foundation has listed the building for $11.5 million through Sam Gladstein, president of the Gladstein Group of Realty Executives.
Gladstein, who got the listing because of contacts he made with the Reynolds Foundation while overseeing development of downtown's Symphony Park as vice president of Newland Development, called the Prairie-style building a "trophy" property.
Why is it special? For starters, there aren't many standalone, single-user buildings in Las Vegas, especially with underground parking and high-end decorations such as luxury stone and woodwork.
"The building's finishes are just top-notch. The quality of construction is as good as anything you'll find anywhere in the country. It's timeless," Gladstein said.
The slate roof "lends a beauty that's a little different from the usual West Coast, European-tile look," he added. "It's more in line with the architecture of the building."
There are also two kitchens, an executive dining room and a workout room with showers and lockers. C-level executive offices each have en-suite bathrooms, and a private courtyard has a fountain. Finishes include stone floors, custom woodwork, trellis-covered walkways with wisteria and exterior cladding of sandstone, granite, steel and glass. It has a prime suburban location across the street from the TPC Summerlin golf course and the upscale Eagle Hills and Tournament Hills neighborhoods. An adjacent acre could accommodate another office building of up to 20,000 square feet.
The property, designed by Marc Lemoine Architecture of Las Vegas, won a 1999 Pacific Coast Builders Conference Merit Award.
The building's singular nature means Gladstein is looking for a singular buyer. He's had interest from investors, but "in reality, this is not a straight investor play. We're looking for what we feel would be the top of the market for this product."
That will likely be another single user — perhaps a corporate headquarters, another foundation or a law firm.
"The architecture is so handsome that it screams out for an individual company to really find its indentity and call it a home," Gladstein said. "It has a certain stature to it, and a certain type of company that needs to be in it."
The listing also needs an unusually aggressive marketing plan.
Gladstein has placed the building on national listing services including Property Line, LoopNet and CoStar, and he's direct-marketing as well. He's been working with the Las Vegas Global Economic Alliance to reach out to executives considering corporate moves, as well as to attorneys and financial firms. He's putting together a package to show to California companies considering a move to Southern Nevada.
"I'm getting a little army of people to help me identify the right users," he said.
At least one prospective buyer from Mississippi was set to hop on a plane to come check out the property last week, Gladstein said.
The Reynolds Foundation's charter sunsets in late 2017, but if the right buyer made an offer tomorrow and wanted to move in within 60 days, the foundation is willing to move, Gladstein said.
Reynolds Foundation executives "never expressed to me that they want a particular type of user. They just want someone who wants the building," he said.
■ CBRE Las Vegas has rebooted its Global Gaming Group.
Managing Director Michael Newman announced the return to the brokerage of John Knott, executive vice president and global head of gaming; Michael Parks, first vice president; and Brent Pirosch, director of gaming consulting. Also, Matt Bear joined CBRE as a vice president and member of the Global Gaming Group focusing on retail needs of gaming and resort clients.
The group's services include acquisition and disposition of gaming properties, project consulting, feasibility studies, market assessments, debt and equity financing, and retail development within resort environments.
■ Teams with the Nevada branch of W.J. Bradley Mortgage Capital won plaudits from the National Association of Hispanic Real Estate Professionals.
The association named the firm the top privately owned mortgage lender in the Silver State based on the number of its closed transactions in 2013. The honor recognized total closed volume of the private company's Henderson and Las Vegas branches. Sales and branch managers in Henderson are David Ross, Stefanie Ross, Rey Gallegos and Matthew Graham. Leaders of the Las Vegas office are Patrick Moore, Bill Wilson and Timothy Bonham.
Gov. Brian Sandoval presented the award to Ross and Gallegos during an association ceremony in March.
■ NAI Vegas brokers arranged two building sales in late April.
Patrick Sauter, Arthur Carll and Devin Lee of the brokerage's Sauter Multifamily Group represented Hoffman Family Living Trust in its sale of Merlayne Villas, a 32-unit apartment complex at 409 and 417 E. Merlayne Drive. The buyer was Vegas Venture Holdings LLC. The deal closed for $1.4 million, or $43,750 per unit.
Paul and Wil Chaffee helped Finance Holding Co. LLC in its sale of a 3,758-square-foot office building at 522 E. Twain Ave. to B.M. Home for $325,000.
"We are continuing to see positive momentum in both commercial and multifamily properties," Sauter said. "These two recent closings are demonstrations of a trend that I believe is likely to continue."
■ Brokers with Colliers International handled two big lease deals.
Ryan Martin, SIOR, CCIM, and Patti Dillon represented National University in its lease renewal of 16,180 square feet at 2850 Horizon Ridge Parkway, inside the Sienna Office Park. The deal was valued at more than $1.3 million.
Martin, Dillon and Dan Arends represented tenant Securitas Security Services USA in its lease of 8,658 square feet at 901 N. Green Valley Parkway, inside the Green Valley Corporate Center. James Wilmot of JW Commercial Real Estate Services represented landlord Brentwood Green Valley LLC.
Contact reporter Jennifer Robison at jrobison@reviewjournal.com or 702-380-4512. Follow @J_Robison1 on Twitter.