Downtown Las Vegas quiet as businesses, hotels prepare to close
Updated March 18, 2020 - 2:43 pm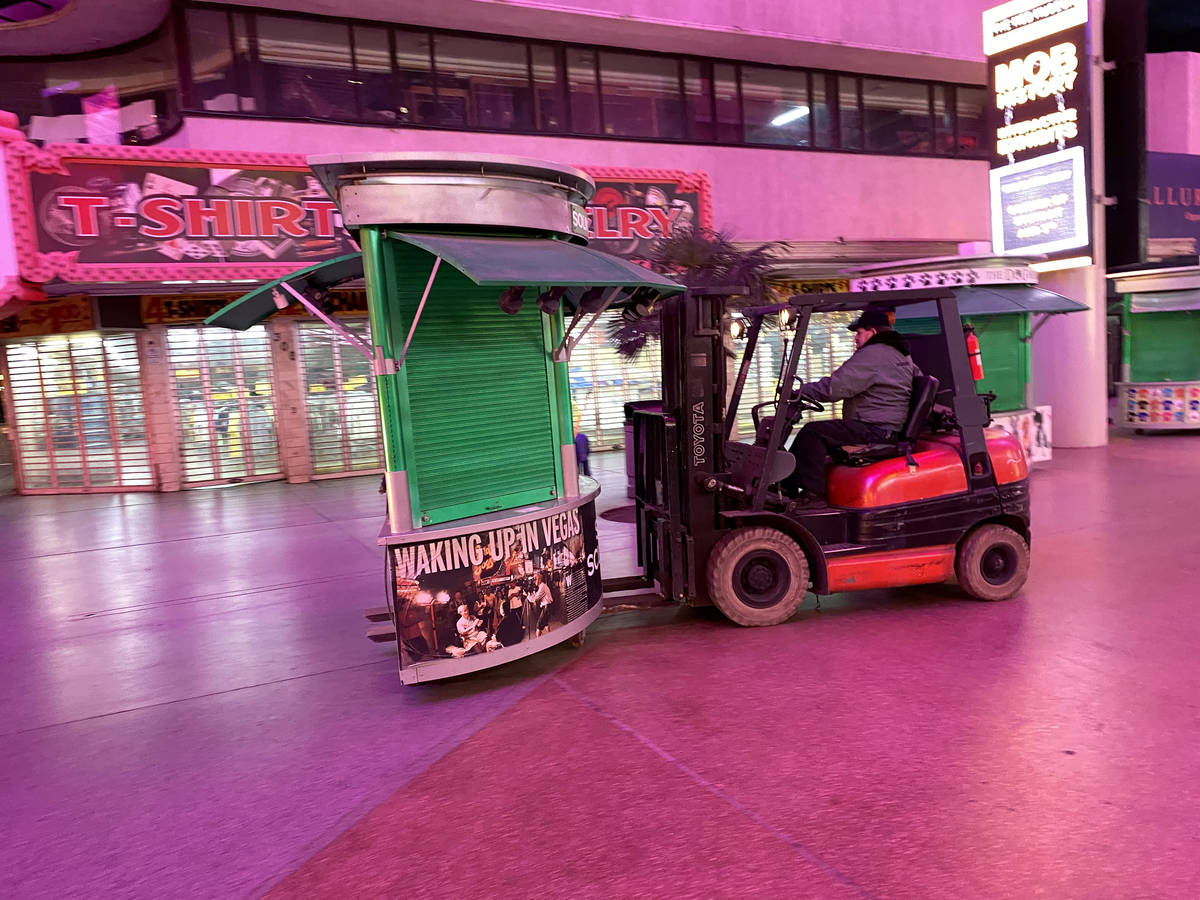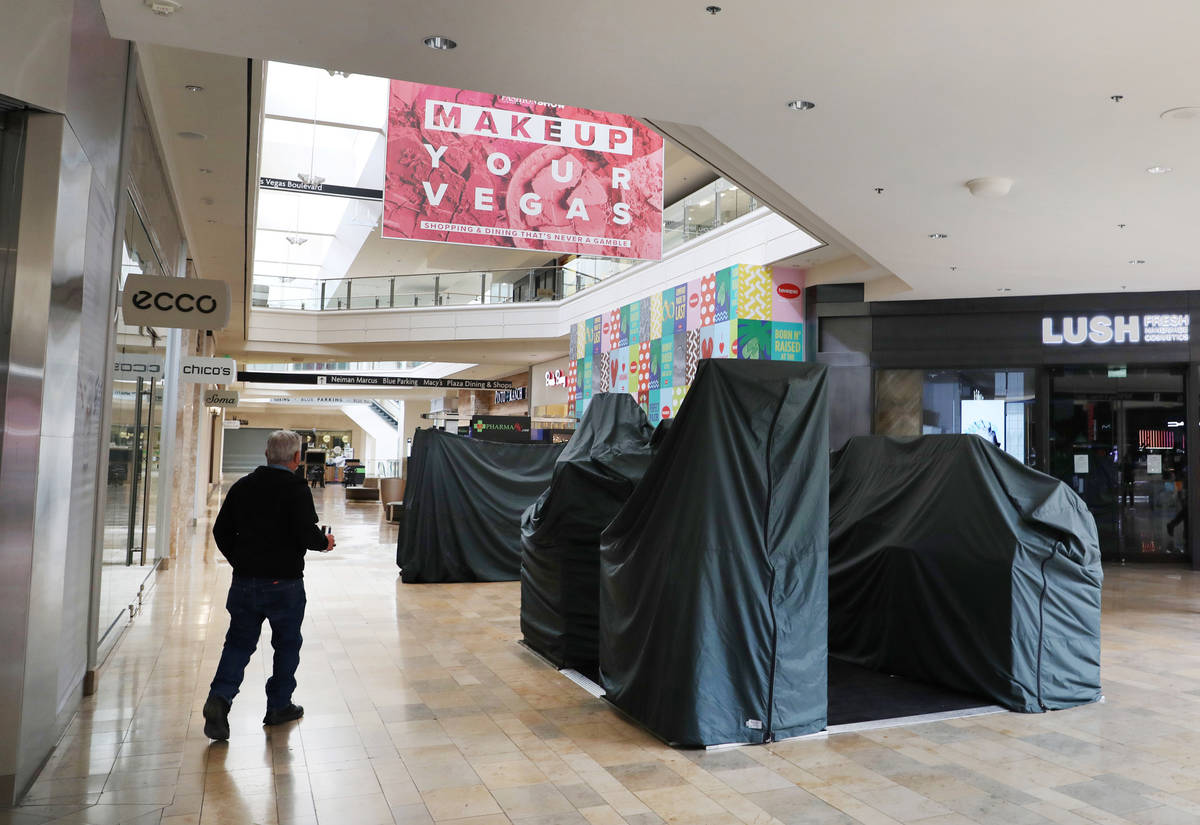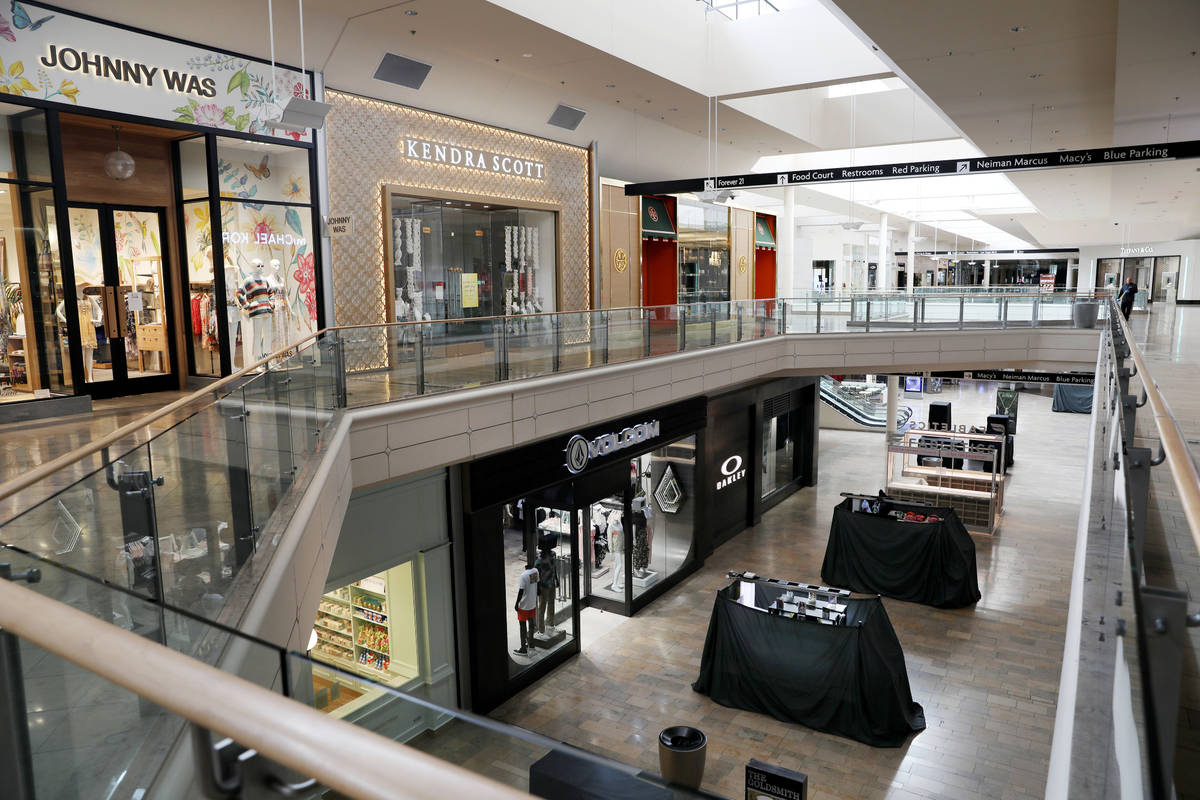 Throughout Las Vegas, businesses deemed nonessential were preparing Wednesday to shut their doors by noon to comply with a request from Gov. Steve Sisolak.
In downtown, entrances to the D Las Vegas were already closed before 10 a.m. and an escalator wasn't running.
The Fremont Hotel also was closed, according to a security guard who came up to a Review-Journal reporter who entered just after 10:15 a.m. through unlocked doors.
A handful of people were exiting the Downtown Grand with suitcases around 10:30 a.m. Exterior doors to the hotel were locked.
Jakub Klimczak, who's visiting from Poland, was walking at the Fremont Street Experience on Wednesday morning with a cup of coffee in hand. He arrived in Las Vegas on Tuesday and stayed at the Downtown Grand.
"I managed to go to the casino, but it closed at midnight," he said.
Klimczak said he was told there's a possibility he could extend his stay at the Downtown Grand for another night but wasn't sure if that would happen.
He arrived in the U.S. on March 10 via Los Angeles International Airport. He stayed in L.A. for a while and has been traveling since then, including to San Francisco and Sequoia National Park.
Klimczak said he has a rental car and wants to go to Zion National Park in Utah.
His flight back to Poland is scheduled to depart Tuesday from LAX, but he's not sure what will happen with that flight.
In the meantime, Klimczak said traveling in the U.S. — despite COVID-19 — is better than being stuck at home in Poland.
"The whole country is kind of closed," he said of his homeland.
Fabulous Las Vegas Jewelry & Gifts was still open Wednesday morning but was planning to close at noon for the next 30 days as directed by Sisolak.
"We have to follow the (request) for our sake," store supervisor Maria Morales said.
A few customers were buying items such as Las Vegas T-shirts and shot glasses.
Morales said she was surprised by how many customers came in Tuesday because she was expecting it to be dead.
She said of the closure: "It's very sad, but we have to."
Morales, who has worked there for about four years, said about 20 employees work at the store and she doesn't know yet if they'll get paid during the closure.
A few people were walking around Wednesday morning at the Fremont Street Experience, but it was extremely quiet. Guard railings were partially blocking the entrance to the canopy — as well as many businesses underneath it — but people were still allowed to walk in, and maintenance vehicles were coming and going.
Maintenance employees were wiping down crosswalk poles with cloths and disinfecting spray. And security officers on bicycles were at the entrance to the canopy.
Virtual ghost town
Downtown Summerlin was a virtual ghost town Wednesday morning, a few hours before retailers were requested to close under the governor's direction.
It seemed most of the stores at the 106-acre outdoor mall at Sahara Avenue and the 215 Beltway were already closed, and hardly any shoppers were walking around.
A family of five was strolling about, and one man showed up at New Balance shortly before 11 a.m. looking to buy a pair of shoes, only to see the store wasn't open.
The only place with a noticeably large tally of shoppers was Trader Joe's.
With a security guard posted outside the grocery store's main entrance, dozens of customers waited to get in Wednesday morning, forming a line that snaked around the building.
Lines also were long at marijuana dispensaries amid uncertainty about whether they'll remain open during the shutdown. Most dispensaries have medical designations, and Planet 13, a marijuana dispensary near the Strip, said that "as an essential business" it would continue to operate.
"It would be unfair of us to remove or restrict access for our Nevada residents and medical patients, especially during such a trying time," a notice posted on the store's Facebook page said. The store encouraged customers to order online to help ensure proper social distancing. Other stores like Essence, MMJ America and the Nevada Wellness Center are also encouraging social distancing in the lines outside.
Nevada Wellness Center owner Frank Hawkins said people began forming long lines outside his store around 7 p.m. Tuesday and that customers voiced concerns about the shutdown impacting their ability to get their medicine.
He remains optimistic that dispensaries will remain open.
"There's no question in our mind and our customers' minds," Hawkins said. "We're adding more stress to people's lives and we don't need to do that. We need to make it simpler and help the people get through this chaos. There's no question in my mind we're going to be open."
The Nevada Dispensary Association said in a statement that it is "working with regulators to implement any and all directives" from Sisolak. It noted that "Many jurisdictions in the United States are allowing dispensaries to remain open given their role in providing medicine."
Not all businesses were closing on Wednesday. GameStops across the Las Vegas Valley remained open after many other stores shut down at noon, much to the surprise of employees and customers.
The stores do have signs out front saying only 10 people can be inside at a time, including employees. That didn't appear to be an issue Wednesday morning because few customers were going in and out. One store said there was a wave of customers Tuesday night because people were expecting closures.
That didn't end up being the case, so anyone hoping to pick up a copy of the latest edition of Animal Crossing on Friday still has a chance.
Small-business impact
Hours before the recommended shutdown went into effect, Karyn Chaleunrath, owner of Social Nail Bar in Henderson, was at work helping her last few customers.
Many wanted their nails cleaned off because they did not know when the business would reopen, she said. Chaleunrath had a feeling the shutdown of nonessential businesses would take place before the governor's announcement last night.
"I feel bad for the staff. It's their only job. All employees in the service industry will be affected by it," she said.
Nevertheless, she is optimistic about the future.
"I'm being positive and hoping everyone's health is not compromised," she said. "We need positive energy."
By 11 a.m., many businesses in the District in Henderson had shut down with signs on their doors. Shake Shack was offering to serve customers, but only if they ordered through their app, according to an employee. A GrubHub delivery worker outside said the turn of events increased the number of orders he had.
Before turning away to his car, he said he hoped the shutdown would end soon.
Settebello Pizzeria Napoletana had a sign saying it would operate only curbside pickup.
Over at Regenerate, an IV therapy and anti-aging medical office, business will continue, according to owner Dr. Minesh Amin.
To help people, he is offering free medical consultations over the phone to lighten the load at local hospitals.
Amin said with all the adjoining businesses closed, he was concerned if there would still be security.
"We hope people will remain calm," he said.
The state mandate does not bode well for small businesses, said James Reza, owner of Globe Salon in downtown and in west Las Vegas.
Reza and his wife employ about 20 people and had taken steps to limit the number of customers in each property during business hours and made each station approximately 11-12 feet apart to comply with Centers for Disease Control and Prevention guidelines.
The news makes P Moss, the owner of Double Down and Frankie's Tiki Room, uncertain about the future of business.
"We have to keep paying taxes, we have to keep paying rent, we have to keep paying the power bill with nothing coming in," Moss said.
Reza said he hopes the government will give financial aid to small businesses in the state.
"The fabric of communities is locally owned businesses," Reza said. "They will vanish without direct and immediate aid."
Contact Julie Wootton-Greener at jgreener@reviewjournal.com or 702-387-2921. Follow @julieswootton on Twitter. Contact reporter Sam Gordon at sgordon@reviewjournal.com. Follow @BySamGordon on Twitter. Contact Alex Chhith at achhith@reviewjournal.com or 702-383-0290. Follow @alexchhith on Twitter. Review-Journal staff writers Eli Segall and Ben Gotz contributed to this report.