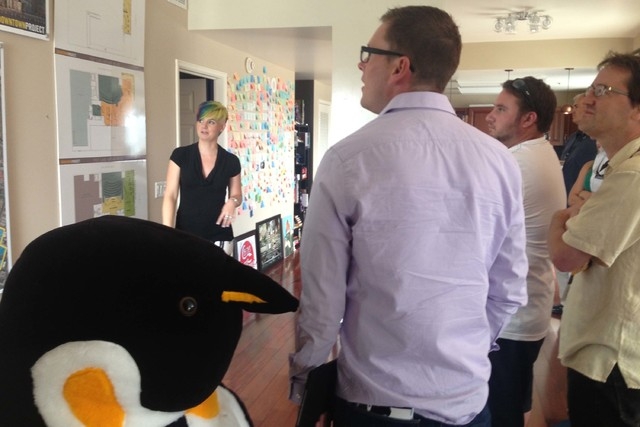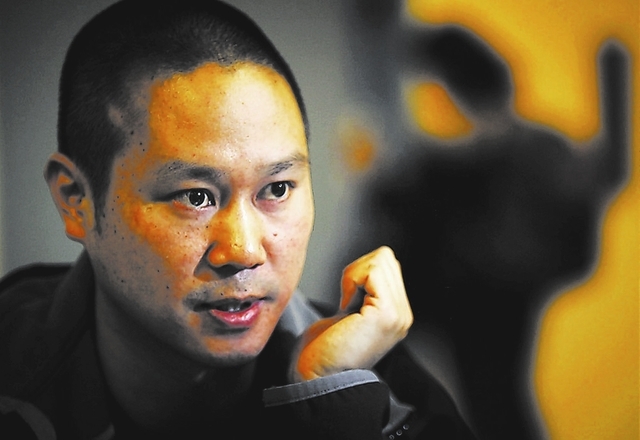 Mainstream corporate talk of streamlining operations struck Downtown Project in Las Vegas on Tuesday when Zappos CEO Tony Hsieh's $350 million initiative to redevelop downtown into an urban, feel-good utopia of tech development, small businesses, music, learning and food laid off 30 workers.
Downtown Project has restructured its support team, meaning that 30 positions were cut, mostly in the corporate office, according to a statement released by Downtown Project spokeswoman Kim Schaefer.
The layoffs amount to at least 10 percent of the Downtown Project's 300 employees. More than 800 work in portfolio companies in downtown Las Vegas, and the company plans to add up to 30 positions when it opens a market on Fremont Street later this week.
It was reported that Hsieh stepped down as leader of Downtown Project, but he said he role has not changed.
"I am the CEO of Zappos.com but I've never referred to myself as the CEO of Downtown Project, and I've never considered myself as being in 'day-to-day management' of Downtown Project," Hsieh wrote in a document shared with the Review-Journal. "My level of involvement at Downtown Project is the same as it was six months ago."
David Gould, a former University of Iowa administrator who became the Downtown Project's Director of Imagination, resigned Monday and posted this on his Facebook page Tuesday: "Last night, a string of one-sentence emails went out to various Downtown Project employees that resulted in surprise layoffs today. It is certainly a sad time in Las Vegas."
In an open letter to Hsieh, Gould wrote that "'Business is business' will be the defense from those you have charged with delivering the sad news. But we have not experienced a string of tough breaks or bad luck. Rather, this is a collage of decadence, greed, and missing leadership …
"My heart also goes out to those whose jobs are spared. While that might seem a bit ridiculous, they will surely expend energy trying to understand the secret of why they were kept and others let go. In the end, the only thing they will know for sure is that their leaders lied to them in order to hurt their friends."
'FINITE AMOUNT' OF MONEY
Reached by phone Tuesday night, Gould said he was initially drawn to Downtown Project for its ideals, but the mission was derailed by well-meaning but poor management and those only interested in money.
"There were individuals I believe kind of squandered that," he said. "It's like they left the water faucet on all night. They didn't understand that even though we had $350 million, it was still a finite amount."
Gould said understands the need to make money and still cares for the project and people involved.
"The vision that Tony created was a correct one; it was an inspiring one," Gould said. "This ideal that I'm talking about would bring 400 to 600 people each month. They were inspired because this wasn't just a development. This was something larger than themselves."
The layoffs come at a time when Downtown Project has opened several major new urban rehab projects, including The Bunkhouse, a bar and music venue; and John E. Carson Hotel, a small commercial center only a block from the organization's signature project — Container Park.
Downtown Project also plans to open The Market, a grocery close to Container Park, in October and submitted plans with the city to rehab Fergusons Motel as a commercial and retail center that would include a small grassy amphitheater, a major outdoor art piece, a veranda and three taverns.
Downtown Project's $350 million funded $200 million in land deals, and $50 million each for tech development, small businesses and arts/education.
FREE-FORM APPROACH
But its alternative business style generated as much attention as its investments, particularly its free-form approach.
There's no master plan for the Downtown Project's land purchases and redevelopment.
Downtown Project updated its employees and visitors on developments with monthly sessions called the "Downtown Lowdown," which included a free happy hour of beer, drinks and food.
In announcing the layoffs, Downtown Project released this statement: "Since January 2012, Downtown Project has been working to help revitalize downtown Las Vegas through several hundred investments and initiatives. At this time, we are focused on streamlining our operations as we continue to execute on our plans.
"Doing so requires that we restructure our operations and focus on follow-on investments. We continue to evaluate all of our initiatives in terms of those that achieve the right balance of both ROI (return on investment) and ROC (return on collisions)," the statement said.
"We remain focused on the long-term plan and the evolution of the downtown area. As such, we have restructured our support team. This change has affected approximately 30 positions, the majority of which were based in our corporate office. We continue to directly employ more than 300 people across our various operations in downtown Las Vegas.
"We are optimistic and confident about the future of downtown Las Vegas and the continued growth of our entire portfolio of investments."
Best of Las Vegas writer Kristy Totten contributed to this report. Contact reporter Alan Snel at asnel@reviewjournal.com and 702-387-5273. Follow @BicycleManSnel on Twitter.
Delivering a new downtown
Read the Review-Journal's report on how two generations of Las Vegas leaders are reshaping the heart of the city.