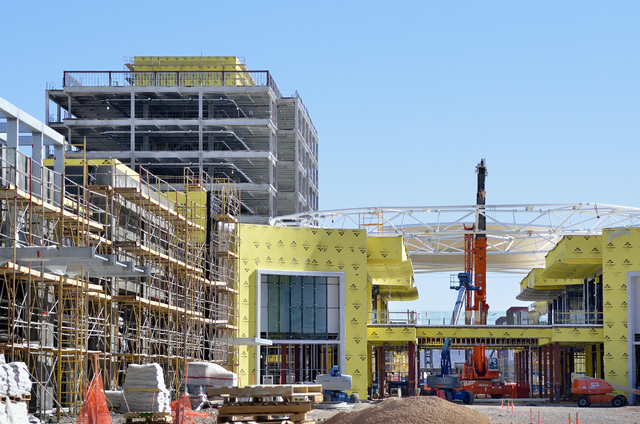 Station Casinos President Steve Cavallaro said Red Rock Resort was designed with an "old school mentality."
The customer should be able to get somewhere on the property only from inside the casino.
Times have changed.
With a 1.6 million-square-foot regional shopping center scheduled to open within walking distance across Summerlin Centre Drive in October, Red Rock Resort will undergo its largest, costliest renovation since Station Casinos opened the property in April 2006 at an eye-popping cost of $925 million. A lavish party featuring a private concert by Grammy-winning performer Sting marked the opening.
Station Casinos designers will create a "restaurant row" along the property's entrance that fronts Charleston Boulevard. The space will include outdoor entrances and patio seating for four new restaurant concepts. The restaurants will be linked by an outdoor pedestrian walkway that includes landscaping and water features.
On the other side of the building, across from the under-construction Shops at Summerlin, a new parking and drop-off area will be created. Also Station Casinos will enhance an entrance to Red Rock Resort between the food court and movie theaters. The entrance will serve as the connection to the shopping center, with an landscaped walkway and other design elements.
Cavallaro said Red Rock Resort will benefit from the increased customer traffic associated with the mall. The relationship between Green Valley Ranch Resort and The District serves as a case study.
"We saw a material benefit to business at Green Valley Ranch (Resort) when The District opened and we expect the same positive effect at Red Rock," Cavallaro said.
Red Rock Resort has been an island in the middle of Summerlin Centre since 2008, when construction on the mall halted. The recession and a bankruptcy filing by developer General Growth Properties kept the project at bay until 2013. Developer Howard Hughes Corp. was spun off from General Growth and restarted the development.
Station Casinos budgeted $35 million for its six-month construction project, which includes renovating T-bones Chophouse, upgrading 26 of the property's suites and remodeling Red Rock's 25,000-square foot spa.
Red Rock's hotel lobby area and the Lucky Bar were remodeled recently and the former Cherry Nightclub was converted into event space.
"We were at an inflection point where it was time to freshen the offering," Cavallaro said.
Station Casinos doesn't break out quarterly results by individual property. But the company considers the 800-room Red Rock Resort its flagship.
"Red Rock continues to be a very strong performer in our portfolio," Station Casinos Chief Financial Officer Marc Falcone said. "I think it's fair to say it's the most significant contributor to the company overall. This is a way to provide more amenities and diversify the offerings to our guests in Summerlin."
The project's completion is expected by the end of October. By then, Falcone said, every aspect of Red Rock except the standard guest rooms will have been enhanced.
"We're going to address the guest rooms over the next few years," Falcone said.
ACCESS FROM PARKING LOT
When Yard House opened at Red Rock in 2010, replacing Texas-style barbecue Salt Lick, the restaurant changed the perspective of Station Casinos operators. Yard House created a primary entrance off the parking lot with a secondary entrance from the casino. The restaurant also opened an outdoor patio.
Yard House was a success from Day One.
"The convenience of having direct access from the parking lot helped them," Cavallaro said. "We started taking a hard look at that."
The concept was solidified when Lucille's Smokehouse opened last year with a similar costumer convenience concept.
"The main thing is that we listened to our guests," Cavallaro said, "and we've seen these outdoor patio seatings worked out quite well."
Red Rock closed two restaurants recently for the renovation, Japanese-themed Hachi and hamburger place LBS. Mexican-themed Cabo was closed a year ago in favor of Lucille's.
Station Casinos is bringing in four new dining concepts, including two restaurants from outside operators.
The Sandoval brothers of Chicago will bring a branch of their Zagat Award-winning Mercadito to Red Rock. The restaurant serves traditional Mexican cuisine with modern twists. The beverage menu includes variations of classic cocktails and an extensive tequila list.
"It's a high-energy place," said Cavallaro, who visited the Chicago location with other Station Casinos officials. "It will bring in a good crowd and fun atmosphere."
The Light Group, a Las Vegas-based hospitality company best known for its nightclubs and restaurants at Strip properties owned by MGM Resorts International, will operate a yet-to-be-named restaurant along the row, which will feature a small-plates menu, craft beers and an extensive wine list.
Station Casinos will open a noodle bar between the Grand Cafe and the high-limit gaming area and will replace Terra Rossa with a new Italian-themed concept.
"We have always believed there is a pent-up demand in Summerlin for high-quality restaurant operations," Falcone said.
MALL A DRIVER OF CHANGE
The Shops at Summerlin's planned October opening prompted Red Rock Resort's renovations.
The Shops, an open-air, pedestrian-friendly district, will inlcude Macy's, Dillard's, Nordstrom Rack, Michael Kors, Sur La Table and Trader Joe's among the 125 stores, restaurants and entertainment venues.
Cavallaro said Red Rock Resort will market to the center's visitors, and to expected 2,000 employees that will work in the location, which is one reason the entrance at casino will be enhanced.
"We want to create a natural link between the center and Red Rock," Cavallaro said. "This will make the property more accessible from the back side."
Kevin Orrock, vice president of master-planned communities for The Howard Hughes Corp. said the center expects to attract 25,000 to 35,000 customers daily. It will also benefit from the influx of patrons from Red Rock Resort.
"There is a great connectivity and a symbiotic relationship between the two properties," Orrock said. "We understand the advantage of having a great neighbor across the street."
Cavallaro and Falcone said Red Rock isn't the only Station Casinos property that will see upgrades in the coming year. The company plans changes to Green Valley Ranch Resort, is adding a steakhouse to Palace Station and is adding new flooring to Boulder Station.
"The idea is to keep the properties fresh," Cavallaro said.
Contact reporter Howard Stutz at hstutz@reviewjournal.com or 702-477-3871. Follow @howardstutz on Twitter.