Drones increasingly being used for public safety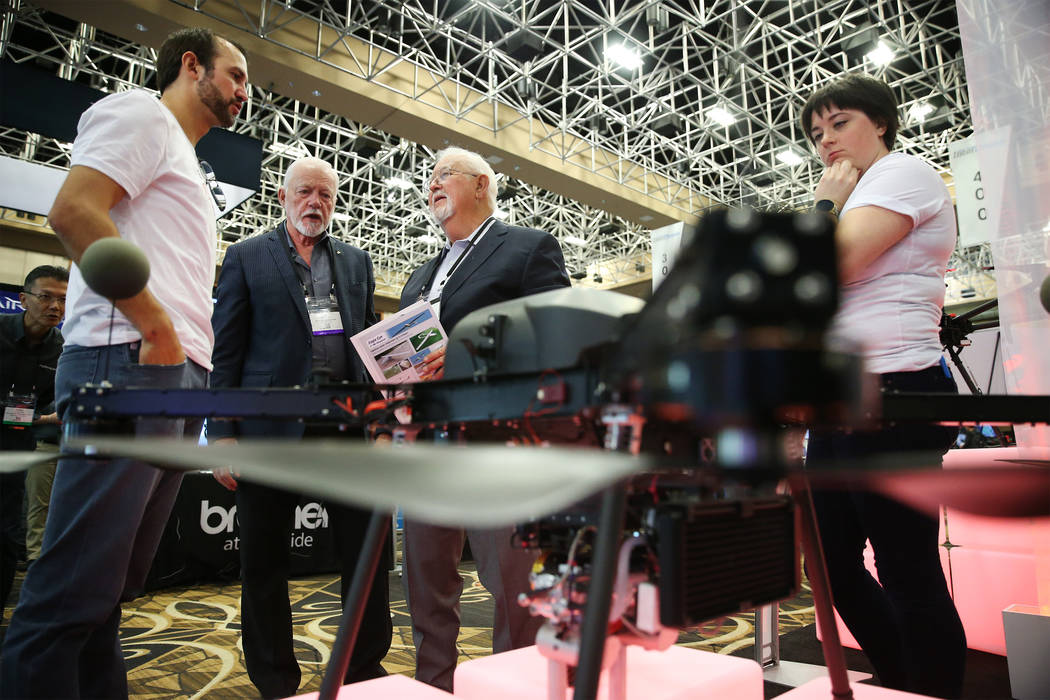 As the national drone industry continues to take off, unmanned aerial vehicle experts say it's likely drones will be used by almost every law enforcement agency across the country within the next few years.
Sgt. Daniel Marek of the Nevada Highway Patrol Southern Command led a session at the 2018 InterDrone conference Wednesday morning, discussing how to integrate the technology into first response situations. He presented a number of situations that have used drones, from a UAV that helped extinguish a building fire in China to another that surveyed the scene of a fatal car crash in Las Vegas.
The images provided by the drone showed a head-on collision on state Route 160 between two vehicles, displaying a bird's-eye view of the debris, tire marks and fluid runoff.
"That's an image you can't get from the ground," Marek said. "You can almost use that as a diagram."
More and more police departments and law enforcement agencies, including the Metropolitan Police Department, have adopted drone programs in the past couple of years, said Menashe Haskin, co-founder and chief technology officer of Edgybees. The California-based company uses augmented reality technology to help drone pilots gather more details in first-response situations.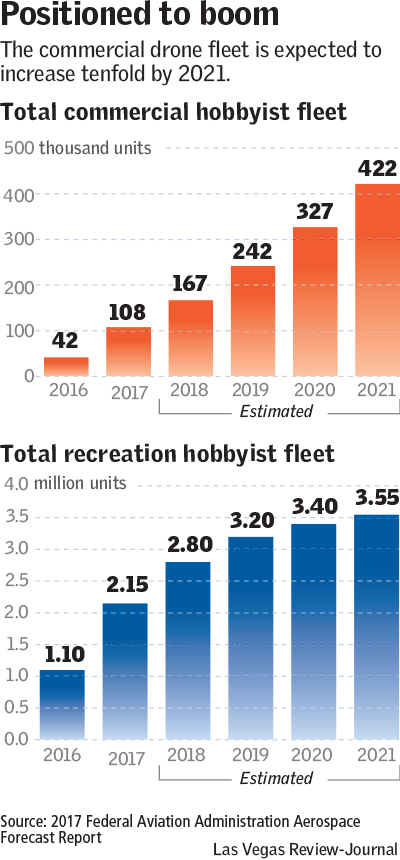 Haskin expects drones will be used in every police department in the country within the next two to three years.
More and more police "departments contact us for these services," Haskin said. "It costs more not to have it. Within $10,000, you could have a significant drone program. It's a small budget. It's something every police department, once they get used to the idea, they will have it."
Marek agreed, especially as the cost of drone equipment and regulations regarding first-responder use continue to decline.
"You can probably see a small UAV in every single patrol car in five to 10 years," he said.
Monetary challenges
Maria Cugini, vice president of lighting company Foxfury, said the company has sold lighting for drones to Metro and the Nevada Highway Patrol. She said Nevada is a leader in drone usage with public safety agencies.
"Nevada is one of the (states) that is most ahead," she said, crediting Nevada agencies' Federal Aviation Administration requirements and night-flying permits. "They have invested so much time."
The Nevada Highway Patrol's drone program has five drones, but Marek said it doesn't have the money to purchase software to process the information they collect.
He said the two states ahead of Nevada in drone usage in law enforcement agencies are Michigan and North Carolina. Both have a dedicated budget for their drone programs.
Marek said he hopes to secure a budget of at least $35,000 for the Nevada Highway Patrol's drone program during the next legislative session in 2019. If that happens, he said the highway patrol will be able to purchase UAVs and software that can be used throughout the state to clear highways much faster after accidents.
"With a UAV, we can fly the scene, document everything and then do the processing back in the office and be able to open up the freeway in an hour. It's a time-saving device," he said. "If we get the money and we can implement the program as full as I want to implement it, it's going to benefit the state economically by how quickly we can open roads."
Contact Bailey Schulz at bschulz@reviewjournal.com or 702-383-0233. Follow @bailey_schulz.