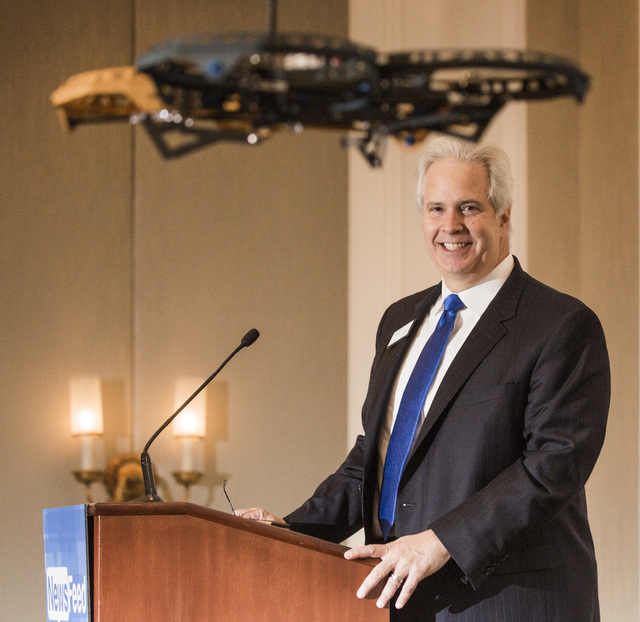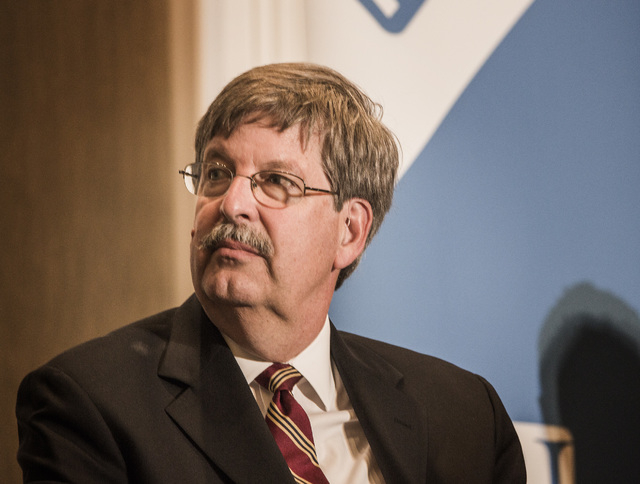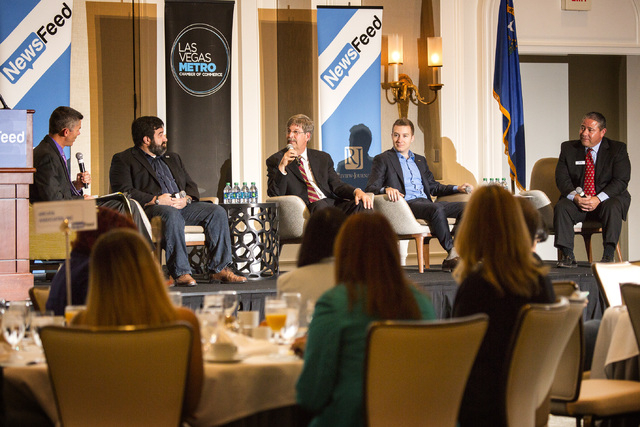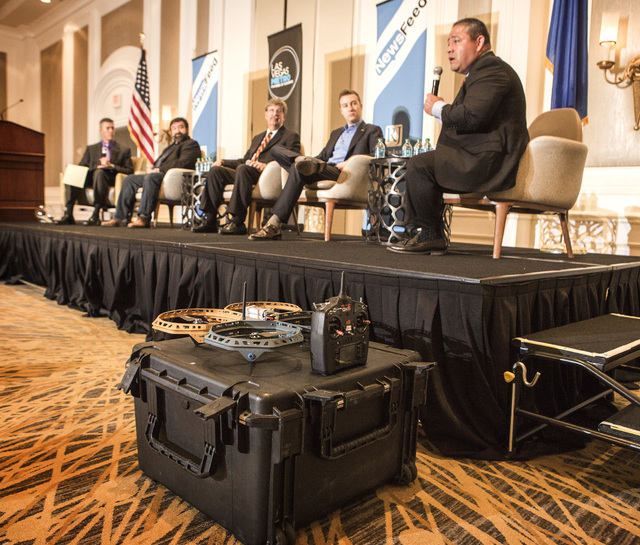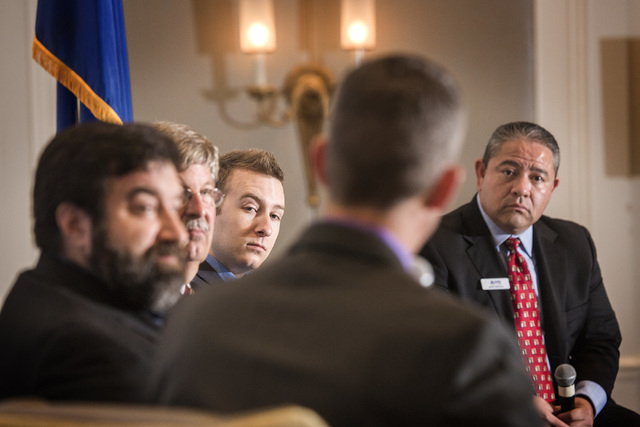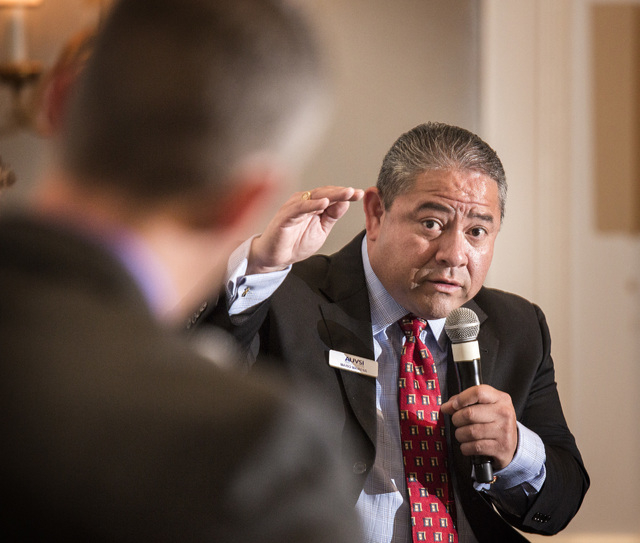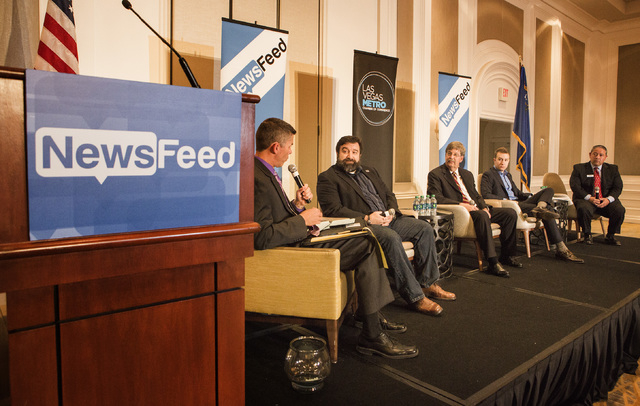 Not only could unmanned aerial systems deliver packages to a home or office some day, they may also drive the conversation on the issue of personal privacy, a panel of drone experts agreed Wednesday.
Richard Jost, a director with Fennemore Craig Jones Vargas and a legal expert in unmanned aerial systems, said drone technology "could light the fuse" on the debate about how to protect privacy rights without trampling on First Amendment freedoms.
"Some concepts may have to change," Jost told about 100 people gathered for NewsFeed, which featured a discussion about the growth of the commercial unmanned aerial vehicle industry in Southern Nevada. The event was sponsored by the Las Vegas Metro Chamber of Commerce and the Las Vegas Review-Journal.
Four panelists offered their insights on what is expected to become a $38 million industry for the state within three years.
Before the panel began, panelist Greg Friesmuth, founder and CEO of Skyworks Aerial Systems, Henderson, gave attendees an up-close look at drone operations, flying his Quark quadcopter — designed, manufactured and built in Nevada — in the Four Seasons ballroom.
While panelists discussed some of the applications and potential economic development impact the industry would have on the state, it was the discussion about privacy rights and how individuals could retaliate against nosey drone pilots that spurred much of Wednesday's discussion.
"This technology, because it's really waking people up to the fact that our traditional concepts of private space and public space, are going to have to change," Jost said. "It may, in fact, be the technology that forces the courts to come up with a more comprehensive and easily applied law of privacy."
Jost explained that the Nevada Supreme Court has ruled that a property owner's right extend 500 feet above ground level giving them the right to protect themselves from low-flying unmanned aircraft.
BATS, PISTOLS AND HUNTING RIFLES
Panel moderator Glenn Cook, senior editorial writer and Viewpoints columnist for the Review-Journal, asked whether a homeowner has the right to smash a low-flying drone with a baseball bat. But Jost said he was more concerned about property owners taking out pistols or hunting rifles to take down vehicles because of the safety issues associated with shooting guns in populated areas.
Legislation regulating drone flight activity was approved unanimously by the Assembly and currently is parked in the Senate Judiciary Committee, awaiting a hearing. Assembly Bill 239 would restrict flights from within 250 above a building or within 500 feet of a facility without permission of the owner. The bill also outlines how public agencies could operate unmanned aerial vehicles, a concern for some people fearing that drone flights could violate the Fourth Amendment protections from unreasonable searches.
Mario Mairena, senior government relations manager for the Association for Unmanned Aerial Vehicle Systems International, said his group has come out against the legislation, believing unmanned aircraft should be treated no differently than helicopters and other surveillance technology. The association views drones as an extension of common surveillance tools that have been in use for years.
Bill opponents fear premature state regulation of drone flying would further slow the development of systems that could be beneficial commercially. Panelists say the industry already is frustrated by the slow pace of the Federal Aviation Administration to address national policy on commercial drone flights.
The frustration isn't occurring just in Nevada. In bimonthly teleconference updates between the FAA and the industry, companies from around the country have expressed frustration that the agency hasn't moved faster to adopt flight regulations.
They're also frustrated with one of the regulations that has been adopted and would seemingly limit progress on the functionality of unmanned vehicles.
LINE OF SIGHT ISSUES
It's the line-of-sight issue involving small drones. Regulations published by the FAA require that a pilot maintain line of sight of his vehicle at all times. Industry advocates have devised plans for drones to do things like monitor utility line rights-of-way in rugged terrain and crop growth on agricultural acreage. The line-of-sight rule would prohibit most of that use.
Panelists concurred that Nevada has a leg up on most states in terms of commercial drone development, but the slow regulatory pace may enable rivals to catch up quickly.
"We have lots and lots of airspace, lots and lots of vacant land where if a test vehicle malfunctions it's not going to land on top of any heavily populated area," Jost said. "More importantly, we have the biggest supply in the nation of trained pilots. There's no other state that has the resources Nevada has to offer to this industry."
And panelist Jon Daniels, president of Praxis Aerospace Concepts International in Las Vegas, said the state has set itself up for further success by developing programs at the University of Nevada, Las Vegas.
Daniels said UNLV programs not only teach basic piloting skills, but they address the engineering of systems, the development of software that would assure safe drone operations and aspects of establishing a drone business.
Friesmuth, a 2013 UNLV graduate, said expanding the education pipeline would be critical in the state's efforts to lead the drone industry.
Contact reporter Richard N. Velotta at rvelotta@reviewjournal.com or 702-477-3893. Find RickVelotta on Twitter.