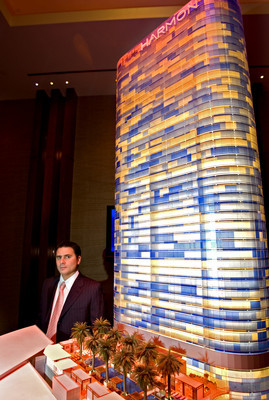 If things continue ahead of schedule, Tony Dennis should be out of a job before the $7.8 billion CityCenter project opens in November 2009.
Roughly 50 percent of CityCenter's nearly 2,650 high-end residential offerings have been claimed by buyers since MGM Mirage's $24 million sales pavilion on the Strip opened a year ago. The sales have generated $1.63 billion, almost 60 percent of CityCenter's forecasted sell-out revenue of $2.9 billion.
For Dennis, executive vice president of CityCenter's residential division, the sales figures — achieved while sales in the typical residential housing market are down 44 percent — validate the product.
The final piece of CityCenter's residential puzzle will be unveiled today when the 207 condominium units at the Harmon Hotel, Spa & Residences are made available to the public. Through MGM Mirage's private "friends and family" opportunities, 35 percent of the Harmon condos have already been reserved, leaving 134 units for public purchase.
The Harmon project, which will be operated by The Light Group, is the closest building to the Strip in the 77-acre CityCenter development.
"It's called land-banking," Dennis said. "We wanted to keep the most precious piece for last."
One- and two-bedroom condominium units at the Harmon project will range from 1,100 to 4,000 square feet. Dennis expects the average sales price to be between $1,500 and $2,600 per square foot, in line with the average $1,600 to $3,000 a square foot MGM Mirage is getting for other condos within the CityCenter development.
"The demand for this product is there," Dennis said. "What our sales figure show is that the high-end residential market is much more buoyant and resilient than the general residential home market. We're comfortable we'll reach a sell-out mark by opening."
The Harmon Hotel is one of the more distinctive features on the CityCenter site. The 47-story building will include 400 hotel rooms in addition to the condos. Although it will connect to CityCenter's retail, entertainment and dining complex, the Harmon will be a private property; access will only be for hotel guests, condominium residents and customers with reservations to dine at MR CHOW, a restaurant operated by Michael Chow.
The hotel also marks the first such venture for the Light Group, which operates six nightclubs and restaurants at MGM Mirage properties.
Light Group founder Andrew Sasson said both CityCenter CEO Bobby Baldwin and MGM Mirage Chairman Terry Lanni were surprised when he approached them about the nightclub-restaurant operator handling one of the hotel-residential projects.
"We took a couple of convention rooms and actually built hotel rooms to show them what we wanted to do," Sasson said. "They then gave us this opportunity."
Light Group will manage the Harmon Hotel, which was designed by Foster + Partners, a British architectural and design firm founded by Sir Norman Foster.
"MGM Mirage gave us a list of four different architects and when I saw Foster's name, I didn't even look at the others," Sasson said.
The concepts for the Harmon come from the Light Group's ultrahip nightclubs and restaurants. The hotel's pool deck will be perched 100 feet above the Strip. Condo residents will have full access to all of the hotel's amenities, including room service.
The name, Harmon, reflects the tower's location near Harmon Avenue. Sasson said he wanted a name unique to Las Vegas.
"I'm tired of all the cheesy names in Las Vegas," Sasson said. "Why do you always have to name something after somewhere else?"
The Harmon will not have a casino. The only gaming aspect of CityCenter will be the casino inside the project's 4,000-room hotel-casino, which MGM Mirage will operate.
Contact reporter Howard Stutz at hstutz@reviewjournal.com or (702) 477-3871.
CITYCENTER RESIDENTIAL SALES STATISTICS
Mandarin Oriental 227 residences 93 percent sold
Vdara Condo Hotel 1,543 residences 42 percent sold
Veer Towers 670 residences 60 percent sold
Harmon Hotel 207 residences 35 percent sold
2,647 residences available at CityCenter
1,320 sold through Jan. 11.