Economic development leaders plan Mexico trade mission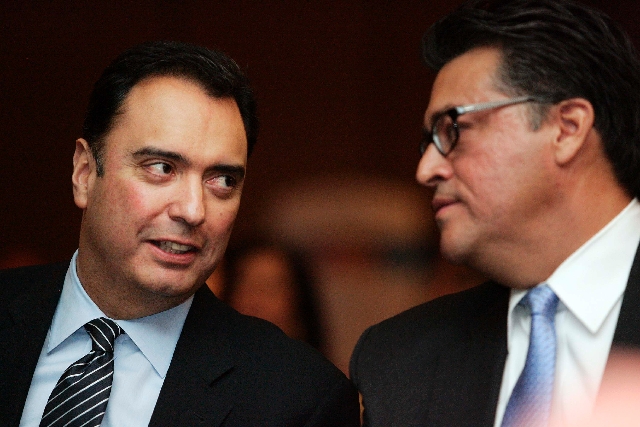 In an effort to increase the region's global outreach, Tom Skancke, president and CEO of the Las Vegas Global Economic Alliance, announced Wednesday that the organization will build off its recent success in China with a trade mission to Mexico.
Skancke said the organization's recent trip resulted in two Chinese companies visiting Las Vegas and expressing an interest in relocating or expanding into the Nevada.
"I believe developing relationships south of the border is critical to the future of our economy," Skancke told attendees of the Latin Chamber of Commerce's 2013 Insight Trade and Tourism Conference at the Monte Carlo.
Skancke described Las Vegas as one of the world's top brands on par with Apple, Coca-Cola and Starbucks. But, he warned that business is about more than competing within the U.S.
"It's about globalization," he said. "We need to be able to compete to have a sustainable future. It depends on connectivity."
He said that connectivity starts with building Interstate 11 between Las Vegas and Phoenix.
"Phoenix and Las Vegas are the two largest metropolitan areas on the West Coast not connected by an interstate highway," he said. "I believe that within the next 10 years we'll complete the interstate highway."
He called the highway a "future lifeline" for exports to Mexico and beyond.
"We are falling behind in infrastructure," he said. "If we continue to fail … we won't be able to compete. Our competition is with the world, not just Reno, Tucson or Phoenix."
Dr. Stephen G. Wells, president of the Desert Research Institute; Rossi Ralenkotter, president and CEO of the Las Vegas Convention and Visitors Authority; and Robert Lang, director of Brookings Mountain West at the University of Nevada, Las Vegas also took part in the Insight conference.
"Small businesses are the lifeblood of America," Michael Camuñez, assistant secretary of commerce for market access and compliance within the International Trade Administration, said in a keynote speech to 200 attendees at lunch Wednesday.
"The main purpose of President Obama's trip was to rebalance and strengthen our partnership with Mexico," Camuñezsaid. "There are such persistent stereotypes of Mexico, illegal immigration … border violence. He said the U.S. and Mexico at $500 billion annually is one of the most profitable economic partnerships.
He also said it was time to put aside "old stereotypes and embrace a new Mexico." Camuñez urged business owners to not underestimate the "opportunities that exist in Mexico for small businesses in Nevada."
To take advantage of those opportunities, the key is building Interstate 11, according to Lang. He said one critic had called it a road to nowhere, but Carson City still gets its beltway.
"They are dying and they get a beltway," he said. "That has to change. That will change."
Las Vegas will add 50,000 people between 2010 and July 2013 while Carson City has lost 500 residents, he said.
"Tourism is not a bad thing to be known for," said Lang.
But he urged investment in transportation links, education, as well as embracing diversity. In terms of industry, the region needed to embrace logistics, aerospace and drones, medical and health.
Lang said Las Vegas didn't need to be a leader in each, "just credible in those segments."
In his 35-minute presentation, Lang was critical of the state's efforts to fund education and its handling of the mining industry.
He said Nevada was a "disaster in mining," due to a lack of advance services and corporate headquarters. He said Nevada was founded 150 years ago on gold, but now the gold leaves and goes to Salt Lake City to be refined and exported.
"Their principal export is our gold," Lang said.
Contact reporter Chris Sieroty at csieroty@reviewjournal.com or 702-477-3893. Follow @sierotyfeatures on Twitter.