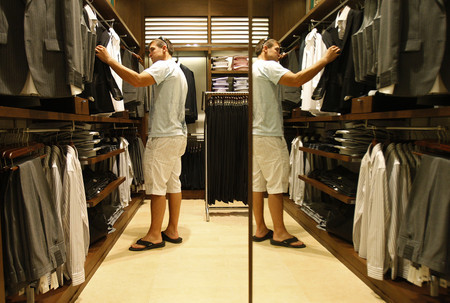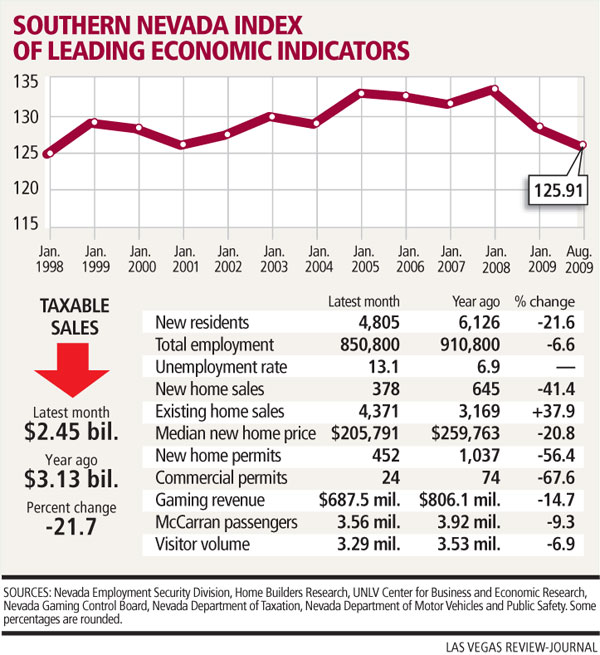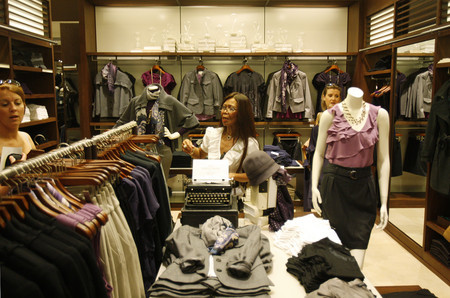 The Southern Nevada Index of Leading Economic Indicators continues to tumble, suggesting no near-term relief from the most damaging recession since the 1930s, UNLV economist Keith Schwer said on Tuesday.
The index fell to 125.91 in August, down from 126.12 in the previous month and from 130.57 in August 2008.
Gaming revenue and taxable sales are among the indicators contributing most heavily to the index's decline. Taxable sales dropped 21.7 percent from a year ago to $2.45 billion in June and gaming revenue dropped 14.7 percent to $687.5 million.
The lack of a well-defined upturn in the index portends continued economic difficulties over the remainder of the year, said Schwer, director of the Center for Business and Economic Research at University of Nevada, Las Vegas.
On the other hand, the national economic index is turning up, prompting some economists to forecast a slight recovery in the last half of the year. Schwer said the U.S. economy is going to have to pick up before people start spending on big-ticket items and travel.
"They're saving more and most of that's coming out of discretionary spending," he said.
The severity and breadth of economic disruptions that led to this recession leave greater questions than usual about the likelihood of recovery, Schwer said. Current evidence suggests Southern Nevada will lag the U.S. recovery.
The economic index, compiled by the UNLV research center, is a six-month forecast from the month of data, based on a net-weighted average of each series after adjustment for seasonal variation. August's index is based on June data.
The accompanying chart includes several of the index's categories, along with data such as new residents and employment and housing numbers, updated for the most recent month for which figures are available.
Economic consultant Jeremy Aguero of Applied Analysis business advisory firm in Las Vegas said he's most concerned about the employment picture. With 13.1 percent unemployment, Las Vegas is above the national average. Also, the average workers' hours have been reduced by 4 percent, he said.
"What's compelling on the other side is the number of initial unemployment claims has been stable or even falling, which is encouraging," Aguero said. "But for us, it's not enough to eliminate the drag on the economy that unemployment has created."
Another area of concern is significant oversupply in real estate, both residential and commercial, he said.
The Clark County Tourism Index has formed a bottom after declining since late 2007. Marketing efforts to keep occupancy rates up around 87 percent have been successful, though room rates have been significantly discounted. Las Vegas added to its hotel room capacity at a time when visitor volume is down about 7 percent.
Contact reporter Hubble Smith at hsmith@reviewjournal.com or 702-383-0491.