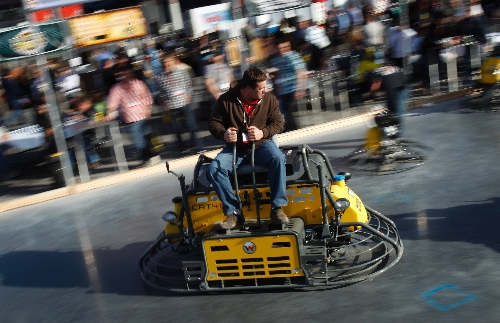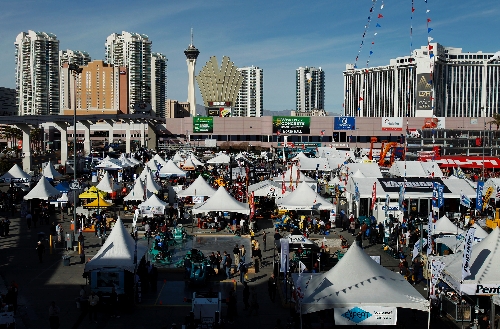 Single-family home construction starts nationwide will climb to 443,000 this year, a 3.26 percent increase from 2011, the chief economist of Portland Cement Association projected Tuesday at the World of Concrete trade show in Las Vegas.
That's a conservative estimate from Ed Sullivan, who readily admits his construction forecasts are a bit more pessimistic than others. Last year, his prediction was 8,000 units short.
The Mortgage Bankers Association is projecting 474,000 home starts in 2012, the National Association of Realtors pegs the number at 480,000 and the National Association of Home Builders is most optimistic at 495,000 starts.
"The only reason anyone builds a home is the prospect of making money. You can't make money if there's too much inventory out there and prices continue to decline," Sullivan said at World of Concrete, which runs through Friday with more than 50,000 attendees and 1,300 exhibitors at the Las Vegas Convention Center.
As long as foreclosures are competing with new-home sales, recovery in the housing industry will drag on, Sullivan said. Foreclosures may begin to decline this year after adjustable-rate mortgages are reset, he suggested.
Some 768,000 metric tons of concrete will be used for single-family home starts this year, Sullivan predicted. Overall, cement consumption will remain at less than 70 million metric tons this year, with 5 percent gains in 2013 and 2014.
On the exhibit floor, Gary Brown of Toronto-based AMVIC Building Systems said he's seeing "little ticks here and there" that show the economy is starting to rebound. The custom-home market, where people have money, is picking up, he said.
The housing industry has been in a severe downturn for the last few years, but there are some positives that come out of it, Brown said.
"Homeowners and builders are forced to look at how to build," he said. "Oil costs and heating costs are going up. People need to look at how to build residential or commercial property that's energy-efficient and sustainable, that they can afford to pay for heating and air conditioning and it isn't going to get blown away when a tornado or hurricane comes around."
AMVIC manufactures insulated concrete forms, which reduce energy use, speed construction and resist fire and mold.
Nonresidential construction is starting to find the floor, Sullivan said. He was surprised by a double-digit percentage gain in retail construction, a large user of concrete.
Still, Sullivan remains pessimistic in his commercial construction forecast. Office vacancy exceeds 15 percent nationwide, forcing lower lease rates. Higher office employment equates to lower vacancy rates, he said.
"Jobs, jobs, jobs. That will determine the growth rate in the economy and also shorten the healing process," Sullivan said. "The more jobs, the more recovery at the state level, the more construction spending."
Steve Guillaume, vice president and general manager for International Truck and Continental Mixer, said he'd like to see Congress act on the federal highway bill, though he said it will be difficult to see anything happen before the presidential election.
"There will probably be some sustained spending as a stopgap, but until the election, you won't see a multiyear spending bill get passed," he said. "They need to do something. It's a job creation thing. Infrastructure is important. I'd see it as a positive."
The current spending level is significantly below what's needed, said Brian McCarthy, president and chief executive officer of the Skokie, Ill.-based Portland Cement Association.
The House has proposed a six-year, $235 billion bill; the Senate has suggested a two-year, $109 billion measure.
"If we want long-term investment in infrastructure," he said, "we need Congress and the White House aligned on what those long-term needs are and the investment has to have the right performance criteria and that's when a careful life-cost analysis becomes relative."
Contact reporter Hubble Smith at hsmith@reviewjournal.com or 702-383-0491.