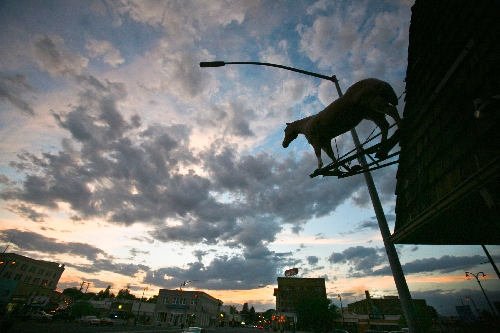 Quick: List Las Vegas' suburbs.
You've got Henderson. North Las Vegas. Maybe Boulder City. Oh, and Elko.
Elko?
OK, so Elko's more than 400 miles away. But this northeastern Nevada metro area of about 40,000 is a hive of economic activity for Las Vegas business operators looking for work amid Southern Nevada's sustained downturn. For equipment dealers striking big deals with mines, and construction companies sending crews to build housing, Elko has become an economic suburb of Las Vegas – a far-flung town with local ties so subtle most people don't even notice.
Maybe that neighbor you see only on weekends has taken work up there building new homes, or part of your kids' new school came from mining money.
"As much as we like to think that what happens in Clark County affects the balance of the state, the same thing can be true of rural areas," says Jeremy Aguero, a principal in Applied Analysis, a Las Vegas consulting and research firm. "Those areas are drawing in huge amounts of investments."
Mike Pack, president and COO of Henderson-based equipment dealer Cashman Equipment Co., can tell you just how huge those investments are.
Cashman is doing 500 percent more business up north than it's doing in Southern Nevada, he says. At the height of the Southern Nevada boom in 2004 and 2005, the split was 50-50.
Tops among Cashman's recent mining deals was a sale of 32 360-ton ore-hauling trucks, valued at up to $6 million each. The trucks are headed for Barrick Gold Corp.'s Cortez mine south of Elko.
Business has been so good that Cashman is more than doubling its Elko showroom and office space, from 40,000 square feet to 95,000. It also doubled its six-acre equipment yard just off Interstate 80.
"We wouldn't be here today if it weren't for mining," Pack says. "Construction crashed that badly."
Pack says Cashman actually could survive five or 10 years, but "life would be a lot more difficult if we were not heavily diversified into mining."
COMPANIES, WORKERS MOVE ON
Some everyday Las Vegans are finding the same good fortune. Jose Luis, an electrician with Las Vegas-based McKimmey Electric, moved with his brother, Rogelio, and other crew members to work on the Rabbit Brush Run apartments in Elko.
"Ten years ago, Las Vegas was nice. There was a lot of work there," Jose Luis says. "Now, it's low. That's why we're here."
Luis' wife, children and extended family still live in Las Vegas, but he's thinking about hanging around Elko after Rabbit Brush Run wraps next spring. There's word of a project with 200 homes in the pipeline. And Brandise Construction of Las Vegas plans 140 attached units north of I-80.
Don Ahern, president and CEO of Las Vegas-based Ahern Rentals, says he sees the work flowing to Elko.
"What's good about many of our customers here in Vegas, especially contractors, is that they're going up there to do work," says Ahern, who has boosted his company's Elko staff from five to 25 in the past two years and is building an office park in the area. "Elko is providing jobs for people in Las Vegas who would otherwise be out of work."
For Coach USA, Elko saved the charter bus company's Nevada operation.
Coach USA's former parent company, Las Vegas-based K-T Contract Services, opened an Elko hub with 11 buses in 1998. By 2008, the Elko division, which also serves Winnemucca and Ely, had grown to 64 units hauling employees to and from remote worksites.
As that division took off at the recession's start, the company's Southern Nevada tourism base tanked.
"Las Vegas was one of the hardest-hit markets," says Ryan Veater, Coach USA's vice president and general manager. "People were not traveling as they had been. The volumes just weren't there anymore. There were too many (bus) companies and too few customers."
Coach USA closed its Las Vegas operation in 2011 and put all its chips on the Elko-Winnemucca-Ely segment. It now has 138 buses there, closing in on the 160 buses it had at its 2007 peak in Southern Nevada. (Scotland-based Stagecoach Group bought Coach USA in May.)
Mining's link to Southern Nevada isn't just in corporate revenue. Clark County received $71.2 million in net proceeds of minerals tax revenue from the state's general fund in calendar 2011, with money going to education, social services and health care, according to Applied Analysis. Another $23.4 million went to the state's school distributive account, which helps fund education in all counties.
LAS VEGAS BEFORE ITS DOWNTURN
Elko officials trace the good times back to 2005. That's when gold prices began inching up, says City Manager Curtis Calder.
Since then, national retailers – Home Depot, Ross Dress for Less, JoAnn Etc., Famous Footwear – flocked to town, opening their first area locations, sometimes to record first-day sales.
The city is trying to keep up with infrastructure, from repairing roads to adding water wells.
The average home price has soared from $185,000 10 years ago to $242,000 today, according to Jim Winer, broker-owner of Coldwell Banker Algerio/Q Team Realty in Elko.
Affordable housing? Not a chance: People pay $2,000 a month for rentals that used to go for $800. More than a third of the city's hotel inventory is now permanent housing for miners, Calder says.
Sound familiar? That's because Elko has gone the way of so many suburbs, its investment possibilities eclipsing a faltering mother city as capital flees for growing outskirts. Burgeoning retail, strapped infrastructure, spiking home prices, a shortage of workforce housing – Elko has become what Las Vegas was before the downturn, Applied Analysis' Aguero says.
"The things going on there are things we have a tendency to associate so much with Las Vegas," he says. "They have problems we were dealing with in spades."
Even as Elko struggles with growth, it's getting an assist from Las Vegas.
Take McKimmey Electric, which has made electric work at Rabbit Brush Run possible.
"One of the main problems we had was finding enough companies to handle the load" of Rabbit Brush Run, recalls Brandon Palmer, project manager for Ormaza Construction, the complex builder. "We looked all over the place. McKimmey came in partly due to price, but … they had equipment in their shop right now to do the work."
And there are further indicators that Southern Nevada's interest in Elko is building.
Aviation service company El Aero has seen corporate jet traffic from Las Vegas into its base at Elko Regional Airport jump, says President Ginna Reyes. The incoming flights are part of a business boom that financed a new, 7,000-square-foot headquarters with a pilots' lounge and concierge services.
But like any city towering over a suburb, Las Vegas has its share of bad influence on Elko's development.
HOUSING FINANCING MISSING
Southern Nevada's – and to a lesser degree, Reno's – housing bust is partly behind Elko's housing shortage. Banks that lend to builders for new-home communities now associate all of Nevada with a plague of foreclosures.
That's "severely affecting" development in Elko, Calder says.
The city has issued permits on 800 residential units that "could break ground tomorrow," he says, but financing just isn't there.
Winer says the housing shortage makes it tough to recruit workers, and estimates the city needs 300 to 350 single-family homes and 700 to 800 apartments to meet demand.
Barrick Gold has stepped in to help, financing the $20 million Rabbit Brush Run. But the complex's 192 units won't dent the need.
"If we could pick up some of those empty Vegas homes and move them here, that would be great," Winer says.
If Las Vegas homes aren't going anywhere, neither are many of its residents. Despite the gold boom, there's a missing element that defines metro-suburban connections: Migration.
Cashman had trouble convincing workers to move north three years ago, when "Las Vegas really tanked," says Pack, its president.
"People are worried about the winters, and rural versus urban living," he says. "People have their roots in a certain place and don't really want to upend them."
Adds Coach USA's Veater, who lived in Las Vegas before moving to Elko in 2008: "For a lot of people making the move, it's a culture shock."
Most of the Coach USA employees let go in 2011 found jobs in Las Vegas rather than going to Elko, he says.
Elko hopes to convince more city folk to give it a chance. City officials and business leaders held an "economic opportunities summit" in Reno in May for builders, developers, commercial agents, lenders and others to explain the city's potential. Winer says the group is weighing a Las Vegas summit before the end of 2012.
The pitch: "Our story is an interesting one, and we don't think it's done."
Mining in Nevada