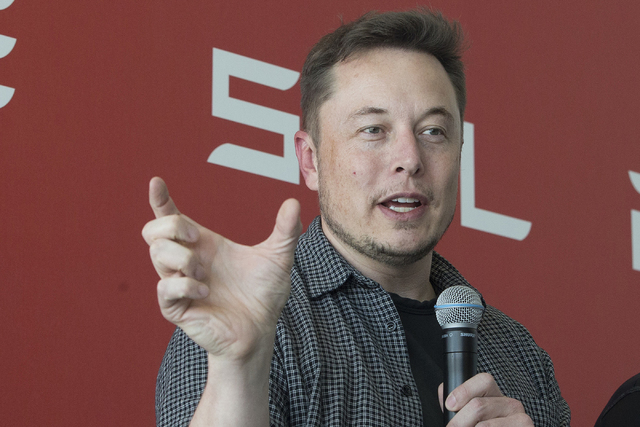 CARSON CITY — Employment numbers at Tesla's massive battery factory in Northern Nevada are far below projections made to state lawmakers when they passed a $1.3 billion tax incentive to lure the electric car company's project to the state.
The 331 total employees noted in an audit are just a fraction of those anticipated by this time when lawmakers approved the incentive package in September 2014. An analysis by Applied Economics and presented as testimony during the special session projected 1,700 workers at the plant by the end of this year.
Jennifer Cooper, spokeswoman for the Governor's Office of Economic Development, attributed the lower employment numbers to a change in Tesla's construction plans.
"They decided to do a more phased-build approach," Cooper said Tuesday. "They wanted it to be operational at the same time they were building it."
She said the employment report "is not concerning to us at all," Cooper said. "They're hitting the thresholds as we've defined them and that's what's important."
A Tesla spokeswoman did not immediately respond to a request for comment. But hiring continues. On Saturday, Nevada JobConnect, in partnership with Panasonic, is hosting a job fair in Las Vegas to recruit employees willing to move to Northern Nevada to work at the battery factory.
Panasonic Energy Corp. of North America is a partner in the battery factory with Tesla Motor Co.
The employment numbers were part of an independent audit conducted by Grant Thornton that was released Monday, when the state also issued Tesla another $8 million in transferrable tax credits for meeting investment and hiring benchmarks.
The certificate signed by GOED Executive Director Steve Hill includes tax credits totaling nearly $6 million earned during the April-June 2016 period, plus $2 million in credits earned during the previous quarter. The certificate says the credits are to be applied toward gaming licensing fees, indicating they will be sold to a casino company.
Tesla is required to declare to GOED what the tax credit will be used for once sold. In July, the company sold $20 million in tax credits to Las Vegas-based MGM Resorts International.
To date, the battery factory project has qualified for $34.5 million in credits, the report said.
Legislation entitles Tesla to receive $195 million in transferrable tax credits that it can sell to other businesses as it meets specified performance levels. Tax credits are available in the amount of $12,500 for each qualified employee hired. At least 50 percent of employees must be Nevada residents, and the average minimum wage must meet $22 per hour.
The Grant Thornton audit said those requirements for both permanent employees and temporary construction workers were met "without exception."
Since the project began in 2014, Tesla has 283 employees, 89 percent of whom are Nevada residents earning an average wage of $53.18 per hour, the audit said; 92 percent of the 48 Panasonic employees earn an average of $54.89 hourly.
There were 540 construction workers at the site during the April-June quarter, with 63 percent being Nevada residents, the report said.
The project also receives tax credits for capital investment — 5 percent of the first $1 billion invested in the state and 2.8 percent on the next $2.5 billion.
The audit said Tesla and Panasonic have invested $607.6 million through the end of June. Capital investment credits earned amount to $5 million for the reporting period and $30.4 million total.
The factory in the Tahoe-Reno Industrial Center east of Reno in Storey County will be the largest building in the world once completed.
It will produce batteries for Tesla electric cars, a factor Musk has said is key to making its Model 3 sports car less expensive and available to a wider market. The plan will also produce stationary energy storage units for use in homes and businesses.
Contact Sandra Chereb at schereb@reviewjournal.com or 775-461-3821. Find @SandraChereb on Twitter.
RELATED
Tesla says early Nevada hiring projections outdated; employment on track at gigafactory