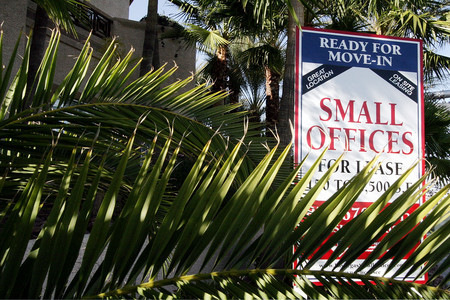 The fastest-growing U.S. city of the 20th century is turning into a ghost town or so it's being depicted by reports of Las Vegas leading the nation in home foreclosures, thousands of people leaving town after losing jobs and commercial vacancies soaring
Tenants are bailing out of shopping centers and office parks like Oklahomans fleeing the Dust Bowl, sometimes vacating the premises overnight.
Mervyn's went out of business, leaving an 87,000-square-foot department store available for lease on busy Decatur Boulevard next to the Meadows mall.
Rite Aid abandoned all its drugstores in Las Vegas, enabling grocer Fresh & Easy to enter the market with convenient corner locations.
Hispanic and discount grocers moved into supermarkets closed by Albertsons, Smith's and Vons.
As bad as it's getting in Las Vegas commercial real estate, opportunity exists for business owners to seize a prime location, often at a fraction of the previous rent.
Rainbow Boulevard is lined with banners and signs advertising office space for lease, from 300-square-foot executive suites to 6,000-square-foot corporate offices.
Craig Road, once booming with big-box and chain retail development, has similar signs hanging at half-empty shopping centers that were built during a period of rampant growth in North Las Vegas.
A third-quarter report from Colliers International in Las Vegas showed office vacancy at 22 percent, retail vacancy at 8.6 percent and industrial vacancy at 13.3 percent, all near 20-year highs.
Commercial property owners and managers are being more resourceful than ever in their quest to fill empty space in hard-hit areas. They're allowing more short-term leases and giving concessions on rent.
"I'm really having to dig into my bag of tricks and be as creative as we can," said Terri Sturm, chief executive officer of Las Vegas-based retail developer Territory Inc. "I'm giving away free rent, something we never did. We're looking at shorter leases. We never looked at anything less than five years."
Even with reduced rents and other incentives, tenants are reluctant to sign long-term leases because of economic uncertainty. With a plethora of vacant buildings, they can be more selective and drive a hard bargain, CB Richard Ellis retail broker Zack Hussain said.
Still, landlords are getting premium rates — from $2.75 to $3 a square foot — for good spots such as corner locations in densely populated, established areas, he said. CB Richard Ellis reported asking lease rates of $1.82 a square foot for retail in the third quarter.
Nelson Tressler of Grubb & Ellis negotiated a three-year, $90,000 lease on a 1,200-square-foot building for Harold's Chicken Shack, about $2 a square foot.
It's not an "A-plus" location, Tressler said. It's in an unanchored center, but it's got good visibility on Rainbow Boulevard and the tenant is taking over space previously rented by Jersey Mike's sub shop, so all of the kitchen fixtures, plumbing and ventilation are already in place.
"Right now, there are very few tenants out there looking and there are shopping centers with turnover and vacancy at 10 percent," Tressler said. "It's a huge opportunity for somebody who wants to roll the dice and get into space they couldn't get into before, especially ma-and-pa types."
That would be Doggie District Pet Resort, a canine day-care center owned by 30-year-old Las Vegas native Austin Lewis. He needed C-2 zoning and a special-use permit to build out 6,000 square feet at a shopping center at Flamingo Road and Rainbow, including a fenced yard.
In a good market, the landlord wouldn't have waited two months for the permit process to lease space that's not optimal use, Tressler said. At the market's peak, from 2005 to 2007, new centers were preleased before they were completed and getting $3 to $3.50 a square foot, he said.
David Zacharia of DZ Realty said he has an "incredible" special for 24-foot-by-80-foot in-line space at Rainbow Robindale Plaza, about a mile south of the Las Vegas Beltway. Rent is $1.25 a square foot rent, far below the asking market rate, he said.
A Dairy Queen is coming to the corner with its new "Chill Grill" concept and the area is surrounded by dense housing inhabited by relatively high-income people.
Commercial space has to be broken down by categories to identify good deals, Zacharia said.
Freestanding buildings in unfinished "gray shell" condition with drive-throughs would start around $2.50 a square foot with a few months' free rent and about $25 a square foot in tenant improvement allowance, or the cost to build the space to the tenant's specifications.
In-line space, or stores that share common walls in anchored shopping centers, would start at around $1.50 a square foot with free rent and tenant improvement allowance. Rent drops to $1.25 a foot in shopping centers with no major anchor.
Second-generation anchor tenant space of 15,000 to 50,000 square feet goes for $1 a square foot, again with rent concessions.
Jordan Schnitzer, president of Portland, Ore.-based Harsch Investment Properties, said everyone experienced downward pressure on rents during the first part of the year. He's convinced there was some sort of directive from the top of every company to seek rent relief, even if the leases were signed a just year ago.
In markets such as Las Vegas, where affordable land prices led to runaway development, commercial landlords push for occupancy at the expense of rental rates, Schnitzer said. The question is how to offer value to tenants without causing rates to cascade.
"It takes a whole lot of creativity," he said. "We can't manufacture tenants, but we can help existing tenants. Say we've got 30,000 or 40,000 or 50,000 feet next to you that's empty. If you can use that space, you might want to expand and add an employee or two or three, we'll work with you on the rent. We'll take a gamble with them."
The Las Vegas metropolitan statistical area still has 2 million in population and about 37 million visitors a year, so there's some demand on the industrial side for bulk distribution space, said Rod Martin, vice president for Majestic Realty.
The cheapest rent — 52 cents a square foot — is found in North Las Vegas, a submarket with 11.2 percent vacancy on 29 million square feet of industrial buildings, CB Richard Ellis reported.
Although Majestic has retained about 90 percent of its existing tenants, there's no new demand, Martin said. Majestic completed two deals last year, compared with about 30 in a normal year, he said.
Commercial property values in Las Vegas have plummeted and cash flow has slowed to a trickle, putting many developments on life support. Nevada Title Co. reported a sharp increase in commercial mortgage defaults this year.
Kevin Higgins of Voit Commercial said he saw a lot of "midnight moves" this year, companies that went bankrupt and packed up and left in the middle of the night. It will get worse before it gets better, he said.
Although most economists are pointing to signs of recovery in the national economy, the recession continues unabated in Southern Nevada, Colliers research analyst John Stater said.
"When we see visitor volume and gaming revenue begin to climb, we'll know that economic recovery is on its way to Southern Nevada," he said.
Some analysts say Las Vegas has crapped out, building too many new homes, too many casinos and far too much commercial space. The next wave of foreclosures is coming in commercial real estate, where $3.5 trillion in loans are in trouble nationwide, Whitney Tilson of New York investment firm T2 Partners said.
Contact reporter Hubble Smith at hsmith@reviewjournal.com or 702-383-0491.