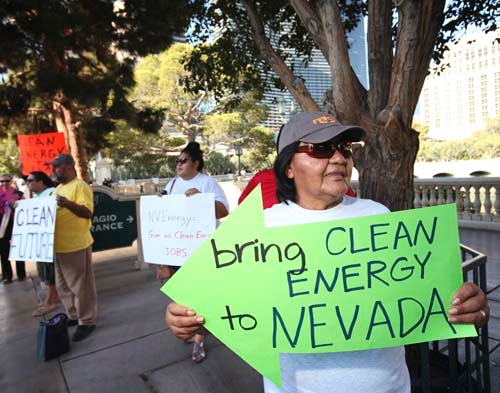 If oil and gas companies receive federal subsidies, so should renewable energy projects, said wind, geothermal and solar power supporters at Tuesday's fifth-annual National Clean Energy Summit in Las Vegas.
Energy executives and politicos gathered at the Bellagio for the summit, co-hosted by Nevada Sen. Harry Reid, MGM Resorts International, the Clean Energy Project, the Center for American Progress and the University of Nevada, Las Vegas.
At last year's summit, officials pushed for more government support of clean energy initiatives to help the U.S. economy become more competitive. This year, there was a heightened sense of urgency to extend the Production Tax Credit for renewable energy producers to lessen the reliance on oil.
Denise Bode, CEO of the American Wind Energy Association, said U.S. wind power has doubled its capacity since 2008, due in part to the tax credit, which provides incentives to renewable energy projects (except for solar projects, which are eligible for the Investment Tax Credit).
The tax credit expires at the end of the year, which Pattern Energy CEO Mike Garland said would hinder his company's ability to compete with traditional energy sources like oil and gas.
"If you take away the PTC, it's like giving me three wheels to run a NASCAR race when everyone else is given four wheels," Garland said at a news conference. "Is everyone going to give up the tax breaks or is it just wind?"
Pattern Energy's Spring Valley wind farm, Nevada's first commercial wind project, is expected to put 150 megawatts of power on the grid today , Reid announced Tuesday. The Spring Valley farm joins facilities in Oklahoma, Idaho and Hawaii to provide 50 gigawatts of generation capacity, a major milestone in wind power production, Bode said.
Reid said Congress may renew the tax credit before the election.
"What you're hearing from people is we need a certain amount of stability from a policy perspective," said Solar Energy Industries Association President and CEO Rhone Resch. "When you have these programs that are on for a year or two, then off, then back on, it's very difficult to build a business around an industry in which the government is not providing clear policy stability."
Tax credits and federal loan guarantees have made renewable energy more attractive to private sector investors. If those incentives end, prices for other fuels will go up, SolarReserve CEO Kevin Smith said .
"Renewables are the only competitive source to keep natural gas prices down," said Smith.
SolarReserve is developing the 110-megawatt Crescent Dunes solar project near Tonopah.
Permitting private sector renewable energy projects to operate on public lands is a key part of the government's strategy, said Secretary of the Interior Ken Salazar. Since 2009, 31 sustainable energy projects have been authorized on public lands.
Government support of renewable energy drew scrutiny after two projects that were praised by politicians, California's Solyndra plant and the Amonix plant in North Las Vegas, closed after receiving federal subsidies. The Solyndra solar panel manufacturing facility in Fremont, Calif., closed and filed for bankruptcy last August after receiving $528 million in federal loan guarantees.
Salazar said in opening remarks at the summit's that "we've seen some successes, we've seen some setbacks, we've seen some failures over the last four years," but that President Barack Obama plans to continue on with an "all of the above" energy policy.
Contact reporter Caitlin McGarry at cmcgarry@reviewjournal.com or 702-387-5273.