American West increases efficiency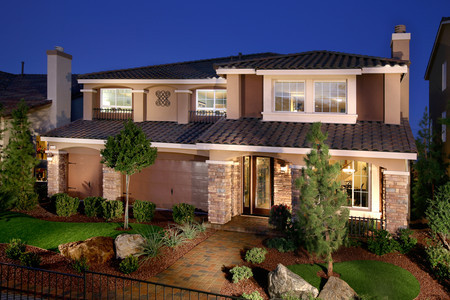 American West Homes, one of the nation's largest privately owned homebuilders, is joining forces with NV Energy to increase energy efficiency in all its neighborhoods through the Energy Plus New Homes Program. The program, developed by NV Energy, certifies homes with energy-efficiency standards that exceed state building codes and the well-known Energy Star program.
"American West is committed to building quality homes that our buyers are proud to own. The homes we build will be certified Energy Plus," said American West President Larry Canarelli. "It's responsible building and American West is proud to participate."
New homes are rated on the EnergySmart scale developed by the United States Department of Energy. The scale is based on the Home Energy Rating System Index that evaluates a home's energy consumption. While Energy Star homes must meet a score of 85 on the scale, Energy Plus homes are certified at 70. In this case, the lower the score, the higher the efficiency.
"We created this program to encourage residential, new construction builders to go beyond Energy Star requirements," said Quinn Parker, project leader, Energy Efficiency and Conservation, NV Energy. "Energy Plus Homes are approximately 30 percent more energy efficient than code-built homes. More efficient homes save our customers money, reduce their carbon footprint and tend to result in increased comfort within the home."
"The Energy Plus certification is based on performance," said Alex Kasempiyarom, Energy Plus marketing manager. "That means builders can use a number of products or upgrades to meet Energy Plus standards."
All of American West's energy-efficient features are included in their homes.
These features include: Carrier 14-SEER natural gas heat and electric central air conditioning with Puron; refrigerant, R13 insulation in exterior walls and R30 in ceilings; energy-efficient radiant-heat barrier roof sheathing; PROInstaller E2S Complete Weatherproofing System; fully insulated, fiberglass; front-entry door, vinyl-framed; dual-paned, low-e windows and sliding glass doors; 50-gallon, quick-recovery; natural-gas water heater; and water-conserving Moen faucets and showerheads.
"It's an impressive list of energy-conserving products. These products are in addition to the building practices and products we already utilize to meet Energy Star standards and they come at no extra cost to the homebuyer," Canarelli said.
"The Energy Plus program focuses on reducing electricity usage. While the Energy Star program takes into consideration the savings achieved by reducing the consumption of both gas and electricity, the Energy Plus program's additional savings comes from electricity only," Kasempiyarom said.
"With all things being equal, a homeowner in a Energy Plus home, compared to a homeowner in a code-built home, should expect to see a 30 percent reduction in energy costs," Parker said.
Home shoppers interested in learning more about the Energy Plus New Homes Program can visit American West's Windsor community in Highlands Ranch today. A representative from NV Energy will be at the community from noon to 3 p.m. to discuss the program and answer questions.
American West will also be presenting a new model. The Wyatt is a three-story home measuring 2,996 square feet with up to five bedrooms.
To visit, take Interstate 15 South to Blue Diamond Road and exit west. Turn south (left) on Decatur Avenue and follow the signs.
American West is selling in nine neighborhoods throughout the valley. Homes range from 1,216 to 4,770 square feet and start at $188,500.
American West has been building homes in Southern Nevada since 1984.
Sales offices are open from 10 a.m. to 6 p.m. daily.
For more information about American West, call 308-1111 or visit AmericanWestHomes.com.