City officials describe solar energy plans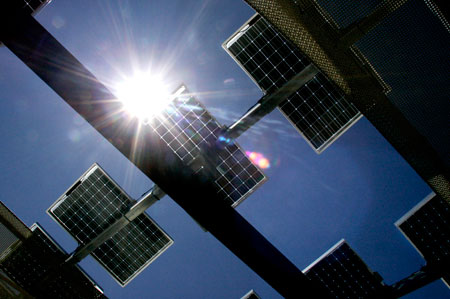 Las Vegas today spotlighted plans to put solar panels on top of carports at city buildings, an $11 million plan funded mostly by federal stimulus money. It is projected to cut the city's electricity costs by $300,000 a year when fully in place.
Eventually, solar panels at city buildings will generate electricity equivalent to the needs of 170 homes.
City estimates say the cost of the city's investment will be recouped in about 15 years.
Solar panels have a life expectancy of between 25 and 40 years.
The goal is to start with three sets of panels, paid for by $1.2 million in grants from the stimulus bill, at the new Stupak Community Center near the Stratosphere, the Las Vegas Natural History Museum and Fire Station 10 near Rancho Drive and Oakey Boulevard.
"Carports are a feature of Southern climates, and you're integrating a power source with them," said Ron Sims, deputy secretary of the Department of Housing and Urban Development, who attended today's announcement at the Stupak center.
"This is money well-spent. Being green is a good economic decision in this century."
Construction on the first of the three installations, at the Stupak center, is scheduled to start next year.
The center, featuring a gymnasium, weight and aerobic rooms, a library, a game room, a kitchen and classrooms for English as a second language and art classes, is expected to open by the end of the year.
The panels will provide between 10 percent and 30 percent of a building's power, depending on the building's power usage and the size of the solar panel array.
The money is part of a program known as Community Development Block Grant Recovery. It's the first such project approved in the region that includes Nevada, California, Arizona and Hawaii, said Ken LoBene, director of HUD's Las Vegas field office.
In addition to the $1.2 million, the city's solar power effort will be paid for with $4.1 million from a federal energy efficiency grant, $600,000 from a city fund for green buildings, utility rebates, and $5.1 million from a renewable energy bond program.
Contact reporter Alan Choate at achoate@reviewjournal.com or 702-229-6435.