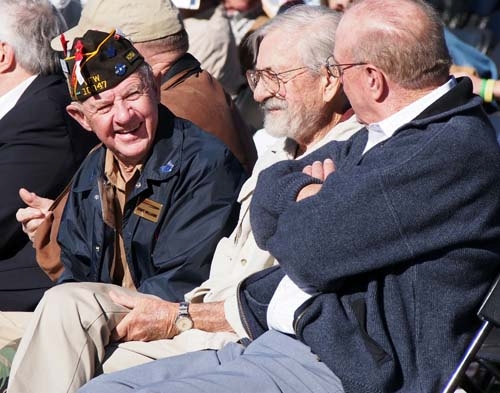 When Mary McGuire walked the tunnels at the Nevada Test Site where scientists had detonated nuclear bombs, she knew the dangers but felt her "tiny" role in winning the Cold War was worth the risk.
"It makes you feel like a tiny bug, and it makes you feel good that you are working there and helping," McGuire said Friday as she walked for the first time through the National Atomic Testing Museum.
Minutes earlier, Sen. Harry Reid, D-Nev., and a host of former test site officials marked the museum's national designation on the National Day of Remembrance for Nuclear Weapons Workers, a date established by Senate resolution in 2009.
The 84-year-old McGuire and her husband, Don, both of Pahrump, worked as quality assurance technicians at the test site, now called the Nevada National Security Site.
The job required them to re-enter tunnels during the heyday of nuclear weapons testing there. Mary McGuire said she was the first woman at the test site to work in the tunnels "in a steady job."
"The union workers didn't want a woman because they thought it was bad luck," recalled McGuire, a former electrical technician for the Department of Energy. "I had nothing against them. We all got to be very good friends."
Reid championed legislation to compensate Energy Department workers and contractor employees who became ill with cancers and other health problems linked to their exposure to radiation and toxic materials in the nation's nuclear weapons complex.
"It's hard to comprehend how important the test site has been to our nation and Nevada. It's been a driving force for employment," Reid said.
In 2009, a nonprofit group, Cold War Patriots, succeeded in a petition drive to recognize the more than 700,000 nuclear workers Reid credited with winning the Cold War for America.
One tangible result of that effort is the National Day of Remembrance.
This year, President Barack Obama added the Atomic Testing Museum to the list of 37 national museums, a rare designation outside of Washington, D.C.
As Atomic Testing Museum Chairman Troy Wade noted, 19 of the national museums are on the Washington Mall.
Mary McGuire said she managed to avoid contracting an illness linked to her work, but her husband sought compensation after he had the top of one of his lungs removed.
"I was lucky," she said.
Contact reporter Keith Rogers at krogers@reviewjournal.com or 702-383-0308.