Deal reached to grandfather in rooftop solar customers under more favorable rates
September 12, 2016 - 8:01 pm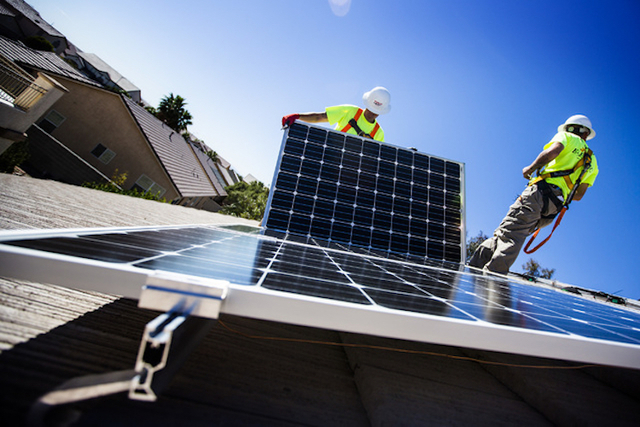 CARSON CITY — An agreement has been reached to grandfather in 32,000 residential rooftop solar customers under prior, more economically viable rates for 20 years, NV Energy announced Monday.
The agreement must still win approval from the Nevada Public Utilities Commission in a vote expected on Friday.
NV Energy filed the settlement agreement reached with state utility regulatory staff, the Bureau of Consumer Protection and SolarCity to grandfather customers who had installed a rooftop solar system or had a valid application pending on Dec. 31, 2015, at previous net metering rates for 20 years.
The agreement also makes eligible customers who withdrew an application, or had a RenewableGenerations application expire between Dec. 23 and Dec. 31, 2015, for the more favorable rates.
"NV Energy's intent with its grandfathering proposal was to offer a solution for customers who installed or had valid applications to install rooftop solar systems by December 31, 2015 in the most efficient and timely manner," the utility said in a statement. "We appreciate all parties coming together to expedite the process on behalf of our customers."
NV Energy in late July filed with state utility regulators to grandfather residential net metering customers who installed systems or had approved applications pending by Dec. 31, 2015, in under the original rates. Net metering allows rooftop solar owners to get a credit from the utility for the excess energy they generate.
The proposed settlement resolves a long-standing political challenge for Gov. Brian Sandoval and state lawmakers who passed legislation requiring the PUC to establish a separate rate class for homeowners who installed rooftop solar systems.
Sandoval had urged the parties to resolve the issue in a way that helped existing solar customers. In a statement he said: "I am pleased with the result and believe it is in the best interests of all Nevadans. I am hopeful that the PUC will act quickly on this agreement. It is time to move on."
Senate Bill 374, passed by the 2015 Legislature, asked the PUC to perform a cost of service study to determine whether regular ratepayers of NV Energy, doing business as Nevada Power in Southern Nevada, were subsidizing rooftop solar customers.
The PUC performed that review and determined there was a subsidy of $16 million a year. The PUC then adopted a new rate class that reduced the credit for the excess electricity generated by rooftop solar customers. The monthly fixed service charge was also increased. The rate changes took effect Jan. 1 and are being phased in over 12 years.
The new net metering rates in Southern Nevada reduced the credit per kilowatt hour from about 11 cents to 9 cents; the credit would end up at just over 2 cents by 2028. The monthly fixed charge for solar customers also increased from $12.75 to $17.90 a month and eventually will reach $38.51 on Jan. 1, 2028.
But the changes approved by the PUC generated a huge outcry from solar customers who said they were led to believe that their rates would not change after they invested thousands of dollars to install rooftop solar systems.
The agreement, if approved, will resolve the issue. But the new rates have brought rooftop solar installations in Nevada to a standstill. The future of rooftop solar in Nevada is expected to be a major policy issue for the 2017 Legislature.
Contact Sean Whaley at swhaley@reviewjournal.com or 775-461-3820. Follow @seanw801 on Twitter.
RELATED
Rooftop solar shifts $36M a year to nonsolar ratepayers in Nevada, study says
Nevada's rooftop solar battle heats up with referendum
Nevada rooftop solar advocates working to win over lawmakers