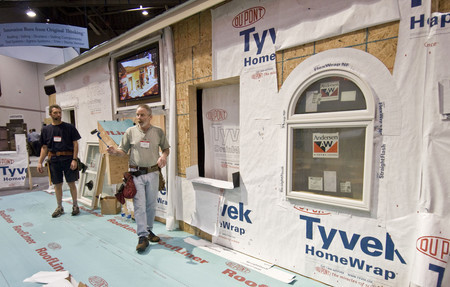 It's an overused term yet to be fully embraced by the average consumer, but "green building" dominated the 2010 International Builders Show in Las Vegas, from seminars to the 1,100 exhibitors of home-building products, materials and construction techniques.
Green building can be interpreted in a number of ways, but is generally viewed as construction practice that saves energy and natural resources. It could be a simple as installing fluorescent lights or as complicated as a solar-generated energy system.
Workers at DuPont's exhibit booth demonstrated application of the Tyvek HomeWrap, which prevents air and water from penetrating cracks and crevices in doors, windows and walls. The average home has over a quarter-mile of cracks in the sheathing, DuPont representative Alan Hubbell said.
"We try to have a solution for all regions of the country and all building types, whether it's vinyl, wood or stucco," he said Friday during the final day of the show, which had an attendance of about 55,000 at the Las Vegas Convention Center.
Tight building design, including energy-efficient windows, well-sealed doors and additional thermal insulation of walls, basement slabs and foundations, can reduce heat loss by 25 percent to 50 percent.
The Tyvek wrap costs about $300 a home, Hubbell said.
DuPont sponsored the ReVision home, a 1963 ranch-style home near Eastern Avenue and Desert Inn Road, retrofitted with an energy-efficiency overhaul that lowered its Home Energy Rating System score from 123 to 44.
The 1,800-square-foot home on the old Stardust golf course featured an open floor plan, low-pitched roofs, post and beam construction, vaulted ceilings and entire walls of windows. The problem was it had no insulation and utility bills were up to $500 a month.
The home was in foreclosure with $456,000 in notes against it. Craig Savage of Building Media and his partners bought the home for $145,000 and put about $150,000 into the retrofit, including 31/2 inches of polyurethane foam insulation covered by the Tyvek wrap.
"It's an absolute Thermos bottle of a wall," Savage said. "The trend is for people to live in smaller houses, closer to the city and closer to transportation. With those trends, retrofits make sense."
It will be a zero-energy home when the 4.8-kilowatt photovoltaic panels are added.
Doug Kramer, president and CEO of Houston-based LaPolla Industries, said the retrofit application for his company's spray foam insulation produces an immediate return on investment.
"Las Vegas happens to be a good foam market," Kramer said. "One is they recognize the insulation value of our product because of the heat. It's very prevalent nationwide, but Las Vegas was one of the first markets to recognize the value early on."
LaPolla foam insulation can be found throughout Las Vegas Valley, from Strip casinos to the Las Vegas Motor Speedway, Kramer said.
The cost is about 2.5 times that of standard fiberglass insulation, ranging from $2,000 to $6,000, depending on the home, Kramer said. It saves about 25 percent on energy bills.
At Norbord Industries' booth, marketing representative John Haluska showed Solar Board radiant barrier sheathing panels.
"It reduces heat gain in the attic space by reflecting heat from the sun, which reduces the load on your air-conditioning system," Haluska said.
Temperatures in an attic with ordinary sheathing might be 130 to 140 degrees in the summertime, compared with about 95 degrees with Solar Board, he said.
Norbord's TallWall oriented strand board reduces wall air leakage by 60 percent and doesn't contain any urea-formaldehyde resins, which means better indoor air quality, Haluska said.
Contact reporter Hubble Smith at hsmith@reviewjournal.com or 702-383-0491.