High energy bills persist in August for NV Energy customers
Updated September 21, 2023 - 9:52 pm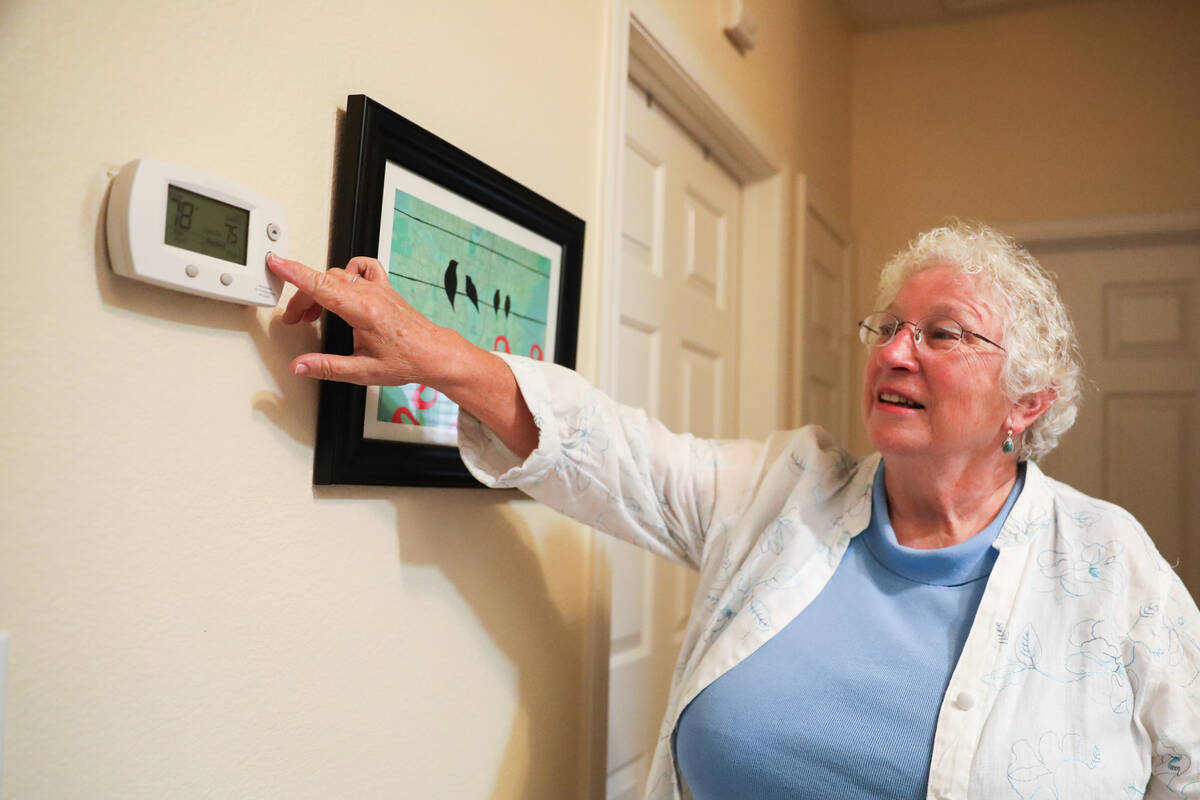 Southwest Las Vegas resident Candi Cazau was very surprised when she opened her July power bill and saw it was a whopping $803.
"The AC definitely is the main culprit," she said in a recent interview about the highest electric bill she has ever received at her 3,400-square-foot Rhodes Ranch home. "But when we have exceedingly high temperatures like we did (in July), and we're still experiencing them, you've got to keep the air going. I don't know what else to do."
Cazau, a retired publicist, is expecting a similar bill for August.
Though temperatures cooled in August from a record-setting July, many Las Vegas Valley residents' opinions about their power bills have not — or at least by much — as NV Energy says demand for power decreased by 14.4 percent in August from the previous month.
According to NV Energy, the average power bill for a single-family home in Southern Nevada in August was $293, a 22 percent decrease from July. The average power bill for an apartment in August was $156, a 17 percent decrease from the previous month, according to the public utility.
"July 2023 was the hottest month in Las Vegas weather history, with an average daily maximum temperature of 109 degrees," said Meghin Delaney, NV Energy's media relations manager, in an emailed statement. "On the other hand, August was one of the coolest in recent years with an average daily maximum of 100 degrees."
Henderson resident Jess Stuart said her August electric bill came in at $220, down from $273 in July. Both were the highest bills she had ever received for her three-bedroom residence. Previously, the highest bills were around $150.
"July was expensive, August was OK, and then they're predicting for next month to be way cheaper, and I kept the thermostat the same temperature," Stuart said. "So kinda weird."
Last month Stuart told the Las Vegas Review-Journal that she resorted to turning up the thermostat a few degrees, using more fans and sometimes turning off the air conditioning altogether when she was going to be away in an attempt to shave a few bucks off her bill.
Pamela Williams said there was "sticker shock" in her 55-plus community, Sun City Anthem in Henderson, when NV Energy's July bills came out. The retiree, who is on the board of directors of the community, said her July bill was $178 for her 1,500-square-foot home, nearly 82 percent higher than the one she received for July 2022.
Her August bill went down to $132.
"I was surprised that it was this price, given the fact that this month last year, I used quite a bit less, and it was around the same price," said Williams, who also spoke to the Review-Journal last month about her electric bill.
After the past couple of months, Williams said more and more residents of her community are looking to get more proactive and speak out about high utility bills. Many of the community's residents have fixed incomes and have to tighten their budgets and do without some other essentials to pay the higher bills, she said.
"The thing that I feel like has happened this summer is that people are getting mobilized and organized to try and see if there's more regulation that needs to happen with public utility companies," Williams said.
Bills should continue to decrease
While the energy demand for August still resulted in high power bills for customers, there could be relief on the way as temperatures continue to drop as the calendar moves into fall. NV Energy customers in Southern Nevada saw a quarterly rate decrease that took effect in September which will lower residential bills by less than 1 percent.
This is the first time NV Energy was able to do a simple quarterly rate decrease in five quarters since they are based on fuel purchase costs which had spiked in price. Those prices are now starting to come down, according to NV Energy.
NV Energy has said it expects its quarterly rates to continue to go down through the middle of 2024 if market conditions for fuel purchases remain stable.
Even with lower energy bills on the horizon, Cazau said she still expects to have to continue to focus on her budget and limit purchases to ensure all her bills get paid.
"Everything that you need in your home to survive has increased from 5 to 10 percent in the last year and I don't see where that's going to change," Cazau said. "The only thing that's going to change is probably NV Energy because our usage will come down slightly."
Contact Sean Hemmersmeier at shemmersmeier@reviewjournal.com. Follow @seanhemmers34 on X.