In Las Vegas, Al Gore says renewable energy economy 'taking off'
October 13, 2017 - 12:13 pm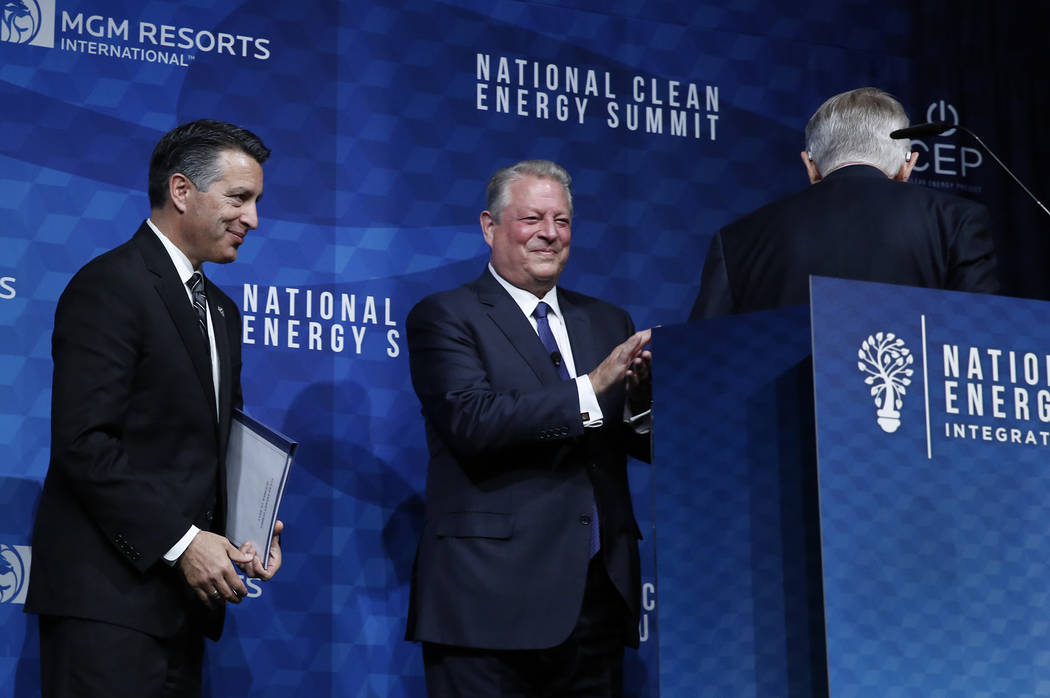 The Strip was hit by "An Inconvenient Truth" Friday, as former Vice President Al Gore opened the National Clean Energy Conference in Las Vegas with an alarming vision of an unfolding global climate crisis.
As he did in his 2006 documentary and this year's sequel, Gore talked about warming oceans spinning up unprecedented storms, rising temperatures rendering whole regions uninhabitable and wildfires scorching the West with record ferocity.
But he also outlined reason for hope in his keynote address. He said more leaders from both parties are beginning to take the problem seriously, and the renewable energy economy is "really taking off," particularly in places like Nevada.
More than 31,000 people now work in the state's clean energy sector, according to a study released Thursday by the Las Vegas-based nonprofit Clean Energy Project, organizer of the summit.
"I'm fundamentally extremely optimistic," Gore said.
And, of course, he brought along plenty of slides to prove it.
Sandoval, Reid host
The one-day green energy conference at Bellagio was hosted by Gov. Brian Sandoval and former U.S. Sen. Harry Reid, who organized the first-such summit a decade ago.
Reid said he asked Sandoval to be his co-host to demonstrate how Democrats and Republicans can work together to address climate change and promote sustainability.
This year's event, the first since 2015, comes as the Trump administration takes aim at initiatives enacted under President Barack Obama to boost renewable energy development, curb pollution and combat climate change.
Trump has said those policies and regulations are strangling the economy, crippling fossil fuel development and putting people out of work.
Reid seemed a little mystified by some of the administration's positions. "Making a big deal out of coal?" he said. "Those jobs are gone, and they're not coming back."
Gore only mentioned the president a few times in his speech. He said Trump's decision to withdraw the U.S. from the Paris climate accord was an empty gesture, because the country is still going to meet the commitments it made under the agreement. Progress can and will be made on renewables and climate change regardless of who is in the White House, Gore said.
Reid agreed, but added: "I think it would be better if we had a little help."
Speakers from both parties
To that end, Friday's speakers included governors and mayors from both parties who have been pushing for renewable energy development in their own communities in the absence of leadership in Washington on the issue. "They got tired of all the talk and just did it themselves," Reid said.
The Democrat from Searchlight added that Trump isn't the only one standing in the way of progress. There are plenty of Republicans in Congress who deny the existence of human-caused climate change. "It's hard to ignore, but people are ignoring it," he said.
"No one should think Trump created the Republican Congress. The Republican Congress created Trump," Reid said.
Friday's slate of speeches and panel discussions began with an acknowledgment of those affected by the Oct. 1 mass shooting in Las Vegas.
Gore, Sandoval and MGM Resorts Chairman and CEO Jim Murren each addressed the attack in their opening remarks.
"This is something that has wounded us deeply, but it has also brought us together," Sandoval said.
"The entire country grieves with you and holds you in our hearts," Gore told the audience. "I hear the phrase 'Las Vegas Strong,' and we're all with you."
Contact Henry Brean at hbrean@reviewjournal.com or 702-383-0350. Follow @RefriedBrean on Twitter.