Interior Secretary Sally Jewell, Paiutes sign deal for another big solar array project
September 15, 2016 - 11:36 pm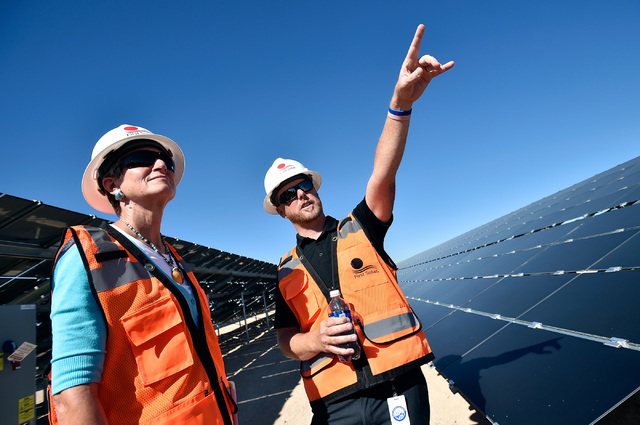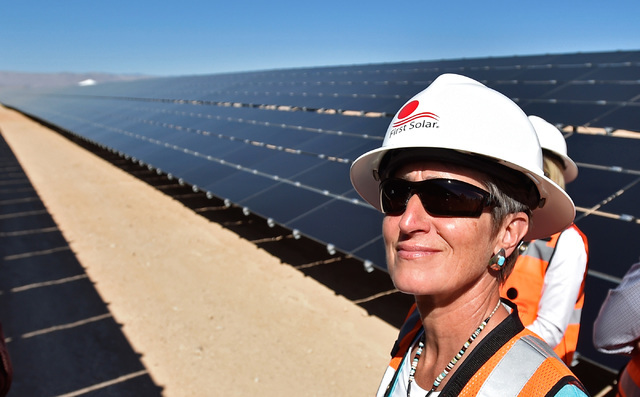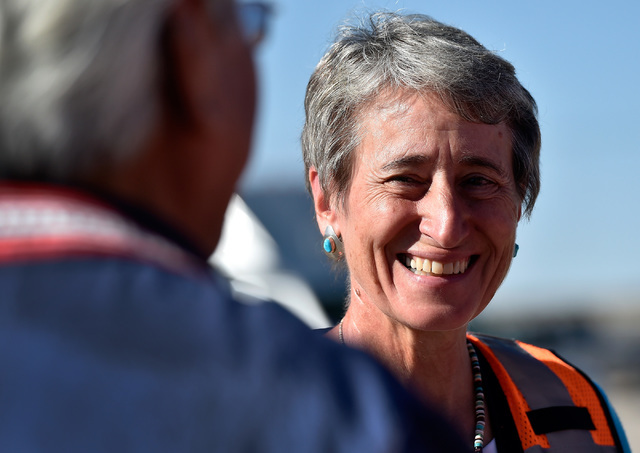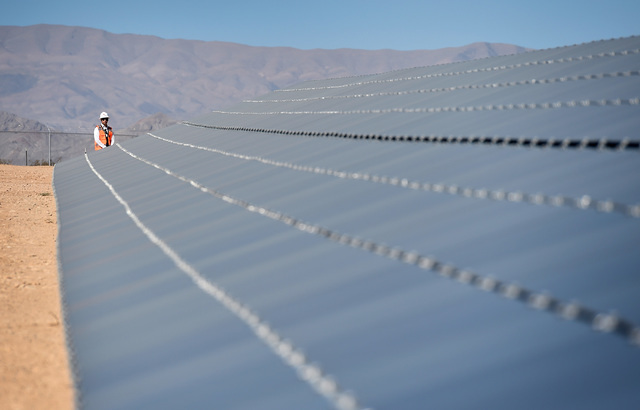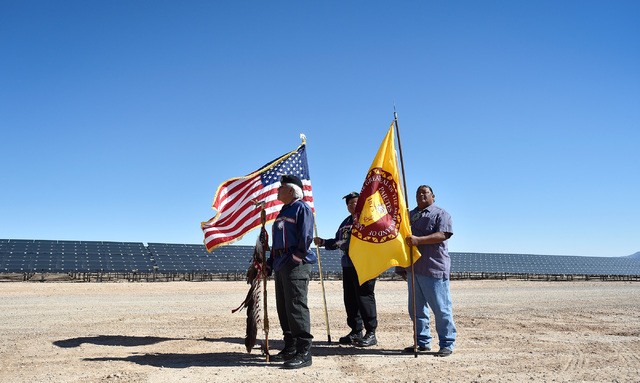 The Moapa Band of Paiute Indians will soon see the third solar power plant developed on its reservation in Clark County, as the tribe continues to pioneer renewable energy generation on tribal lands.
U.S. Interior Secretary Sally Jewell and tribal Chairman Robert Tom signed a document Thursday for a new 100-megawatt solar plant on the nearly-completed Moapa Southern Paiute Solar Project about 50 miles northeast of Las Vegas. That first 250-watt project is the first utility-scale solar power plant on tribal land, which will soon begin feeding power into the grid.
The partnerships with the federal government and private companies to develop solar projects have allowed the tribe to diversify while also respecting the land and remaining true to its heritage, Tom said.
"We consider ourselves earth's stewards not just for the lands you're standing on but for the lands that stretch all around us," Tom said. "We will be stewards for many generations to come. That's why the partnership between solar development and our tribe is a natural fit."
Aiya, the name of the new project, "means turtle in our native language," Tom said.
The Aiya project, a 100-megawatt photovoltaic solar array, is being developed by First Solar, and will require roughly 300 workers to construct. As with the development of the other, 250-megawatt project that's essentially completed, tribal workers will be given preference for those jobs, said Laura Abram, First Solar's director of public affairs.
The reservation has a population of about 215 people; tribe membership totals roughly 350, Tom said.
Roughly 115 tribal members worked on the first project, and two of those will stay on to run the 250-megawatt solar site once it's completed and fully online, expected to be in mid-November, First Solar Project Manager Geoff Dewhurst said.
Those two young women will make up half of the four-person team. They had never been on a solar site before they went to work on the Moapa Southern Paiute Solar Project, but obtained their senior electrical training certifications and had the "best work ethic and attitude," Dewhurst said.
Jewell hopes that marks the beginning of a lot more opportunity for tribes, she said.
The second solar site on Moapa Paiute land, announced in 2014, is a 200-megawatt installation.
The Moapa projects can help chart a path for future development of renewable energy on tribal lands, balancing cultural sensitivity with job creation for the tribe, Jewell said.
There is "significant" renewable energy generation potential on reservations beyond solar, including wind, biomass and geothermal, Jewell said.
"Indian country will be a key player in our renewable energy future," Jewell said.
The Aiya project will require a power-purchase agreement before it can proceed, but once completed, it's expected to generate enough energy to power 25,000 homes.
Thursday's signing ceremony was the last of a three-state renewable energy tour for Jewell that also took her to Boston and Palm Springs, California.
"We're in trouble" when it comes to climate change, Jewell said, pointing to 2016's record-breaking temperatures and the drought-stricken Southwest.
President Barack Obama has called on the Department of the Interior to approve renewable energy projects that generate a collective 20,000 megawatts of power on public and tribal lands by 2020.
"We're well on our way to meeting that goal," Jewell said.
Contact Jamie Munks at jmunks@reviewjournal.com or 702-383-0340. Follow @JamieMunksRJ on Twitter.