'It has just been crazy': Residents brace for a hot summer with high bills
Updated May 28, 2023 - 11:21 am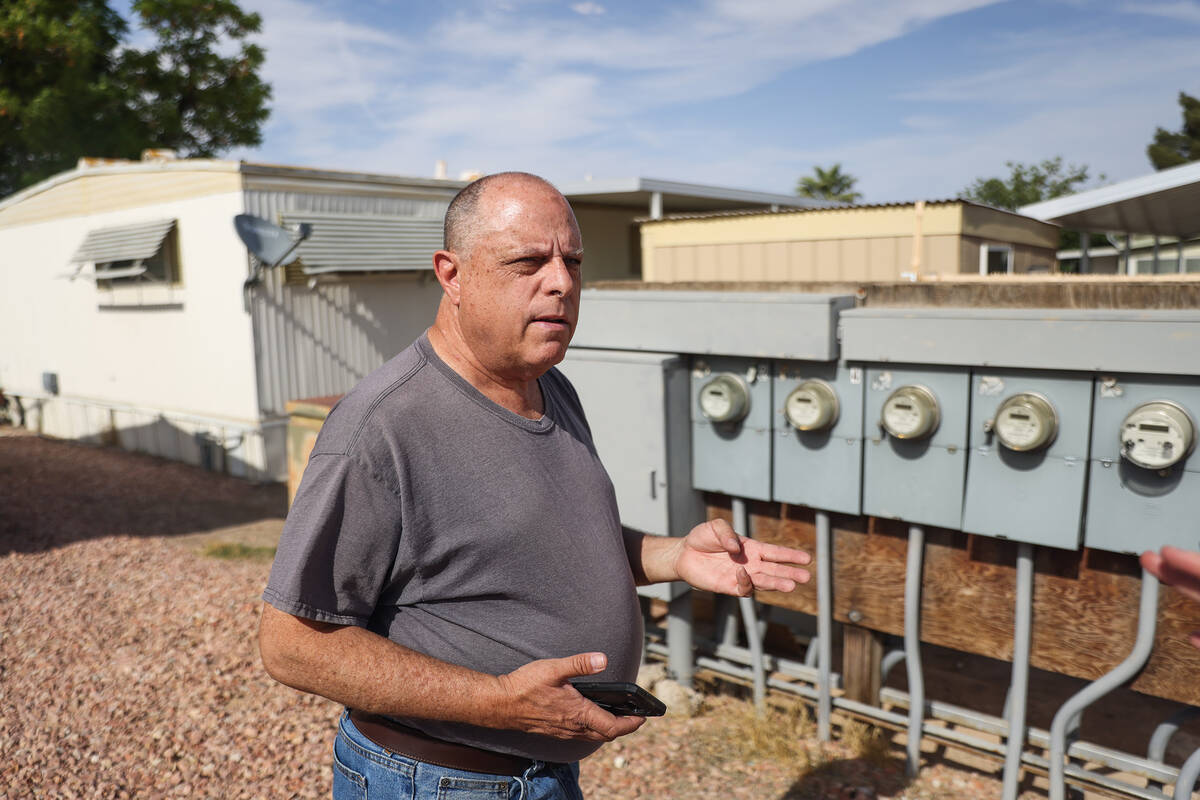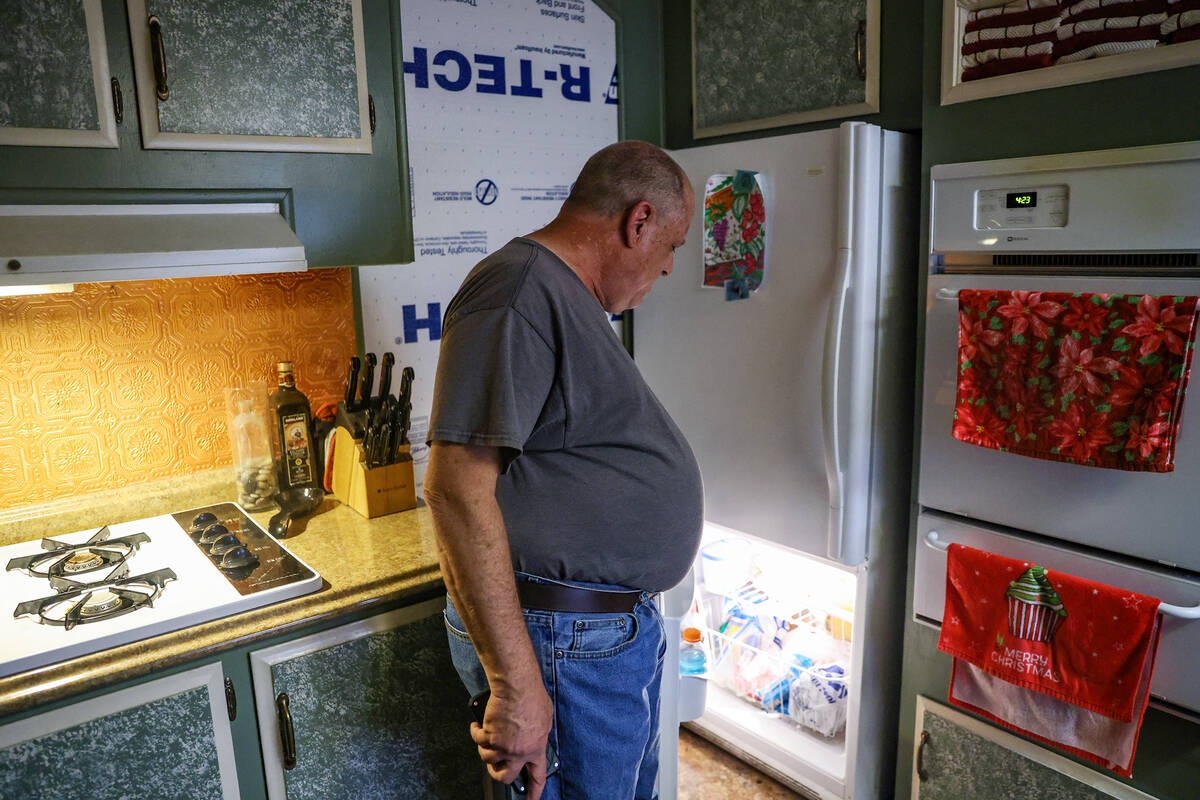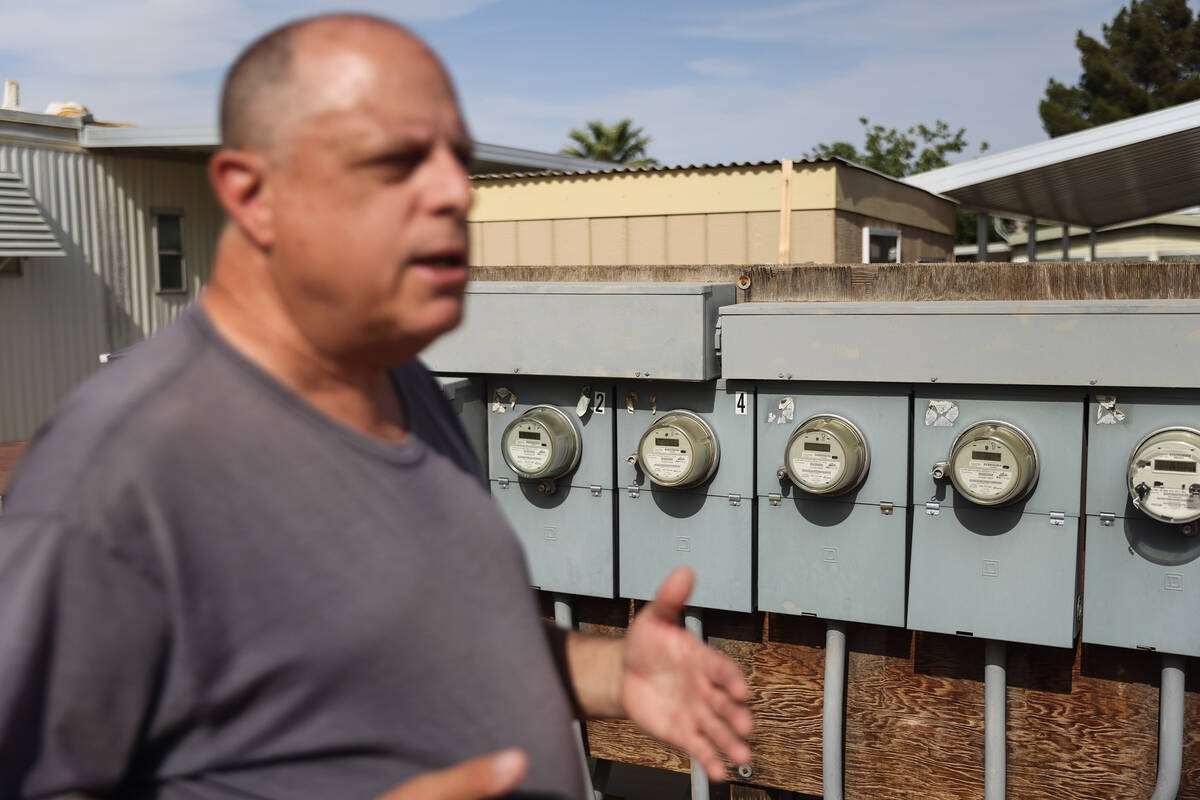 As Southern Nevada transitions from its temperate spring to its scorching summer and the sounds of air conditioning units become more constant, so do anxieties about utility bills.
Anthony Smith is a retired sign shop worker who lives in a four-bedroom mobile home in eastern Las Vegas with three other retirees, all of whom live on fixed incomes. The 65-year-old says he's noticed large increases in the home's utility bill in the last few weeks and he's worried that that's just the beginning.
Usually, Smith's electric bills hover around $185 a month, but the bill increased to $225 in April and, based on past usage, he expects it could go to $285 during the hot summer months when air conditioning is vital.
Those increases plus other inflationary pressures of increased rent, food and medicine costs have Smith concerned about his future.
"It's getting harder and harder to set money aside for anything, even emergencies, which worries me since what will happen when something goes wrong," he said.
This concern isn't unique to Smith. Janice Walker, a retired executive assistant who lives in a two-bedroom house in eastern Las Vegas, has also noticed rising costs for electricity.
"It's progressively gotten worse but this year it has just been crazy," Walker said. "It just goes up and up and up and I use less and less and less."
NV Energy and Southwest Gas have filed multiple quarterly rate increases in the past year to cover the costs of natural gas, which have brought higher costs to customers.
Both companies told the Las Vegas Review-Journal they expect the summer bills for 2023 to be higher than the summer bills of 2022, even though NV Energy last week submitted a request for a rate decrease with the Nevada Public Utilities Commission.
The cost of natural gas for NV Energy has increased by 70 percent to 500 percent depending on the month, according to Doug Cannon, NV Energy's CEO.
"The rate increases that customers have faced in 2023 really are a product of what happened in 2022," Cannon said.
NV Energy estimates that the upcoming July bills for both single-family and multifamily homes will be 22 percent higher compared to July 2022. The company estimates the average monthly bill for single-family homes could be $304 and the average for multifamily homes could be $180.
Although the demand for natural gas supplied by Southwest Gas drops in the summer months, the utility expects the average June monthly bill for a single-family home ratepayer to increase by $8.85 or 25.8 percent compared to last year. The same bill for a multifamily ratepayer is expected to increase by $5.96 or 23.1 percent, according to data shared by Southwest Gas spokeswoman Amy Washburn.
Summer demand
NV Energy's electric load in the summer is about 2½ times greater than other periods, which causes the company to purchase about 30 percent of its energy on the more expensive open market, according to Cannon. He estimated that in 2022 a megawatt-hour bought on the open market cost $250 compared to $70 for a megawatt-hour generated by NV Energy.
Cannon said the company has taken steps to mitigate the costs by preparing to reduce its rates by 5 percent to 14 percent for July, August and September. Southern Nevada customers could see an overall reduction of 3.2 percent to their summer rates compared to spring rates.
The rate decrease, if approved by the PUC, would allow NV Energy to recoup its costs over a longer period than usual.
"This is important and the right thing to do for our community," Cannon said. "What this will mean is we're spreading the recovery of these costs over a longer period of time. So instead of us recovering these costs over 12 months, we'll recover these costs from our customers over 18 months."
Customers should expect this rate decrease as a temporary relief since it's an "accounting shift" for three months and the full price will have to be paid eventually, according to Hunter Holman, Nevada clean energy manager for Western Resource Advocates.
"I don't believe NV Energy is necessarily going to pay for some of the costs that would have otherwise flowed through to customers," Holman said. "This is just an accounting shift, where customers are no longer going to be paying as much during these three months, but they will be responsible for paying the full amount at some point."
The NV Energy rate decrease has gotten a mixed reaction from residents. Smith thinks anything to reduce rates is "great" while others like Walker don't expect the decrease to have an impact during the summer months.
"I totally expect to be hit with high summer bills because we have to run (air conditioning) 24/7," Walker said.
Adjustments to high bills
The increased costs in the past year have made Walker consider leaving Las Vegas for a more rural area in Nevada like Winnemucca where she hopes there will be a lower cost of living.
Moving due to the living costs in Las Vegas has also crossed the mind of retired Summerlin resident Kaye Bence, who lives in a three-bedroom home with her husband, Preston Fray.
"We're getting sick with it," Bence said. "There's a lot of retirees living in the city of Las Vegas, and they're all feeling that crunch."
Bence estimated that her electric bills have increased by over 40 percent in the first months of 2023 compared to the same period in 2022 and her Southwest Gas monthly bills during the winter increased by more than $200 over the previous winter. She and her husband have made such adjustments as more budget shopping and keeping their home temperature in the low 60s during cold months and high-70s during the warmer months to save what they can on their bills.
"We are going to be a little bit uncomfortable," Bence said. "And if that's the utility's game, so they can get some money, well, then we have to play it."
Similar adjustments to reduce utility bills have gone only so far for Smith, who already has invested $4,600 in a new air conditioning unit. That made some improvement to his electric bill, but not enough for him to feel comfortable about the future.
"If (bills) keep going up I'm gonna have to sit down with my roommates," Smith said. "I don't know what we're gonna do. We can't turn out the lights … they're only a few watts. The only thing that we haven't done is we could probably unplug the refrigerator."
Cannon said NV Energy is sympathetic to concerns from ratepayers and urges distressed ratepayers to learn more about energy efficiency and payment assistance programs. He is also optimistic that the utility bills heading into the summer of 2024 will be lower than this year.
"When we look forward to a year from now, costs will absolutely be lower than costs are today," Cannon said. "Because every single quarter rates are going to correct as we recover that balance, and customer expenses will get cheaper."
Where to find help
Find tips on saving on gas and electric bills as well as information on payment assistance programs on the websites for Southwest Gas and NV Energy: www.swgas.com and www.nvenergy.com.
Contact Sean Hemmersmeier at shemmersmeier@reviewjournal.com.Follow @seanhemmers34 on Twitter.