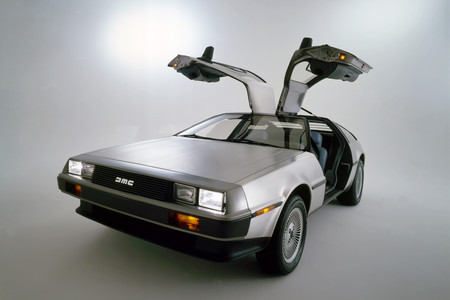 Who doesn't remember the DeLorean, an unmistakably styled 1980s sports car that was put on the mainstream map by the "Back to the Future" trilogy movie series starring Michael J. Fox and Christopher Lloyd?
For those seeking a dose of nostalgia or quirky car gazing, the annual DeLorean Car Show, which is held at a different location each year, will take place at the Palace Station from Sept. 24-27. During DCS '09, the DeLorean Owners Association and admirers of the car will gather to celebrate the unique history of the DMC-12 sports car. Among the numerous cars on display will be a locally converted electric DeLorean.
Las Vegas resident and DeLorean DMC-12 owner Bob Brandys works for the Environmental Protection Agency and, with help from his family, has been busy converting a classic DMC-12 so that it can now be driven by electric power. An electric motor powered by lithium-ion batteries will replace the fuel-injected V-6 gasoline engine after their electric vehicle conversion is completed. In addition to presenting their car at the DeLorean show, the Brandys family will also host local events for the DeLorean Owners Association by staging a "prelude" to the car show from Saturday through Wednesday.
If there are any budding time travel tinkerers in the DeLorean Owners Association, they will have many opportunities to study and explore alternative fuels during the DCS '09 prelude on Monday. The day's tour will feature hydrogen-powered cars, solar-power technologies and atomic-power discoveries.
Prelude attendees will visit a solar-powered hydrogen generation and pumping station at the Las Vegas Valley Water District; a solar power array parking structure and water conservation gardens at the Springs Preserve; energy research projects at the University of Nevada, Las Vegas Center for Energy Research; and view the history of nuclear power at the Atomic Testing Museum.
The DeLorean DMC-12 is fondly remembered as a gateway to limitless possibilities of imagination. Six modified versions of the DeLorean DMC-12 were used as prop "time travel" platforms in the "Back to the Future" trilogy, which was written by Bob Gale, directed by Robert Zemeckis and produced by Steven Spielberg. The DeLorean immediately gained attention when the first "Back to the Future" movie debuted in 1985 with a time travel adventure that made a round trip to 1955 and back. A second follow-up movie showed the future as it might be in 2015. Throughout the series, a plutonium-powered DeLorean DMC-12 could not only drive on a surface road faster than the passage of time, but could also fold its wheels underneath, hover in midair and fly through space.
Founded by former General Motors Corp. executive and automotive engineer John DeLorean, DeLorean Motor Co. produced about 9,000 vehicles for the American market from 1981 to late 1982. The DMC-12 was based on a 1976 prototype designed by William T. Collins, a chief engineer at Pontiac, with additional engineering refinements by Colin Chapman, the founder and owner of Lotus Motor Co. It featured distinctive gull-wing doors with special gas-charged lifting struts and torsion support bars. The driver was enclosed by a glass-reinforced plastic underbody that was affixed to a double "Y" frame chassis. The underbody was covered by panels that employed a brushed SS304 stainless steel coating instead of paint, so small scratches on the body panels could be buffed out by using a nonmetallic scouring pad. About 6,000 DeLoreans are still in existence today.
For more information about the DeLorean Car Show 2009, go to www.dcswest.info.
Also next weekend, for those interested in learning more about alt-fuel vehicles, the Las Vegas Regional Clean Cities Coalition will be sponsoring a free Alternative Fuel Vehicles Workshop on Thursday at the College of Southern Nevada's Cheyenne campus from 8 a.m. to 3:30 p.m. "The A to Z of AFVs" will offer a "clear, concise and fuel-neutral picture of currently available alternative fuel vehicles," as well as "available incentives for vehicles, fuel and fueling infrastructure." AFV cars and trucks will be on display at the campus during the day of the workshop. Interested parties can register for this free seminar at www.lasvegascleancities.org.
Stan Hanel has worked in the electronics industry for more than 30 years and is a long-time member of the Electric Auto Association and the Las Vegas Electric Vehicle Association. Hanel writes and edits for EAA's "Current Events" and LVEVA's "Watts Happening" newsletters. Contact him at stanhanel@aol.com.