National solar installation numbers down after Tesla purchase
December 27, 2017 - 3:57 pm
Updated December 27, 2017 - 6:44 pm
Tesla took a new approach to U.S. home solar installations in the beginning of the year with its SolarCity subsidiary. Its consequences impacted the entire industry.
The U.S. residential solar market is expected to fall 13 percent this year, according to GTM Research's U.S. PV Leaderboard report.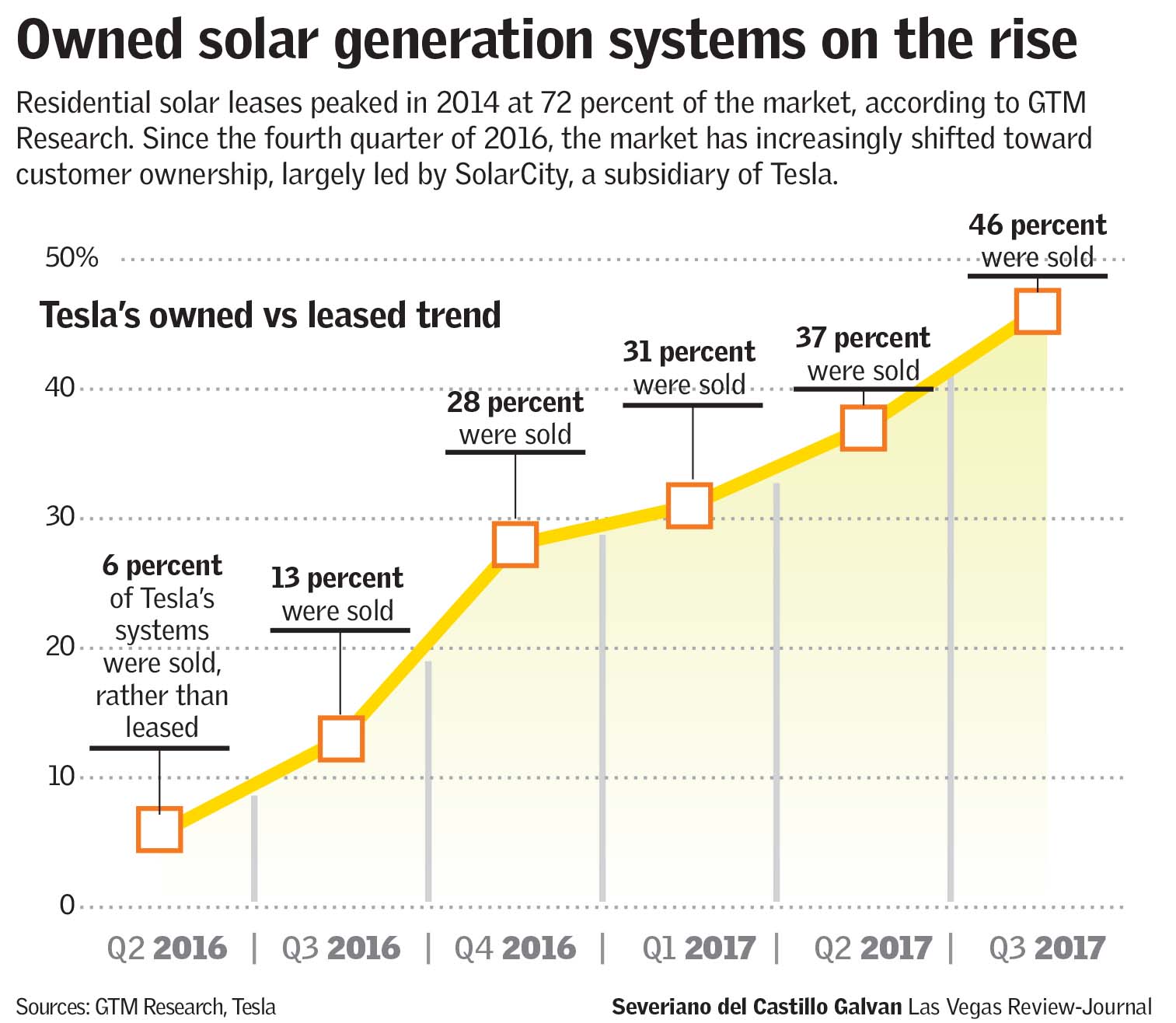 The decline is slated to be the first in at least nine years, according to the Solar Energy Industries Association.
"Tesla is the top residential installer, and they have been for several years," said Allison Mond, a solar analyst at GTM Research. "As they are sort of flailing as a company — in many ways — they're really bringing the market down with them."
Under Tesla's ownership, SolarCity changed its business model and scaled back aggressive marketing campaigns. That contributed to a 10 percent quarter-over-quarter drop in residential installations in 2017, according to GTM Research.
Money up front
In 2008 — before Tesla acquired the company — SolarCity began leasing rooftop solar systems to customers with no upfront costs. SolarCity would borrow money to install solar panels on customers' homes, and then customers would lease the system for 20 years and make monthly payments to SolarCity.
The no-money-down financing helped SolarCity become the leading residential rooftop solar installer. But the leasing model also meant that the more systems the company installed, the more debt it had to take on.
"It's a really capital intensive business," said Mond. "You have to have equipment and installation crews. It's expensive to put solar panels on a roof. I am pretty sure they were never profitable."
SolarCity lost money in all but two quarters since it went public in December 2012.
In the fourth quarter of 2016, Tesla's financial documents showed it was pivoting away from SolarCity's leasing model.
"With our acquisition of SolarCity complete, we plan to reduce customer acquisition costs by cutting advertising spending, selling solar products in Tesla stores, and shifting from leasing to selling solar energy systems." Tesla reported in its 2016 fourth-quarter shareholder letter.
About 46 percent of the solar systems that Tesla deployed in the third quarter of 2017 were sold instead of leased, compared to 13 percent in the third quarter of 2016.
The shift "drives revenue growth and improves cash generation. We are expecting cash sales to surpass 50 percent of residential solar revenue in Q4," Tesla reported in its 2017 third-quarter shareholder letter.
Mond said it's a reasonable move for Tesla, which is strapped for cash.
"But it's coming at the expense of installation volume to an extent far greater than anybody really expected," she said. "They have reduced their volume considerably in pretty much every market."
Consequences
Tesla's decision to cut back on its advertising spending also had an effect on smaller companies, Mond said. Marketing campaigns helped to raise awareness for the entire industry, resulting in potential customers not just for Tesla but also for other national players and smaller local providers.
SolarCity accounted for one-third of the market in 2015, installing 731 MW of residential solar generation systems, according to GMT Research. Mond says that's roughly 104,428 rooftops.
Tesla installed 435 MW of systems between the first and third quarters 0f 2017, but the company did not give a breakdown between residential and nonresidential installations.
Even if it it were all residential, that would be just 62,142 rooftops.
"Based on our own recent national projections, they're now at 14 percent of the market," said Austin Perea, a solar analyst at GTM Research.
Still, Tesla is the largest national rooftop solar installer.
Contact Nicole Raz at nraz@reviewjournal.com or 702-380-4512. Follow @JournalistNikki on Twitter.
A $2.6 billion merger
Tesla formally entered the rooftop solar industry in November 2016, when it bought the 10-year-old-company SolarCity for $2.6 billion.
SolarCity was the leader in the installations of rooftop solar panels in the residential market since at least 2012, said Allison Mond, a solar analyst at GTM Research.
Peter Rive, the co-founder of SolarCity, is the cousin of Tesla CEO Elon Musk.