Net metering rules may change Nevada's green energy strategy
January 31, 2016 - 8:26 pm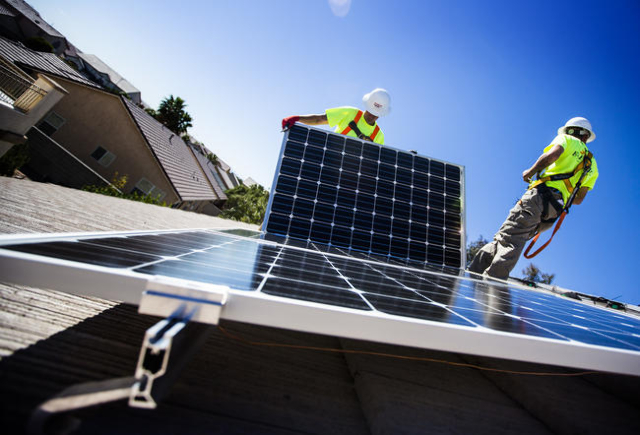 CARSON CITY — Nevada government and business leaders may have to shift at least part of their established economic development focus from renewable energy to other opportunities if new net metering rules drive the rooftop-solar business out of Nevada as predicted by industry officials.
Rooftop solar was only very recently identified as a priority for Gov. Brian Sandoval's Office of Energy. A rooftop-solar initiative implemented in 2012 had a goal of getting 5 percent of all single family homes and businesses in Nevada to use rooftop-solar systems. The office also had a goal of seeking to make solar electricity cost-competitive with other forms of energy.
The office received a $765,000 grant in 2011 for its Nevada Rooftop Solar Initiative from the U.S. Department of Energy.
The initial target market was 25,000 homes and businesses, with 80 percent being residential and 20 percent commercial. The goal was for rooftop solar to be installed on 1 percent of the target market in 2013 and 2 percent by 2015, with an increase in the rate of rooftop solar in the target market by 20 percent each year starting in 2016, according to a news release announcing the grant in December 2011.
Currently, there are 15,728 interconnected net metering customers at Nevada Power Co. in Southern Nevada, and 2,536 customers with Sierra Pacific in Northern Nevada.
The energy office has also provided more than $8 million in various grants and loans, which have specifically benefited rooftop-solar projects and other net-metered solar projects throughout Nevada. Some of the projects include the city of Las Vegas, the Desert Research Institute, Esmeralda County and the cities of Carlin, Ely and West Wendover, among others.
But Angie Dykema, director of the Office of Energy, said the 5 percent goal identified for the rooftop-solar program was related specifically to the DOE grant.
"It was not an office goal, not a goal of our agency, but the grant goal," she said.
The grant has since expired, and the program is no longer highlighted on the agency's website, where it had been posted until just a few weeks ago.
The office did just recently announce that $467 million in state incentives, grants and loans have been provided to develop the solar industry in Nevada.
The agency said the funds have benefited both small- and large-scale projects and provided more than 2,900 verifiable permanent and temporary construction jobs. This is part of a continuing effort to meet and exceed Nevada's aggressive Renewable Portfolio Standard, which requires the state's energy portfolio to be comprised of 25 percent of renewable energy sources by 2025.
The office has helped generate a huge economic impact in the solar industry in Nevada, particularly with large-scale solar projects, Dykema said.
Contributing to economic diversification?
The vote by state regulators to implement the new, less favorable net metering rates for all rooftop solar customers came after the Legislature in 2015 opted not to take up the issue. Instead, legislation was passed directing the PUC to make the decision, which included the question of whether nonsolar customers of NV Energy, doing business as Nevada Power in Southern Nevada, were subsidizing their net metering neighbors. Net metering allows solar customers to receive a credit for the excess energy they produce.
The new rate assumes there is a subsidy to rooftop solar customers, although the issue remains in dispute.
But the new metering rates have prompted concern from leading venture capital investors. In a letter to the Nevada Public Utilities Commission asking it to reconsider the new rates, the group, led by DBL Partners and its managing partner Nancy Pfund, said: "Failure to do so would quickly curtail solar deployment in Nevada by unnecessarily disrupting customer and investor expectations and send the message that Nevada is not willing to partner with the investor community to meet its clean energy and climate goals, and may even discourage broader private investment in the state."
The Solar Energy Industries Association, which has also asked for reconsideration, said the new rate is inconsistent with Sandoval's goal of allowing the industry to continue to create jobs while protecting nonsolar ratepayers. The new rate will cause private investment in renewable energy to dry up and economic growth will suffer, the group said.
While not specifically mentioned in the Governor's Office of Economic Development state plan released in 2012, the document does mention a priority of renewable component manufacturing and energy efficiency upgrading.
Attracting companies like SolarCity to Nevada could be a key to the development of component manufacturing, but the company stopped sales and installations in the state following the PUC's December adoption of the new net metering rates. The less generous rates took effect Jan. 1.
The Governor's Office of Economic Development in 2013 also granted SolarCity $1.2 million from its $10 million Catalyst Fund, which helps job-creating companies expand or relocate to Nevada. SolarCity opened a main call center in Las Vegas, where sales, customer care and billing from around the country are handled. The facility is not expected to be affected by Nevada's new net metering rates.
But the rates will likely affect SolarCity CEO Lyndon Rive's plans, announced in 2013, to make Las Vegas an important hub for the company.
Green energy potential high for Nevada
Rooftop solar is not mentioned specifically by the Las Vegas Global Economic Alliance in its 2013 Comprehensive Economic Development Strategy report. But the group said clean technology has huge potential for Nevada.
"At the Desert Research Institute and the University of Nevada Las Vegas, we have some of the world's foremost experts on clean energy, energy efficiency, and water conservation," the report stated. "We need to leverage their talent to advance and attract this growing industry."
The report noted that the U.S. Department of Interior completed a solar study and indicates that Southern Nevada has the potential to safely and efficiently create about 6,700 megawatts of solar energy, enough energy to power more than 6.7 million homes.
While not mentioning rooftop solar specifically, the report says Nevada is the ideal place to develop and implement clean technology.
In a March 2014 report, the nonprofit Clean Energy Project said cumulative investment in solar power generating assets in Nevada has reached $2.3 billion, which includes $220 million in distributed generation photovoltaic installations such as residential solar rooftops.
"With numerous utility-scale, residential and commercial solar projects, Nevada is one of the top ten states for installed photovoltaic solar, and one of the top three states for installed concentrating solar power," the report said.
Future of rooftop-solar jobs in question
The 2014 report noted more than 80 solar companies in Nevada at that time, employing 2,400 people. These companies provide a wide variety of solar products and services ranging from solar system installations to the manufacturing of components used in photovoltaic panels, the report said.
But several of those companies have left the state or cut back on jobs following the PUC decision, including SolarCity with an estimated 550 jobs.
Nevada's decision on rooftop solar comes just a few weeks before California regulators decided to go in the opposite direction, voting last week to preserve the ability of solar energy customers to obtain full retail credit when they generate excess electricity from their systems.
Two major economic coups for Nevada, the recruitment of electric car makers Tesla and Faraday to the state, have a connection to rooftop solar as well. The car makers will rely on rooftop-solar generation, along with battery storage, from consumers to power their vehicles.
Tesla CEO Elon Musk wants to see his battery technology put to use in homes in conjunction with rooftop solar. SolarCity was founded by Musk's cousins, Lyndon and Peter Rive. Musk is SolarCity's chairman and largest shareholder.
If rooftop solar is no longer viable in Nevada, it could make it harder to electrify transportation in Nevada as compared with other states — despite the more than $1 billion in tax breaks and incentives provided by Sandoval and the Legislature to lure the companies here.
The PUC is still evaluating the potential reconsideration of its new net metering rate.
— Contact Sean Whaley at swhaley@reviewjournal.com or 775-461-3820. Find him on Twitter: @sean801.