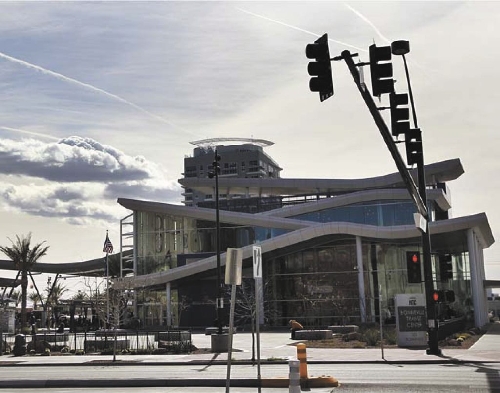 Nevada is ranked No. 10 in the nation with 3.74 million square feet of LEED-certified green building completed in 2012, or 1.39 square feet per capita, the U.S. Green Building Council found.
Among notable projects highlighted by the Washington, D.C.-based USGBC are the Bonneville Transit Center, which received platinum certification; North Las Vegas City Hall (gold); and the Green Flag training facility at Nellis Air Force Base (silver).
Nevada has been at the forefront of Leadership in Energy and Environmental Design projects with support from municipalities and state agencies such as the Office of Energy, said Jennifer Turchin, consultant for Sellen Sustainability and president of the USGBC Nevada chapter.
She counts 93 LEED-certified commercial and institutional projects in the state, and the number could be higher. Some developers don't register their projects because they don't want to share financial information on green building, which is perceived to be more costly, Turchin said.
"I think we're definitely doing well with LEED," she said Tuesday. "It could always be more. I'd like to see every construction project have a green element. I think the state is very progressive with incentives, and we're one of the few states that has that."
Turchin worked on getting the 200,000-square-foot ProCaps Laboratory in Henderson LEED-certified with solar panels that reduce energy consumption by 30 percent. It's not just sustainable building materials that determine certification, but how much water and energy are saved, she said.
Nevada has 44.4 million square feet of LEED-certified space through 2012. It was ranked the No. 1 state in 2010 with 10.92 square feet per capita.
USGBC spokesman Jacob Kriss said Nevada's 2010 ranking was largely attributable to MGM Resorts' 16 million-square-foot CityCenter project, which received LEED platinum and gold certification.
Virginia was No. 1 last year with 29.7 million square feet of LEED-certified space completed, or 3.71 square feet per capita.
"It's important to remember that the list is just a snapshot in time for these states, and just one way of thinking about the green building that's taking place there," Kriss said. "The list doesn't reflect the number of LEED-registered projects that are in the pipeline for certification, a process that can take several years."
Bonneville Transit Center, the third LEED platinum building in Southern Nevada, uses solar photovoltaic panels to generate renewable energy and uses natural lighting for nearly 80 percent of the building, reducing electricity consumption during peak demand.
Lake Mead National Recreation Area communication center in Boulder City and Schulter Systems, a manufacturer of installation systems for tile and stone, received gold certification in 2012.
Past LEED-certified buildings in Southern Nevada include LaPour Corporate Center, Element hotel, Molasky Corporate Center and Lied Animal Shelter.
MGM Resorts announced this week that it has achieved the "Green Key" rating for environmental conservation on 15 properties from Green Key Global, which designates ratings to 2,900 member hotels that exemplify environmental and social responsibility throughout their properties.
Contact reporter Hubble Smith at hsmith@reviewjournal.com or 702-383-0491.