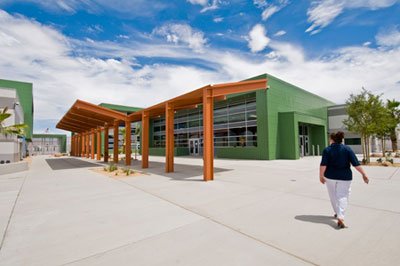 Its natural lighting, V-shaped hallways and loft-like design give a cutting edge vibe to the new Veterans Tribute Career and Technical Academy.
What's also cool is what can't be seen: a geothermal system of 180 wells 400 feet deep.
They cool the building through a closed-loop system that sends hot water to be cooled beneath the earth's surface.
Compared to conventional air conditioning systems, the wells are like the loop that takes heat to an outside fan on top of a building or beside a house and returns it to the building at a cooler temperature.
For geothermal systems, the earth "is the sink to deposit unwanted heat," said Paul Gerner, the associate superintendent of facilities for the Clark County School District.
"The green buzz is that you have to drill a hole into the earth, but you save on electricity forever," said Don Dyer, the senior project manager for McCarthy Building Companies.
McCarthy Building is the general contractor on the $59.8 million construction project, which is coming in $100,000 under budget.
The costs of digging a hole are usually offset in the savings from not having to build the infrastructure for a conventional air conditioning system, Gerner said.
Water towers, roof-top air compressors and mechanical rooms, for instance, can be "downsized" with geothermal systems.
If there are no construction savings, the "worst case scenario is that the payback is two to three years," Gerner said.
Geothermal systems reduce energy costs by 25 percent to 35 percent, Gerner said.
At a high school, they reduce the amount of water needed for air conditioning by 500,000 to 700,000 gallons a year.
The systems are expected to last 100 years. So, while the school building will have to be replaced in 50 years, the replacement school can simply be re-attached to the old geothermal system, he said.
The Northwest Career and Technical Academy, on Vegas Drive, just east of Martin Luther King Boulevard, was the first school to be built with a geothermal thermal system in 2005.
A total of seven schools will have them once construction is complete.
The other schools are Burkholder Middle School; East Career and Technical Academy; Virtual High School, which is part of the new Vegas PBS complex; Southwest Career and Technical Academy, and West Career and Technical Academy, which will open in August 2010.
Schools are selected for geothermal systems based on soil conditions.
Plans for West Academy had to be modified because of hard earth underneath the school, Gerner said.
Like Veterans Tribute, Southwest Academy is one of seven new schools to open on Aug. 24, the beginning of the school year.
Both schools share the same building prototype, because they were designed by the Pugsley, Simpson and Coulter architectural firm of Las Vegas.
Their similarities end there.
Southwest, which is near Windmill Lane and South Rainbow Boulevard, has a different vocational program with diverse classes like interior design, nursing, dental assisting and video game technology.
While Southwest has a more eclectic program, Veterans Tribute focuses on vocational training for public service, such as law enforcement, 911 dispatch, emergency medical technicians and forensics. It even has a crime scene lab, said Susan Thornton, the assistant principal.
As part of the curriculum, Veterans Tribute students will be required to take four years of physical education and Spanish.
There is an outdoor obstacle course, but there's no gun range for the budding police officers.
School district policy forbids "live weapons" on campus.
Contact reporter James Haug at jhaug@reviewjournal.com or 702-374-7917.