NV Energy files regulatory plan to power Sphere with solar energy
Updated August 25, 2023 - 11:22 am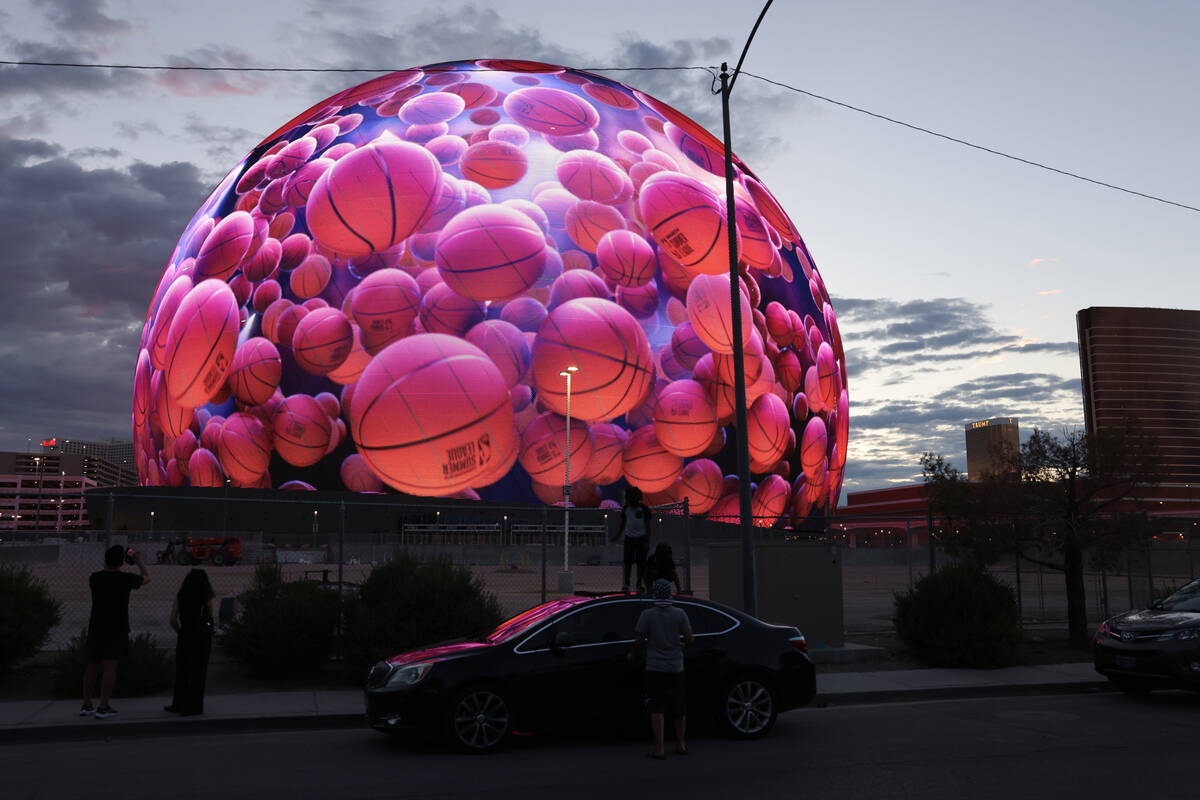 Solar energy will be used to power most of the Sphere's nightly light shows and other entertainment produced at the $2.3 billion venue under a plan scheduled to be reviewed by Nevada's Public Utilities Commission.
Sphere Entertainment Co. on Thursday announced that it has submitted a 25-year agreement with NV Energy to be reviewed by the commission.
Under the agreement, the Sphere eventually would get around 70 percent of its energy from a new solar energy facility and a battery storage complex to be built by the utility in Northern Nevada. In addition, Sphere has pledged to buy certified renewable energy credits to offset the impact of emissions from the creation of electricity for the venue.
The amount of power used and the rate Sphere will pay was redacted from the filing, but the document said other users' rates and use would not be affected by Sphere's needs.
Nevada law and commission regulations allow companies to seal rate and usage information.
Other terms of the agreement were not disclosed, but Sphere officials say the Sphere will be one of the most environmentally sustainable entertainment venues ever built.
Under the energy supply agreement filed by NV Energy, short-term and long-term needs are addressed with power initially from existing resources, but long term, most of the Sphere's energy would come from a solar field being built by the utility.
The filing identified the long-term power source as the Sierra Solar Project, which will be reviewed by the commission in a separate action.
The Sierra Solar Project would cost $1.465 billion to build — $1.536 billion with a transmission upgrades — in Churchill County, on 6,787 acres 15 miles north of Fernley.
The 400-megawatt photovoltaic solar generation plant would cost $734 million to build with $731 million in costs for battery storage and $71 million for power transmission upgrades.
Southern Nevada NV Energy customers would be responsible for paying 60 percent of the costs of the projects while Northern Nevada customers would cover 40 percent. Sphere would not be the only customer using Sierra plant electricity.
According to NV Energy, the battery storage facility would be online by July 2026, while the solar field would be in use by April 2027.
An NV Energy expert, in testimony on the construction of the Sierra plant, said Sphere is expected to need a peak load of 28 megawatts to power the facility. By comparison, in 2018, when Allegiant Stadium was being built, the Las Vegas Raiders told the Public Utilities Commission that the stadium peak power usage would be 18 megawatts.
Peak power, a utility standard, is when every electrical device within a building is in use at the same time, a circumstance that rarely occurs.
According to the California Independent System Operator, an organization that monitors California's electrical grid, one megawatt can provide "roughly enough electricity for the instantaneous demand of 750 homes at once," which means Sphere would use the equivalent of the power necessary for 21,000 homes.
NV Energy has asked the commission to act on the Sphere power request by Feb. 2. Sphere opens commercially Sept. 29.
The 96-page filing included testimony from utility experts backing the proposal.
"Just as Sphere is setting a new standard for immersive live entertainment, the venue is also setting an industry standard when it comes to renewable energy," Rich Claffey, executive vice president and chief operations officer, said in a release. "From the outset, we designed Sphere to minimize environmental impact and to help create a sustainable operation well into the future. We're proud to enter into this agreement with NV Energy and partner with them to achieve both of those important goals."
If approved by the Utilities Commission, the new NV Energy solar and battery facility would serve Sphere as well as other NV Energy customers.
"NV Energy is proud to partner with Sphere on our shared vision and commitment to growing our renewable resources," said Tony Sanchez, NV Energy's executive vice president of business development and external affairs.
"NV Energy has consistently exceeded the state's renewable portfolio standard and is well on its way to meeting Nevada's renewable portfolio goal of 50 percent by 2030," he said in a release. "We enjoy working with customers who share that same vision and view this agreement as a win for both the company and the state as a whole. Overall, this is a balanced outcome for everyone."
Contact Richard N. Velotta at rvelotta@reviewjournal.com or 702-477-3893. Follow @RickVelotta on X. Sean Hemmersmeier contributed to this report.