NV Energy: Keep existing rooftop-solar customers on favorable rules
January 25, 2016 - 12:22 pm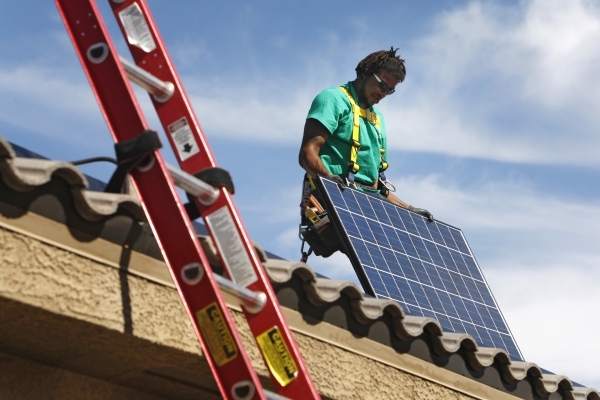 CARSON CITY — NV Energy announced Monday that it will propose to allow existing net energy metering customers with rooftop solar systems to remain on old, more favorable rules in a transition period as long as 20 years.
The announcement came shortly after the Nevada Public Utilities Commission voted to rehear the grandfathering issue, and on the same day a rooftop solar coalition petitioned to ask voters in November to continue the original, more favorable, net metering program for all homeowners who want to install solar.
"This grandfathering proposal is being offered in recognition of NV Energy's desire to treat all customers, including those who had previously made a decision to install rooftop solar, fairly," said Paul Caudill, NV Energy president and chief executive officer.
The company did not take a position on grandfathering in its original filing made July 31, 2015. On Feb. 1, it will submit its new proposal to the PUC recommending that rooftop solar customers who installed systems prior to the PUC's orders be allowed to remain on the old net energy metering rules over a transition period as long as 20 years. The proposal will also recommend that customers who submitted valid applications prior to the PUC's order be provided the same opportunity.
"We recognize the difficult job that the PUCN, PUCN staff, policy makers, and for that matter, all parties in this proceeding have had in trying to reach decisions on this complex issue," Caudill said. "We also understand the history of net metering in Nevada and that a fair, stable and predictable cost environment is important to all of our customers."
The referendum petition was filed with the Secretary of State's office by the No Solar Tax political action committee and would ask voters if they support certain provisions of a bill passed by the 2015 Legislature sending the net metering issue to state utility regulators for review.
If it qualifies for the ballot and is approved by voters, the petition would require NV Energy to continue to offer net metering under the more favorable conditions that existed before a new, less generous, net metering program took effect Jan. 1. It would also eliminate a cap on net metering systems.
Supporters of the petition will have to gather 55,234 valid signatures from registered Nevada voters, including at least 13,809 signatures from each of state's four congressional districts, by June 21 to get the measure to the general election ballot.
The petition is being sought by several solar companies, including the Great Basin Solar Coalition and SolarCity. A rally in Las Vegas to draw attention to the effort, including Lyndon Rive, CEO of Solar City, was held Monday morning.
Kevin Benson, a Carson City attorney representing the group, said he does expect a legal challenge to the measure, most likely from NV Energy, over the description of effect that tells those signing the petition what it would accomplish. The group will look at hiring a professional group to gather the signatures, he said.
Shawn O'Meara, representing the Great Basin Solar Coalition, said the effect of the new net metering rate was immediate and devastating. Employed by the group SUNworks, he said the company had to immediately lay off three quarters of its workers.
The company had nearly $1 million of work lined up that had to stop, O'Meara said.
People want the choice to install solar, he said.
In another development Monday, another solar coalition called on Gov. Brian Sandoval to remove the three appointed members of the Nevada Public Utilities Commission. A newly formed Nevada Solar Owners Association, along with The Alliance for Solar Choice, launched a petition asking that the regulators be replaced.
"There is no doubt in my mind that the Commission ruling is NV Energy's attempt to kill competition and keep Nevada consumers shackled to government-created monopolies," said Debbie Dooley, founding member of the Tea Party and Conservatives for Energy Freedom, and a backer of the petition.
SolarCity announced in late December it would stop selling and installing systems in Nevada because of the new rate structure approved by state utility regulators, and said 550 jobs would be lost as a result. Other companies, including local companies, have also announced layoffs.
New net metering rates took effect Jan. 1 for all rooftop solar customers with a higher monthly fixed charge and a lower rate for excess electricity generated by their systems. The rationale is that rooftop solar customers receive a subsidy from nonsolar customers. The new rates are intended to correct the inequity, but some question whether there is a subsidy at all.
It is unclear now if the PUC will need to move forward with rehearing the grandfathering issue.
The rehearing proposal had been complicated somewhat because the original requester, the state Bureau of Consumer Protection, withdrew its request for rehearing the issue last week.
State Consumer Advocate Eric Witkoski said the proposed rehearing was "procedurally improper at this time."
He instead wanted the commission to consider issues raised by his office and others in petitions for reconsideration.
But the PUC has the authority to vote to proceed with the rehearing regardless of the BCP's action and it did so after hearing more than 90 minutes of testimony from homeowners who said they were misled by NV Energy and the PUC.
The new rooftop solar rates affect all customers no matter when their systems were installed. A class-action lawsuit has been filed by two Las Vegas rooftop solar customers alleging the utility provided false and/or incomplete information to the PUC on the net metering issue.
There are 15,728 interconnected net metering customers at Nevada Power Co. in Southern Nevada, and 2,536 customers with Sierra Pacific in Northern Nevada. This number includes a small percentage of large businesses that pay under a different rate. The new rate for residential customers also cover small businesses and some small nonprofits.
The controversy over net metering emerged in the 2015 Legislature, when lawmakers rejected a call by rooftop solar companies to increase a cap on the number of consumers who could participate from 3 percent to a higher level. Instead, lawmakers passed Senate Bill 374 directing the PUC to consider a new net metering rate for rooftop solar customers.
The PUC adopted a new rate in December, unleashing a firestorm of criticism from rooftop solar companies and customers who thought they would be protected from any new, less favorable rate.
Contact Sean Whaley at swhaley@reviewjournal.com or 775-687-3900. Find him on Twitter: @seanw801