NV Energy remote thermostat program touts power savings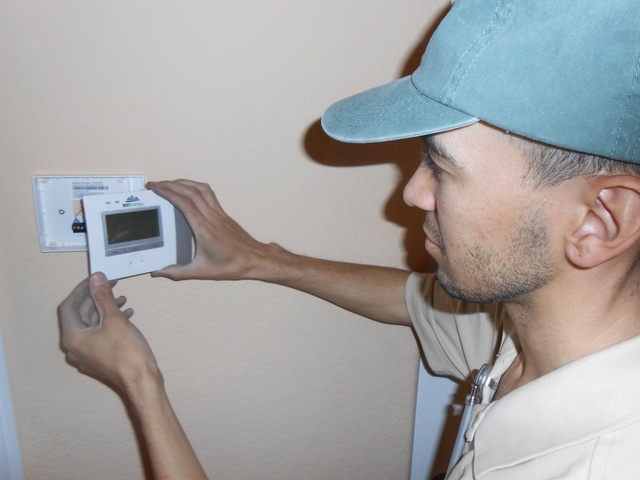 Don't be surprised if your doorbell rings and it's an NV Energy representative. The power company is canvassing neighborhoods, encouraging people to sign up for its mPowered program.
The program allows one to customize his thermostat for optimal effectiveness. Signing up requires a service call to install the new wall control unit and affix a component to the heating and cooling units. The service call and equipment installation are free.
The mPowered program is similar to Cool Share, a previous program that allowed the energy company to change a customer's thermostat settings during peak hours. Just like with mPowered, the customer can override the adjustment.
Cool Share customers received a programmable thermostat that didn't have the optimization capability of the mPowered thermostat. Cool Share had roughly 50,000 customers on a paging network, where mPowered is a Web-based program.
With mPowered, the homeowner can monitor and control his thermostat from a remote location using a laptop, desk computer or smartphone.
Max Smilow had the system installed in his 1,750-square-foot, two-story home.
"What appealed to me most was being able to set up schedules," he said. "In winter, I didn't want the house to be cool when I got out of bed."
Now, with mPowered, he's programmed his heating and cooling system to use less electricity when the house is empty but to be at a comfortable temperature when he returns.
Smilow said his summer power bills typically run about $260 a month, which he splits with roommates. He said he was looking forward to seeing what this summer's bills will be.
"I'm estimating a savings of $40 to $60 a month," he said.
Michael Brown, director of the program, said NV Energy hopes to sign up 20,000 to 25,000 customers in two years. This summer, the demand is projected to be 5,900 megawatts — enough electricity to meet the needs of roughly 3.5 million customer homes during the summer.
Generally, energy demand rises each year.
"With the economic downturn, it stagnated a little bit," Brown said. "Last year, it jumped … back on a slow-growth (pattern)."
The mPowered system maintains comfort by continuously adapting the operation of the customer's heating and cooling equipment based upon how the home heats up and cools down, outside weather conditions and the customer's comfort preferences.
Brown said it would result in an average of 6 percent to 8 percent total energy savings on an annual basis, with a 10 percent to 15 percent energy savings just for cooling.
So far, he said, about 15,700 homes have signed up.
"We'd like to more than double that over the next few years," he said.
He said the program is geared toward single-family homes of any size.
"It creates a model of how your particular home performs in terms of heat transfer from the outdoor to the indoor, and then it creates a model of how your particular air conditioner works," he said. "Essentially, what it's trying to do is use your home as a thermal storage battery. What we've found is, this particular technology performs very well for homes built after 1978."
That was when insulation requirements were beefed up.
"Not only is it good for the community and the environment, it's also great for customers," Brown said. "At that level of energy savings, we're talking about $100 a year for the average customer. So, we think that's a great value, and we encourage folks to sign up."
For more information, visit nvenergy.com.
Contact Summerlin Area View reporter Jan Hogan at jhogan@viewnews.com or 702-387-2949.