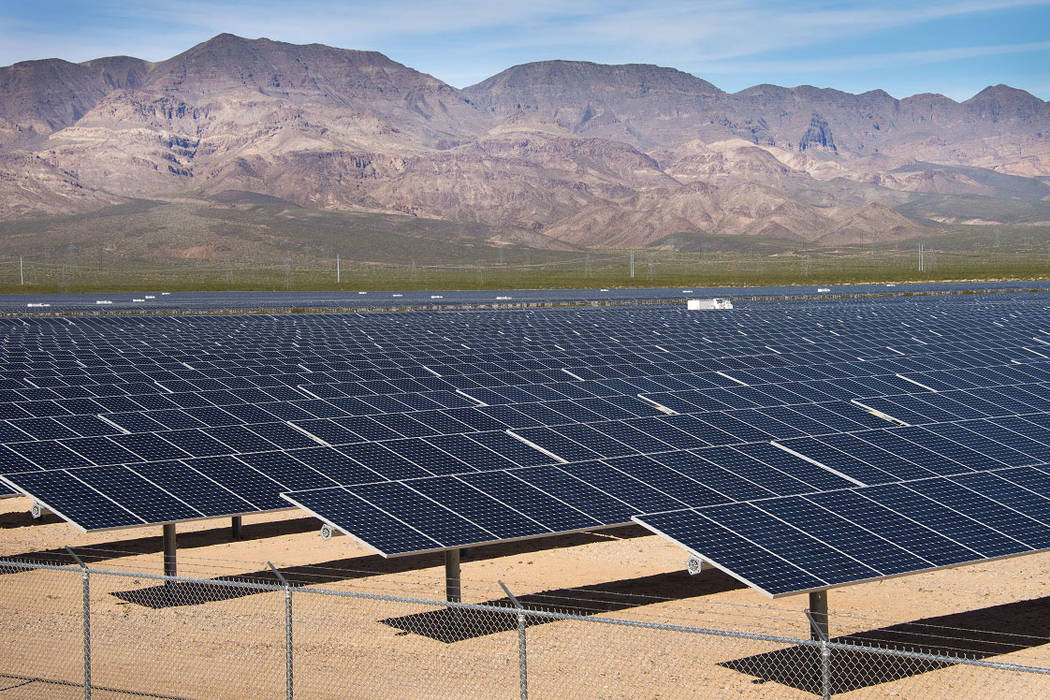 NV Energy is requesting that three new long-term power purchase agreements totaling 100 megawatts — enough energy to serve about 60,000 average customer homes — be approved by the Public Utilities Commission of Nevada.
The three new solar renewable energy projects, if approved, will be built in Nevada.
NV Energy's President and Chief Executive Officer Paul Caudill noted that the projects include the largest solar array in Northern Nevada at a "nameplate rating" of 50 megawatts.
It is estimated that up to 250 construction workers and nine permanent positions would be needed for the three projects.
"These new projects signal an important step toward NV Energy's commitment to partner with our customers in order to serve them with 100 percent renewable energy, " Caudill said in a statement. "We are pleased that all three projects include work site agreements with the International Brotherhood of Electrical Workers."
In an email, Mark Severts, NV Energy project director, communications, said the three new solar power plants are among five projects that are in the approval, development or construction phase. NV Energy has an additional 46 solar, geothermal, wind, hydro and other projects producing more than 1,800 megawatts – which (when producing all at the same time) could serve more than a million typical customer homes. He explained, however, that much of that power is used to serve businesses, industries and tourism.
The largest of the three new projects is the 50-megawatt Turquoise Nevada solar project, to be built in the Reno Technology Park in Washoe County. The project will benefit from a 25-year power purchase agreement with NV Energy and is expected to be operational by the end of 2020.
The other two new proposed 25-year power purchase agreements are the result of a request for proposals issued June 14 by NV Energy. The 25-megawatt Techren Solar 3 project will benefit NV Energy customers in Southern Nevada and the 25-megawatt Techren Solar 4 project will benefit customers in Northern Nevada. If approved, the new solar energy projects will be operational on or before Sept. 1, 2020.
The new solar resources will be owned by Techren Solar LLC and will be adjacent to the 300-megawatt Techren Solar 1 and 2 projects that are in development in Boulder City's Eldorado Valley.
"To the best of our knowledge, Techren 3 and 4 are the lowest-cost universal solar power purchase agreements entered into in the United States," Pat Egan, NV Energy senior vice president, renewable energy and smart infrastructure, said in the statement.
In his email, Severts cited a March 30 renewable portfolio standard annual report filing with the Public Utilities Commission that showed NV Energy achieved a 22.2 percent renewable portfolio standard in Southern Nevada for 2016. He said the company hit 26.6 percent in Northern Nevada because Northern Nevada has so much legacy geothermal energy that has been serving customers since the 1980s.
NV Energy Inc., part of Berkshire Hathaway Energy, serves 1.3 million customers in Nevada and more than 40 million tourists annually. NV Energy's principal subsidiaries, Nevada Power Co. and Sierra Pacific Power Co., do business as NV Energy.
What's a nameplate rating?
"Nameplate" is the total generating capacity that a project is capable of achieving when there is full sun.