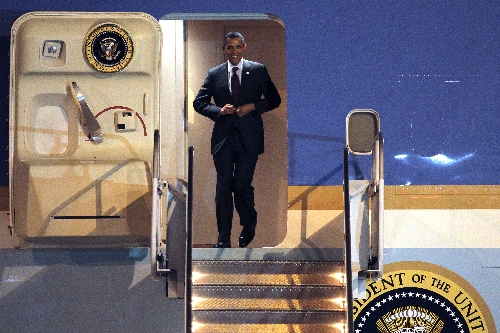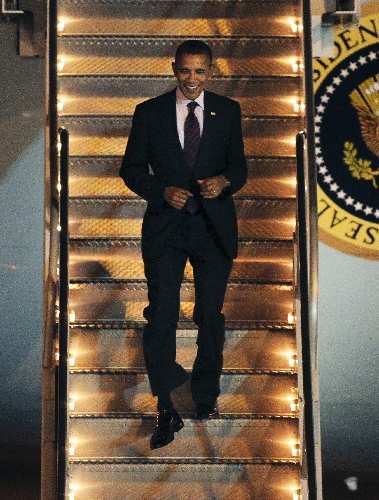 President Barack Obama today will visit a UPS plant in Las Vegas to promote a national transition to alternative fuels, including natural gas to power trucks that deliver millions of packages to Americans' doorsteps and offices every day.
During his morning tour, Obama plans to announce the public opening of a liquefied natural gas (LNG) station near the United Parcel Service hub. The Clean Energy Station is a link in the first multistate transportation corridor stretching from the port of Long Beach, Calif., to Salt Lake City.
Obama's push to develop more U.S. natural gas resources is part of his election-year pitch to use funding incentives and tax credits to encourage more clean energy use and lessen U.S. dependence on foreign oil. The president laid out his energy plan in Tuesday's State of the Union address before traveling to five battleground states to make his case.
"This country needs an all-out, all-of-the-above strategy that develops every available source of American energy — a strategy that's cleaner, cheaper, and full of new jobs," Obama said Tuesday.
Obama's overnight stop in Las Vegas comes in the middle of a three-day, five-state tour of 2012 battlegrounds he hopes to win for a second term: Iowa, Arizona, Nevada, Colorado and Michigan.
The president arrived Wednesday evening. But he didn't attend any campaign fundraising events as he typically does in Las Vegas, including one held last October at the Bellagio. His post-State of the Union tour included only official events, although that didn't stop Republican critics from accusing Obama of using this week's travel as a re-election trip paid for by American taxpayers.
"When his focus should be on jobs for struggling Americans, it's clear President Obama has abandoned governing and is in complete campaign mode with one thing in mind, saving his own job," said Ryan Mahoney, spokesman for the Republican National Committee. "Instead of campaign stops in battleground states, Barack Obama should be more focused on getting our economy back on track and putting the millions of unemployed back to work."
Jennifer Duffy, an analyst for The Cook Political Report, said Obama needs to get out among voters to sell proposals he laid out in his annual address to Congress, especially as Democrats and Republicans engage in an all-out fight for control of the U.S. House, Senate and the White House.
"This is purely a message trip," Duffy said. "I think we can say that there's no fundraising, but he is certainly campaigning. I think the fundraising part is best left out of this trip."
Although Obama's stop in Las Vegas is focused on clean energy, he pitched its development as a move to create jobs and a growing future industry. That message is aimed at Nevadans who remain out of work with unemployment at 12.6 percent, the highest in the nation.
The Silver State also is ripe for development of solar, wind and geothermal power.
Obama estimated 600,000 jobs could be created over the next decade by extracting natural gas from shale rock, a process called "fracking." Critics fear the process contaminates underground water aquifers, but he said federal and local regulators will protect the environment and people from risk.
"We have a supply of natural gas that can last America nearly 100 years," Obama said Tuesday. "And my administration will take every possible action to safely develop this energy."
The UPS Las Vegas transport hub got $5.6 million in 2009 as part of the American Recovery and Reinvestment Act to help buy nearly 60 long-haul, 18-wheeler trucks that use liquefied natural gas. The cost-share project is part of the Obama administration's "clean cities" program.
Kara Ross, a UPS spokeswoman, said the LNG trucks are among 2,600 of the company's vehicles nationwide that use alternative fuels, including ones powered by electricity for short trips.
"We call it our rolling laboratory," Ross said of UPS efforts to find the best clean fuel mix for its short-, medium- and long-haul vehicles. "It's all about getting the best fuel savings."
Jim Bruce, an alternative fuel expert for UPS, said heavy trucks use up to 100 gallons a day in diesel, while the LNG vehicles need only a 5 percent mix of diesel for ignition.
"We're saving hundreds of gallons of diesel fuel per truck. And you know a big chunk of that is coming from oil supplies from the Middle East," Bruce said.
About 500 people work at the UPS facility, which is near McCarran International Airport. Several hundred of them have been invited to hear Obama's 10 a.m. speech at the plant, according to UPS.
Local officials also are expected to attend, but the public wasn't invited.
Bruce said workers spent much of this week cleaning the place from top to bottom.
"The facility is being scrubbed and painted until you can eat your dinner on the floor," Bruce said.
Obama didn't stay Wednesday night on the Strip but decided to sleep in a suburban hotel so he wouldn't obstruct traffic, Las Vegas Mayor Carolyn Goodman said.
Goodman was the only elected official who greeted Obama at the airport Wednesday night.
"I think everyone is trying to protect their positions," Goodman said of the absence of other prominent Nevada politicians — perhaps Democrats who might not want to appear with the president in a close election year or Republicans who don't agree with his policies.
Her reason for acting as a local ambassador to Obama was simple.
"He's president of the United States, and we need his help," said Goodman, an independent who doesn't plan to endorse anyone in the presidential election. "Let's get the show on the road."
The president lingered on the plane for about 20 minutes so a commercial flight with a medical emergency could land. The motorcade needed to drive across the tarmac on its way out.
White House officials said Obama's UPS stop is aimed at highlighting "the importance of American workers developing American-made energy" for "an economy that's built to last."
Developing an economy "built to last" was the theme of Obama's Tuesday speech.
After Obama's Las Vegas stop, the president is scheduled to visit the Buckley Air Force Base in Aurora, Colo. There, he will promote energy security before heading to Michigan tonight.
Obama plans to make several other announcements today aimed at developing more energy, including new oil lease sales in the Gulf of Mexico, administration officials said.
The president outlined the plans in his State of the Union address, including:
■ Making 38 million acres available in the Gulf of Mexico for oil lease sales, which could result in the production of 1 billion barrels of oil and 4 trillion cubic feet of natural gas.
■ Offering new incentives for medium- and heavy-duty trucks that run on natural gas or other alternative fuels, launching a competitive grant program to support communities developing clean energy, and supporting programs to convert municipal buses and trucks to run on natural gas.
■ Supporting clean energy manufacturing with tax incentives, which could create up to 100,000 jobs, and the Production Tax Credit to support investment in wind and solar technologies.
■ Opening public lands to private investment in clean energy and issuing permits for 10 gigawatts of renewable generation capacity by the end of 2012, enough to power 3 million homes.
■ Committing the Navy to adding 1 gigawatt of renewable energy from solar, wind and geothermal to its installations, enough to power 250,000 homes.
Stephens Media Washington Bureau Chief Steve Tetreault and Las Vegas Review-Journal reporter Trevon Milliard contributed to this story. Contact reporter Laura Myers at lmyers@reviewjournal.com or 702-387-2919. Follow @lmyerslvrj on Twitter.