Plan for Laughlin solar energy plant fizzles; Clark County regains control of land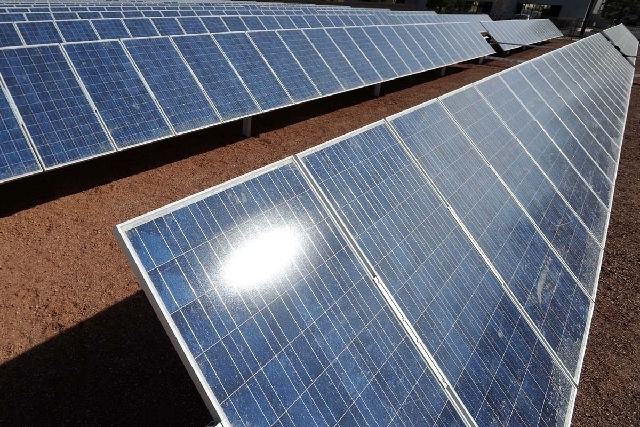 A China-based company's plan to build a solar energy plant south of Laughlin and create hundreds of jobs has died.
ENN Mojave Energy failed to obtain the necessary power purchase deal with any utility companies, Clark County officials said Friday.
The company informed the county Friday that it was unable to meet the terms of the agreement. As a result, the land will go back to the county.
"Unfortunately, the market will not support a project of this scale and nature at this time," Tim Carlson, the company's senior vice president, wrote in a letter to the county.
The announcement disappointed the county commissioner who serves the Laughlin area and the town manager, who had hoped to see their desert enclave transformed into an alternative energy hub that brought economic and population growth.
Carrying with them the strong support of U.S. Senate Majority Leader Harry Reid, ENN's representatives persuaded county officials to approve the big land deal in December 2011 with promises of bringing economic development to the Laughlin area, about 100 miles south of Las Vegas.
Commissioners had high hopes it would bring hundreds, if not thousands, of jobs and a billion-dollar solar farm and research park to Southern Nevada. Under the agreement, 9,000 acres in the Fort Mohave Valley were sold to the company for $4.5 million.
At the time, the company predicted the creation of 590 to 2,222 permanent jobs in its first five years of development, and another 462 to 2,944 construction jobs. Its investment would have ranged from $1 billion to $6 billion for a photovoltaic power plant and solar-panel factory, according to the analysis the company provided commissioners. The company couldn't be reached Friday for further comment.
Reid, D-Nev., has strongly supported the project, lobbied hard to make ENN's plans a reality. He met with the head of ENN Group, the parent company, in 2011.
He also traveled to China in April 2011, with an eye toward site visits of American investments and clean energy projects, according to his office's statement at the time.
Reid pressured NV Energy to purchase power from ENN. In July 2012, he publicly said the ENN project would start "tomorrow" if NV Energy did business with ENN. At the time, the utility said it didn't plan to seek new requests for power until 2014 or 2015.
Reid's son, Rory Reid, was an attorney on the ENN project his father supported. The senator's office has previously said he didn't get his son's firm the work and that the two hadn't spoken about the deal. On Friday, a Sen. Reid spokeswoman didn't respond to a request for comment.
In hopes of getting the economic boost, the county sold the land for below its appraised value. Two separate appraisals had pegged the land's value at $29.6 million and $38.6 million.
But the agreement also hinged on the company's ability to negotiate a power purchase agreement with a utility company within 18 months, which failed happen. As a result, the land goes back to the county.
What happens with the land next remains to be seen. County staffers will give a report to commissioners on economic development ideas for the land at a July 2 meeting.
"Economic development and job creation must remain our focus," commission Chairman Steve Sisolak said in a statement. The project area is in his district. "I am grateful that ENN spent a lot of time and effort to move its project forward. I know they did what they could."
In an interview, Sisolak said the developer was unable to get the energy price down enough for potential buyers, noting that renewable energy is more expensive than fossil fuel-based energy.
"It's a disappointment, obviously, that this fell apart," he said.
As for future prospects, Sisolak said the land has potential for a variety of uses, including warehousing and manufacturing.
Shortly after the ENN deal was announced, he said, other developers inquired about the availability of land. Sisolak said he plans to get in touch with them and looks forward to hearing suggestions from county staff.
"When one door closes, hopefully three windows open up this time," he said.
An analysis examining the land several years ago identified potential uses that include distribution, software production, health care and an innovation services cluster with businesses offering legal, accounting, engineering and technical consulting services.
"It is a big letdown because we had hoped it would bring employment," said Laughlin Town Manager Jacquelyne Brady. "We need the employment and we've got all of this land that can be used for economic development so we were pretty excited. We don't give up, though. We do not give up."
As for how quickly another developer might latch onto the land, that remains to be seen. If ENN had built its plant, the addition would have greatly diversified the economy of Laughlin, an unincorporated community of about 7,400 where the bulk of jobs are tied to tourism and gaming.
"At this point, I really don't know because once ENN came in the door, we did not market that land anymore," Brady said. "We were not marketing for well over a year and a half, almost two years, so I'm not sure what has changed now in terms of people being interested."
Despite the failure of solar energy project, growth of utility-scale photovoltaic solar power installations continues nationwide. Utility installations of that power source in the U.S. grew by 670 percent from 2010 to 2012, according to a report released this week by the Solar Energy Industries Association.
Contact reporter Ben Botkin at bbotkin@reviewjournal.com or 702-405-9781. Follow him on Twitter @BenBotkin1.