Plan would let Nevadans go solar without panels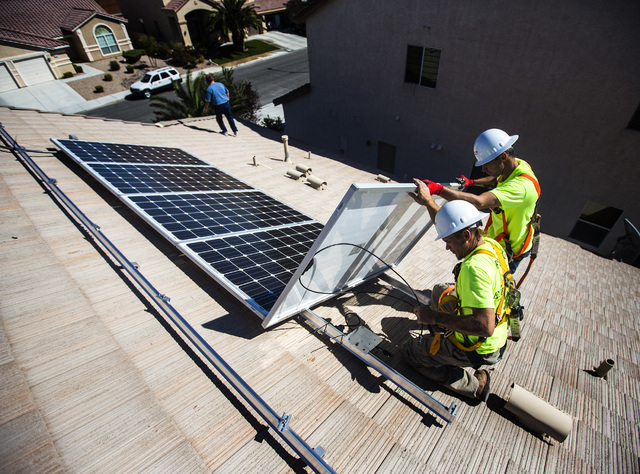 CARSON CITY — Southern Nevada residents who want to go green with rooftop solar without having to install and pay for panels on their own homes could soon benefit from a new proposal from Nevada Power.
The company, as part of its 2016-18 resource plan filed July 1 with the Nevada Public Utilities Commission, has proposed a subscription solar program to state regulators.
Unlike solar options now in Nevada that require on-site installation and in some cases, significant upfront costs, the company proposes to generate up to 5 megawatts of solar energy that would be available to all commercial and residential customers. The program would be managed with simple line-items on a customer's utility bill.
The expected price range would be $55 to $65 per megawatt hour and would be available in 100 kilo-watt-hour blocks.
The company estimates it would take between 9,500 and 11,096 customers to fully subscribe the pilot program.
The program would not save participants any money . There would actually be a small premium. But homeowners who want to participate in a green energy program could do so without installing rooftop solar.
"The company believes this program further supports Nevada's broader mission of expanding the development and utilization of Nevada's abundant and environmentally sustainable solar resources," the filing said.
The use of an off-site solar facility will allow customers who live in apartments, condominiums and other dwellings for which they do not have site control, or have limited roof space or limited access to rooftops, to use green energy to power their homes.
The new program would be set up so that there is no subsidy from other ratepayers. But it was not clear in the filing how consumers would be assured of receiving the solar power from the project versus energy generated by the utility from other sources, such as coal and natural gas.
The subscription solar proposal will be evaluated by the PUC over the next several months as part of the utility's overall plan to address energy demand over the next three years.
Contact Sean Whaley at swhaley@reviewjournal.com or 775-687-3900. Follow @seanw801 on Twitter.