PUC official urges new rooftop-solar rate not be stayed
January 11, 2016 - 11:13 pm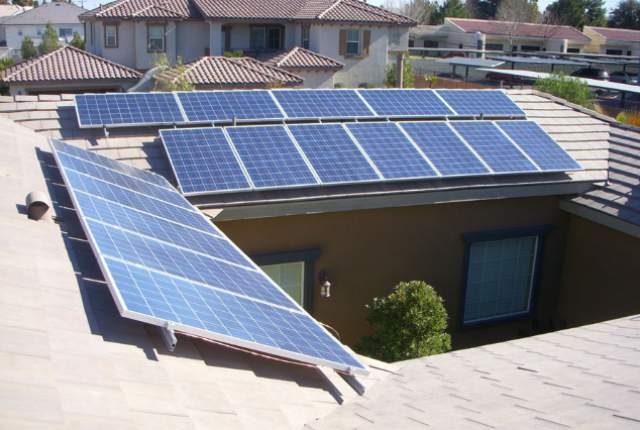 CARSON CITY — A member of the Pubic Utilities Commission that oversaw the debate and approval of a new net metering rate for rooftop-solar customers is recommending that the tariff not be stayed while the issue is reconsidered by state regulators.
Commissioner David Noble, in a draft order to be considered Wednesday by the full commission, said rooftop-solar customers who are now paying a higher monthly service charge and receiving a reduced credit for the excess energy they generate will not be irreparably harmed without a stay.
"If the order is found to be erroneous as it relates to any NEM ratepayers, the issuance of a stay is unnecessary because any amounts that will be paid by NEM ratepayers that should not have been paid can be refunded and otherwise corrected through billing mechanism," Noble said.
Both The Alliance for Solar Choice, a group of rooftop-solar firms, and the state Bureau for Consumer Protection, on Friday filed motions for reconsideration of the new rate. The rate became effective Jan. 1 for all rooftop-solar customers going forward.
In his draft order, Noble said the commission determined that it was within the public interest to develop a new tariff that established a separate rate class for rooftop-solar customers, in part because non-solar customers should not be required to subsidize those with the systems.
"This unfair cost-shifting borne by the majority (currently 98 percent) of non-NEM ratepayers is not in the public interest," he said.
There are 14,832 interconnected net metering customers at Nevada Power Co. in Southern Nevada, and 2,423 customers with Sierra Pacific in Northern Nevada. The companies are part of NV Energy.
Noble said that for Nevada Power customers with residential rooftop systems, the annual bill increase in the first year of the new rate is $20.15, which equates to just $1.68 per month on average.
"This will not cause irreparable harm, especially when put in the context of a total average annual bill of $1,054.95 for the average residential NEM ratepayer compared to a total average annual bill of $2,156.54 for a residential non-NEM ratepayer," he said.
The final order of the PUC issued last month determined that the subsidy under the old net metering rates equaled over $16 million a year for small commercial and residential rooftop solar ratepayers, Noble said in the draft order. With a 20-year system lifespan, that represents a $320 million cost shift to non-NEM ratepayers, he said.
Noble acknowledged that there is confusion among rooftop solar homeowners about the new rate, but said most of the mischaracterizations have come "almost exclusively" from rooftop solar companies, namely Sunrun and SolarCity.
Both companies said they are no longer selling or installing systems in Nevada because of the new rates.
Contact Sean Whaley at swhaley@reviewjournal.com or 775-687-3900. Find him on Twitter: @seanw801