PUC says exit fees for major casino companies are fair
January 6, 2016 - 3:09 pm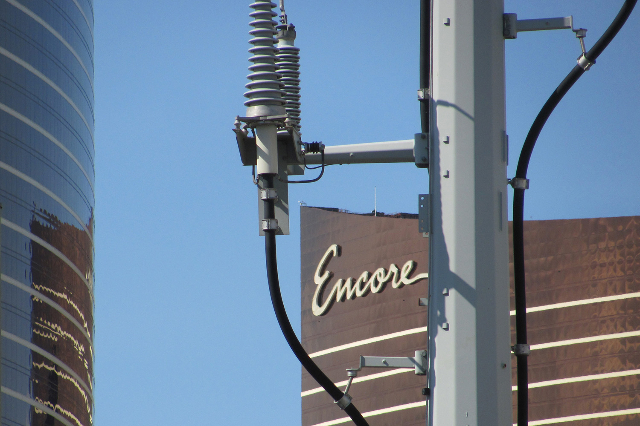 CARSON CITY — Staff with the Public Utilities Commission say in recent filings that the multimillion dollar exit fees required by state regulators to allow three major Nevada gaming companies to leave Nevada Power as retail customers are legal and proper.
The staff filings do suggest, however, that some clarification may be appropriate for what energy supplies the companies can properly purchase on the wholesale market if they leave on Feb. 1 as planned.
Requests for reconsideration of the Dec. 2 decisions allowing the companies to leave have been filed with the PUC by the Las Vegas Sands Corp., MGM Resorts International and Wynn Resorts. The requests raise several issues, including the cost imposed by commissioners to leave the utility.
The fees approved by the commission total $86.9 million for MGM, $15.7 million for Wynn and $23.9 million for the Sands, plus recurring fees and charges to recover certain ongoing costs that cannot currently be quantified. The exit fees were imposed by the commission to protect remaining Nevada Power customers. Nevada Power is part of NV Energy.
The Bureau of Consumer Protection also argued in a filing the exit fees are appropriate, but agreed some clarification of the energy purchase rules may be needed.
PUC Assistant Staff Counsel Samuel Crano called the Sands request for reconsideration "an extended screed decrying the commission's exercise of its jurisdiction and its statutorily imposed duty to protect remaining captive ratepayers from harm caused by a large customer's exercising its choice to exit bundled retail service … "
In its filing, the Sands said the exit fee and other conditions "effectively denied" the exit application. The company said conditions imposed in the final order "are based on unlawful, unreasonable and erroneous conclusions of law, and harm consumers by blocking retail electric competition in Nevada and perpetuating NV Energy's monopoly over power supply."
The staff filing also says that it is disingenuous for the Sands to now argue it should not have to pay for certain legislatively mandated costs, such as Senate Bill 123 passed in the 2013 session of the Nevada Legislature moving the utility away from coal fired electrical generation. The company supported much of the legislation while it was being considered, the filing says.
Attached to the filing is a May 17, 2013, letter from Andrew Abboud, senior vice president of government relations for the Sands, expressing support for SB123.
"This legislation is essential to speeding up the closure of Nevada's coal-burning electric facilities and enhances our state's commitment to green energy," the letter says in part.
The Review-Journal is owned by a limited liability company controlled by the Adelson family, majority owners of Las Vegas Sands.
Contact Sean Whaley at swhaley@reviewjournal.com or 775-687-3900. Find him on Twitter: @seanw801