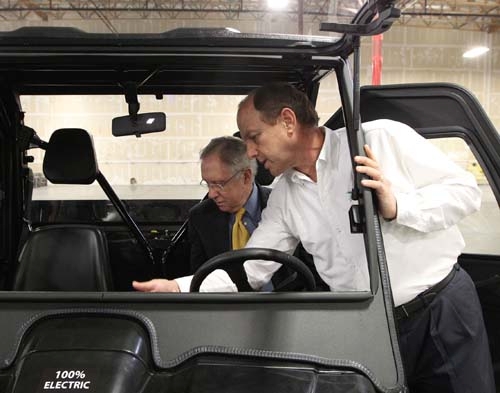 Sen. Harry Reid might have had a flashback as he settled Thursday in the driver's seat and grabbed the steering wheel of an electric-powered vehicle designed for police.
Fifty years ago, Reid worked nights as a Capitol police officer in Washington, D.C.
Times sure have changed.
Instead of being powered by gasoline, the vehicles built by the Xtreme Green Products Inc. plant that Reid visited in North Las Vegas are run 100 percent on electric power. Batteries hold the plug-in charge.
The company makes a range of two-, three- and four-wheeled machines such as motorcycles, all-terrain vehicles, utility terrain vehicles and "police mobility vehicles." They're sold across the United States, many used by police, military, plants and factories, but everyday consumers also can buy them.
Reid, D-Nev., toured the plant to promote green energy during the Senate's Easter break.
At first, the Senate majority leader was taken aback by the cost of the vehicle he was checking out: about $14,000, although a similar gasoline-powered, four-wheeled vehicle would cost around $12,000.
"Why does it cost so much? It's kind of small," Reid said, giving it a look.
Neil Roth, president of Xtreme Green, told Reid that a Purdue University study showed a cost savings of $5,000 a year in gasoline compared with the electric vehicle if it were driven 20 miles a day.
The model they were discussing can travel about 80 miles on one charge, Roth said.
"Think of the money you're saving," Reid said.
Roth and Sandy Leavitt, chairman of Xtreme Green, said their company made about $2 million last year and expects to do better this year as it expands to other countries. It just delivered two dozen vehicles to Mexico City for police and is close to getting European Union approval for sales.
The men said they hoped to hire another 15 to 20 workers as the company grows, including those who have been retrained after losing jobs in construction and other lagging industries.
"Everyone wants to be green, but they don't want to spend more money," Leavitt said.
Roth said that unlike the electric car industry, smaller vehicles are commercially viable now because any extra purchase cost is quickly made up in gasoline and other fuel savings.
Reid said he remains convinced that government investment in renewable energy on a large scale, including solar, geothermal and wind, is a smart move, although GOP critics question spending taxpayer dollars. He said such projects create immediate construction jobs and result in lasting maintenance work, much like for the Hoover Dam and the nation's tens of thousands of highways and bridges.
"You have to build things to have something to maintain," Reid said.
Reid's visit to Xtreme Green served as a thank you to Byron Georgiou as well. Georgiou, a Democrat, sits on the board of the company. Last year, he quit Nevada's U.S. Senate race under pressure from Reid, who is backing Rep. Shelley Berkley, D-Nev., against Sen. Dean Heller, R-Nev.
Reid said he has long admired Georgiou, whom he appointed in 2009 to a federal commission to examine the causes of the economic and financial collapse in the United States and globally.
"We had an issue that dealt with the Senate race in Nevada, but that's in the past," Reid said, when asked whether there is any tension. "But he feels and I feel that that was something then and we're here now."
Georgiou greeted Reid as the senator arrived to tour the company's plant. The Las Vegas clean energy investor said he, too, has let bygones be bygones.
"I'm not unhappy," Georgiou said. "We have a wonderful company and a bright future."
Contact Laura Myers at lmyers@reviewjournal.com or 702-387-2919. Follow @lmyerslvrj on Twitter.