Roof-top solar advocates concerned about policy changes
September 25, 2014 - 10:47 am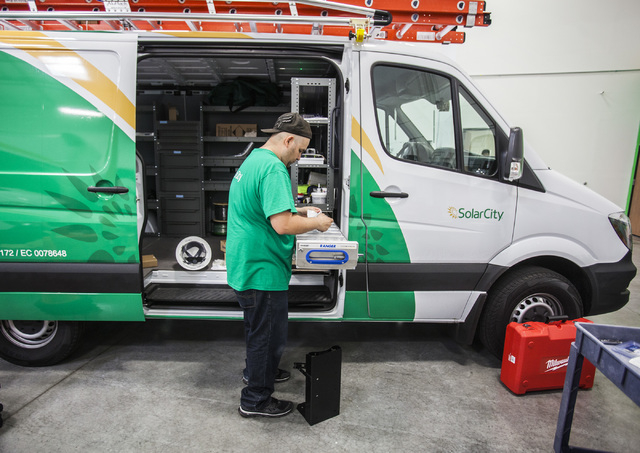 CARSON CITY — Roof-top solar advocates are raising concerns about recommended changes to Nevada's net metering policies that they say could discourage consumers from pursuing the alternative energy opportunities.
A draft order proposed by Public Utilities Commissioner David Noble recommends that the Nevada Legislature remove any statutory constraints on the commission's authority to accurately assign net metering costs and benefits to the appropriate ratepayers.
The recommendation will be considered by the full commission at a meeting today. The final order will be forwarded to lawmakers for consideration at the 2015 session.
Will Craven, a spokesman for the Alliance for Solar Choice, said Noble's draft order could lead to changes to Nevada's net metering statute that guarantees that solar customers will not face discriminatory treatment for their decision to use less utility power by going solar. States gives solar customers this protection because they want to encourage the use of clean energy and the development of local renewable industry, he said.
The alliance was founded by rooftop solar companies to advocate for the industry.
Nevada's statute, which Craven said mirrors other states with rooftop solar industries, says a utility "shall not charge a customer-generator any fee or charge that would increase the customer-generator's minimum monthly charge to an amount greater than that of other customers of the utility in the same rate class as the customer-generator."
Participation in net metering so far in Nevada is limited. NV Energy has about 2,455 net metering customers with 35.8 megawatts installed in Southern Nevada. There are about 3,000 such customers statewide.
But the industry is expected to grow significantly as new roof-top solar companies enter the Nevada market.
Solar advocates argue that Noble's proposed order conflicts with the findings of a net metering study by San Francisco-based Energy + Environmental Economics (E3), which said in part: "Overall, we do not estimate a substantial cost shift to nonparticipants due to (net metering) going forward given the current and proposed reforms to the program."
The issue is under review by the PUC to comply with legislation passed by the 2013 Legislature.
But net metering gained even more attention this year when the attorney general's Consumer Protection Bureau asked the PUC to consider putting households that produce some of their own energy to save on their utility bills into a separate class for rate-setting decisions.
The Sierra Club, in a filing opposing the review, argued the request is based on the "unsupported assumption" that net metering customers create a disproportionate cost on NV Energy's system compared with customers who do not self-generate.
"The assertion that net metering customers are unfairly burdening other customers is often put forward by utilities or other interests seeking to undermine the growth of distributed generation, and it is an argument that is usually either untrue or severely overstated," the Sierra Club said.