Rooftop-solar advocates lobby against possible higher rate class
August 20, 2014 - 1:59 pm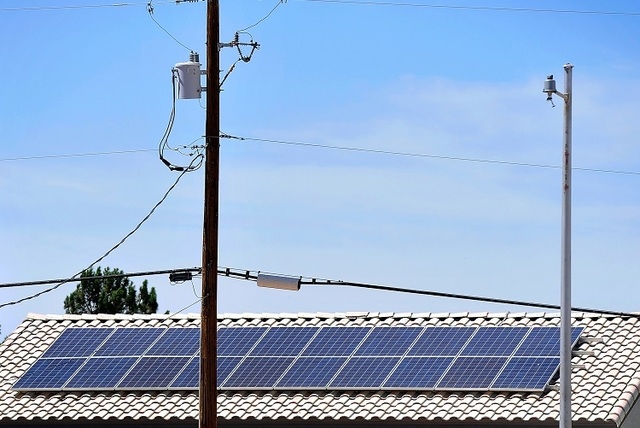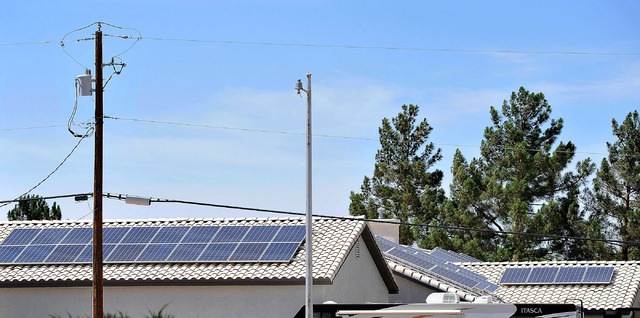 CARSON CITY — Rooftop solar advocates argued against any move to create a separate and potentially higher rate class for customers who use the systems to lower their power bills at a workshop Wednesday before the Nevada Public Utilities Commission.
Thomas Beach, a consultant working on behalf of the rooftop solar industry, said the recent study produced for the PUC on what is called net metering shows that homeowners who install rooftop solar are not being subsidized by nonparticipating ratepayers.
"We don't want to go down that road for residential solar customers," he said. "Why go there when the patient already has a clean bill of health?"
Dan Chia, director of policy and electricity markets for the rooftop solar company SolarCity, which recently entered the Nevada market, said that merely creating a proceeding to consider creating a separate rate class for rooftop solar users would create a chilling effect on job creation and private investment in the fledgling industry.
But Laura Walsh, manger of regulatory pricing and economic analysis at NV Energy, said a separate rate class for the customer group is appropriate. The effect of creating such a separate class is unknown at this time, she said.
Participation in net metering so far in Nevada is limited. NV Energy has 2,455 net metering customers with 35.8 megawatts installed in Southern Nevada. There are about 3,000 such customers statewide.
PUC Commissioner David Noble, who oversaw the workshop on the net metering issue, asked why there was resistance from solar advocates to looking at a separate rate class for net metered customers. If the evidence does show that net metering customers actually save costs for all ratepayers, a separate class could result in lower rates for the group, he said.
Susannah Churchill, West Coast regional director for VoteSolar, a solar power advocacy group, said creating the separate rate class would give NV Energy an incentive to charge higher fees to rooftop solar customers.
Noble asked why the utility would have an incentive to "pile on" costs to net metering customers.
Churchill said utility companies around the country see rooftop solar as a threat to their bottom lines.
Deputy Attorney General Michael Saunders, representing the state Bureau of Consumer Protection, which asked the PUC for consideration of creating the separate rate class, said the basic monthly service charge for all residential customers should not increase to account for net metering customers.
NV Energy, doing business as Nevada Power in Southern Nevada, did propose in its general rate filing with the PUC that the monthly service charge for all customers should increase from the current $10 a month to $15.65 starting Jan. 1.
But Shawn Elicegui, vice president of regulation for NV Energy, said any increases in the monthly basic service charge sought by the utility are not designed to address the issue of net metering.
Noble will make his recommendation on how to proceed to the full PUC, which by Oct. 1 will forward its decision to the Nevada Legislature, along with the net metering study by San Francisco-based Energy + Environmental Economics (E3).
The study concluded in part: "Overall, we do not estimate a substantial cost shift to nonparticipants due to (net metering) going forward given the current and proposed reforms to the program."
Those reforms include much lower financial incentives to install rooftop solar than had previously been available in Nevada.
Contact Capital Bureau reporter Sean Whaley at swhaley@reviewjournal.com or 775-687-3900. Follow him on Twitter @seanw801.