Rooftop-solar employees make show of support for referendum
February 8, 2016 - 6:28 pm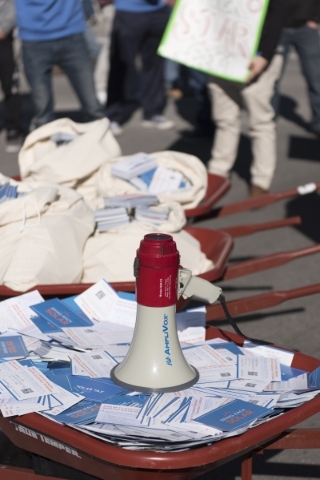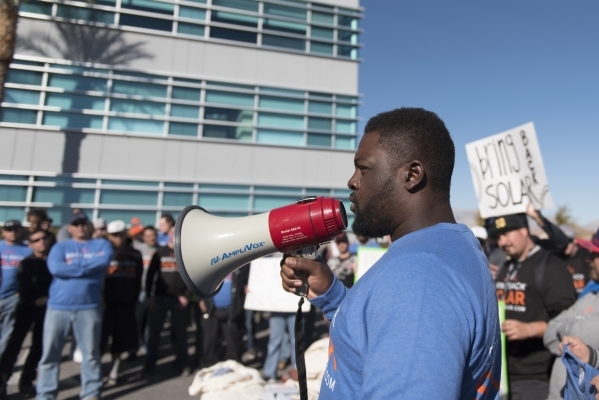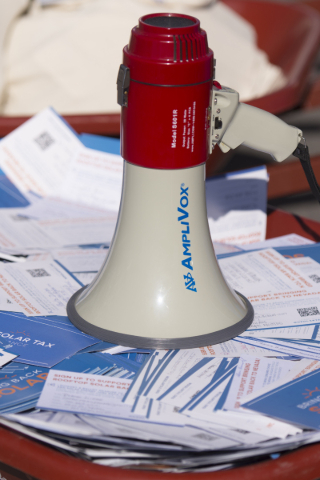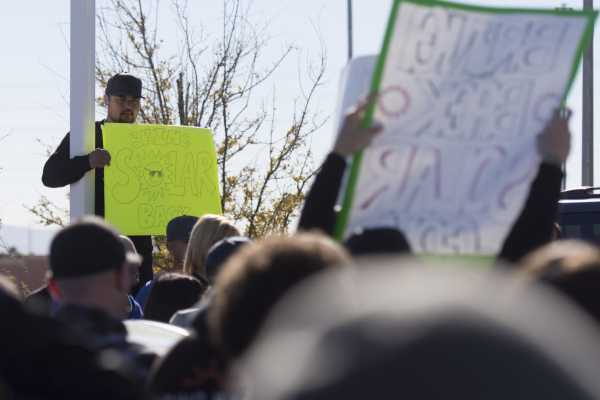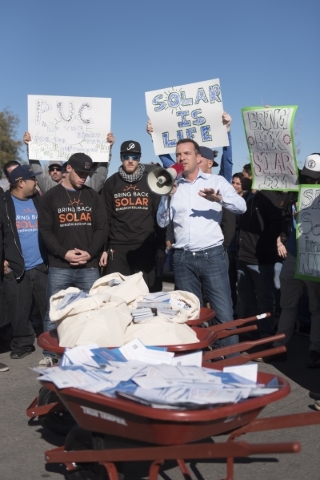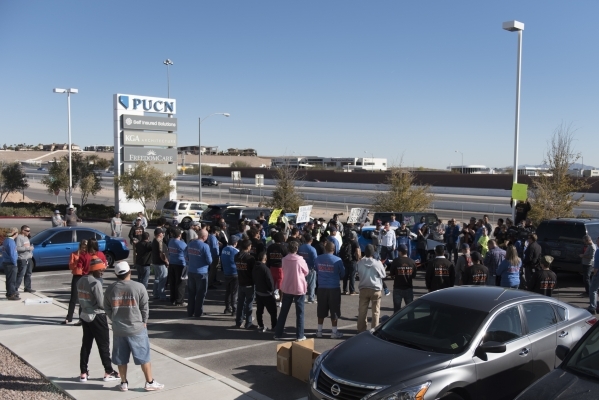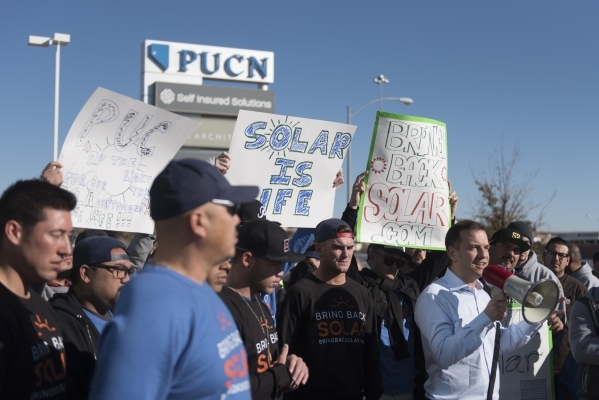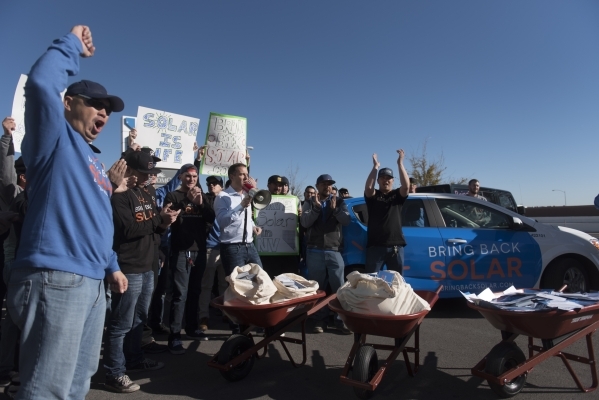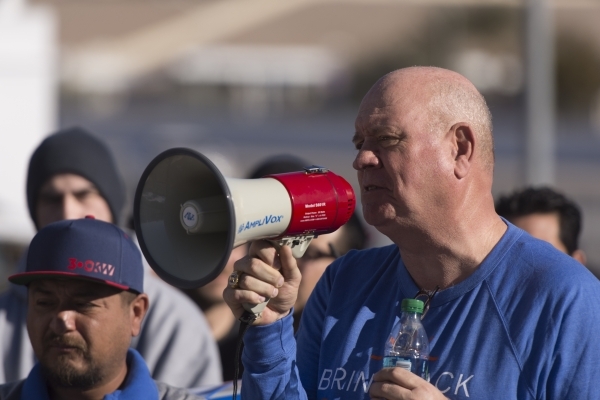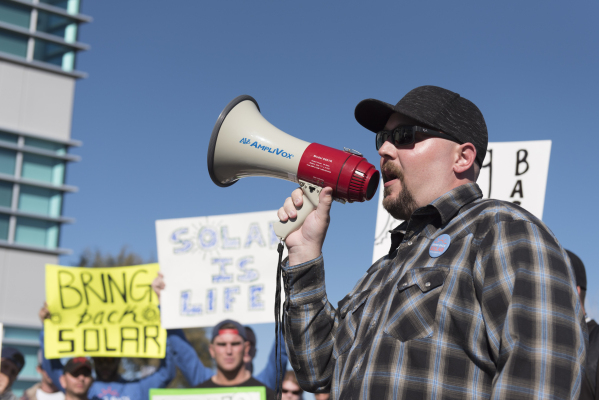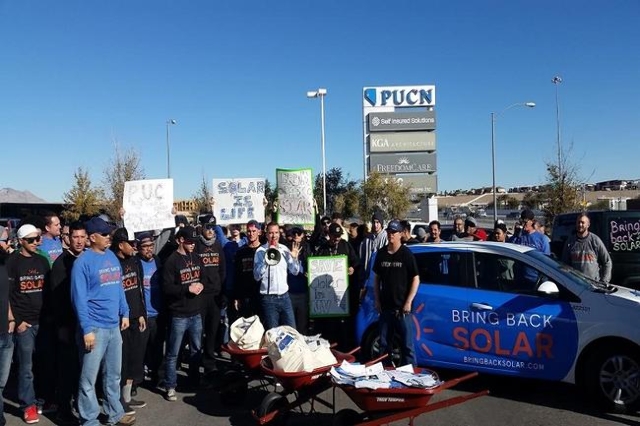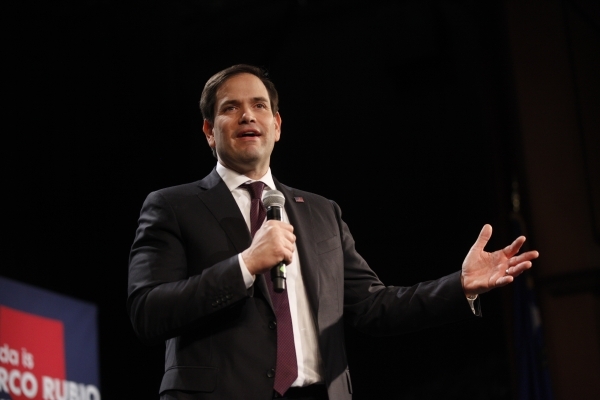 CARSON CITY — Dozens of rooftop-solar employees showed up at a hearing of state utility regulators Monday in support of a ballot referendum being pushed by the industry that would restore more favorable net metering rates for homeowners.
The workers showed up at a hearing of the Nevada Public Utilities Commission with wheelbarrows full of commitment cards collected over the past two weeks. They wore shirts saying "Bring Back Solar" while gathered outside Las Vegas offices of the agency. The approximately 30,000 cards reflect referendum supporters who will sign the petition once circulation starts. The ballot referendum, backed by the group Bring Back Solar, won't be circulated until it is clear if a legal challenge will be filed to the proposal.
Commissioners were meeting to hear testimony on whether net metering customers who installed their rooftop systems in 2015 or earlier should be grandfathered in under the original, more generous rates.
On Friday, NV Energy, doing business as Nevada Power in Southern Nevada, proposed that rooftop-solar customers with systems or valid applications in place through Sept. 10 be grandfathered in under the old rates for 20 years.
Other groups are arguing the grandfathering should encompass rooftop-solar customers through the end of 2015.
A decision on the grandfathering issue is expected Friday. Requests to reconsider the new net metering rate also could be decided at the PUC meeting.
Dozens of rooftop-solar customers have testified before the PUC, arguing that they should be able to remain under the original rates in place when they installed their systems at the cost of thousands of dollars.
The PUC, in a move that surprised many of those participating in the new net metering rate process, decided Dec. 22 to include all rooftop-solar customers in the new rate, which includes a higher fixed monthly charge and a lower credit for the excess electricity they generate from their systems. Utility regulators are reconsidering that decision.
The PUC said the new rates are intended to eliminate a $16 million a year subsidy rooftop-solar customers receive from nonsolar customers, but solar groups argue the study used to determine that such a subsidy exists is flawed.
But the rooftop-solar industry is also pursuing its referendum to restore the original net metering rules for future customers too. Under the new rates that took effect Jan. 1, major players in the industry, including Sunrun and SolarCity, have stopped sales and installations in Nevada, saying rooftop solar is no longer viable.
Bring Back Solar filed the referendum petition with the secretary of state's office last month. The group needs to gather 55,234 valid signatures from registered Nevada voters, including at least 13,809 signatures from each of state's four congressional districts, by June 21 to get the measure to the general election ballot in November.
There are 15,728 interconnected net metering customers at Nevada Power Co. in Southern Nevada and 2,536 customers with Sierra Pacific in Northern Nevada. The number includes a small percentage of large businesses that pay under a different rate. The new rate for residential customers also cover small businesses and some small nonprofits.
The controversy over net metering emerged in the 2015 Legislature, when lawmakers rejected a call by rooftop-solar companies to increase a cap on the number of consumers who could participate from 3 percent to a higher level. Instead, lawmakers passed Senate Bill 374 directing the PUC to consider a new net metering rate for rooftop-solar customers.
— Contact Sean Whaley at swhaley@reviewjournal.com or 775-461-3820. Find him on Twitter: @seanw801