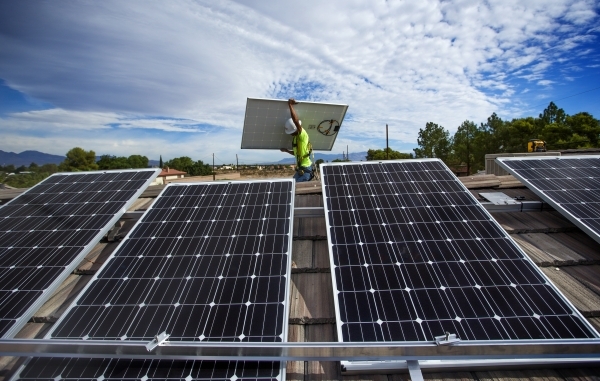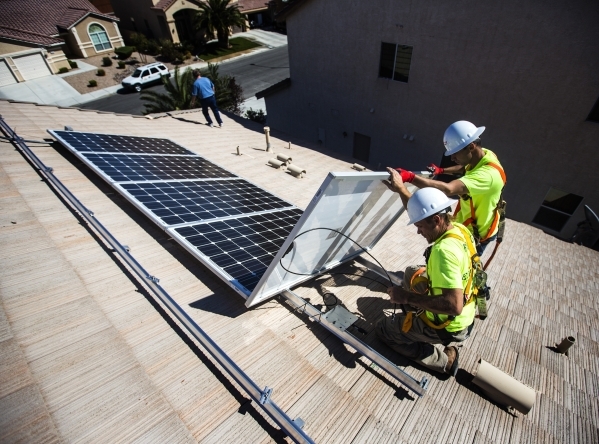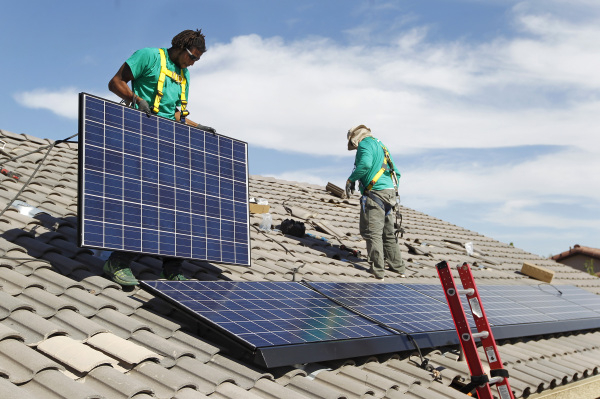 CARSON CITY — As rooftop solar customers and solar companies protest a new net metering rate they argue will permanently drive the industry from the state, Gov. Brian Sandoval on Friday touted the work of his energy office.
In a lengthy news release, Sandoval announced that his energy office has provided more than $467 million in incentives, grants, and loans to help develop the solar industry in Nevada. The funds have benefited small- and large-scale projects and provided more than 2,900 verifiable permanent and construction jobs, Sandoval said in the release.
It is part of an effort to meet and exceed Nevada's Renewable Portfolio Standard, which mandates that 25 percent of the state's energy production come from green energy by 2025, he said.
Through 2014, 18 percent of Nevada's renewable generation was from solar energy.
But some critics question whether solar production will continue to grow, given the new net metering rate that took effect for rooftop solar customers Jan. 1.
Major rooftop solar companies Sunrun and SolarCity have left Nevada, citing the new rate that they argue will make rooftop solar unaffordable for Nevada residents. SolarCity said its departure meant the loss of 550 jobs in Nevada. Another rooftop solar company, Henderson-based, family owned Premier Solar Solutions, announced Thursday that it was forced to eliminate 66 full-time positions because of the new net metering rates.
The state Public Utilities Commission, which approved the new net metering rates in December, is addressing the issue.
Commissioner David Noble has issued a draft order asking the full commission grant a hearing into the question of whether existing rooftop solar customers should be grandfathered in under the original, more favorable net metering rates. The proposal will be considered by the commission Monday. Requests to reconsider the new tariff because of the alleged effects on the rooftop solar industry are awaiting action by the commission.
Sandoval said in the release that since 2009, the office's renewable energy tax abatement program has attracted $4.3 billion in capital improvements, payroll and taxes paid, representing a 10-to-1 return on Nevada's investment of $459 million in incentives.
Most recently, the governor's energy office approved a tax abatement for SunPower Corp. to begin construction of a 100 megawatt solar power plant near Boulder City. SunPower received a three-year sales and use tax incentive and 20-year property tax incentive as part of the program.
"Boulder Solar is another example of a project attracted by the streamlined permitting in Nevada and enhanced incentives" offered through the energy office, Sandoval said. "We have proven to solar energy developers that Nevada means business."
Contact Sean Whaley at swhaley@reviewjournal.com or 775-687-3900. Find him on Twitter: @seanw801