Solar industry trying to get around legislative process, Farley says
August 4, 2015 - 11:49 am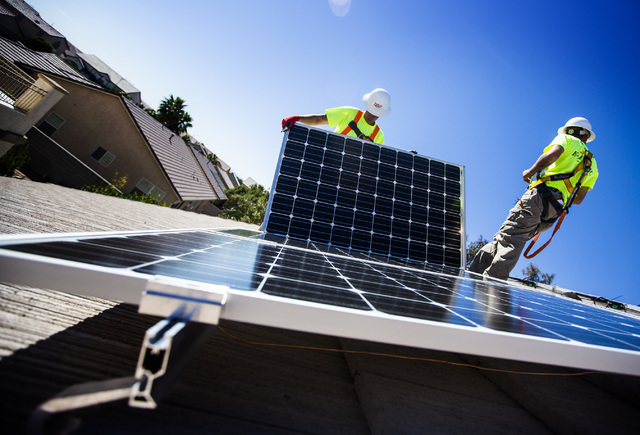 CARSON CITY — A state lawmaker involved in the drafting of a bill directing state regulators to adopt a new rate class for rooftop solar customers said solar industry officials are trying to circumvent legislative intent by asking that an existing net metering policy be maintained until the new tariff is established.
Sen. Patricia Farley, R-Las Vegas, said The Alliance for Solar Choice agreed to the language in Senate Bill 374 directing the Nevada Public Utilities Commission to develop the new rate plan, including a "bright-line" limit of 235 megawatts of net metering under the existing policy.
That limit is expected to be reached by Sept. 1, and solar industry officials have petitioned the PUC to extend the current policy until a new net metering rate is set. The PUC is expected to make a decision on the emergency petition this month.
But Farley said the request to extend the current policy was not the intent of the Legislature, which rejected a similar amendment during the session offered by rooftop solar officials.
"I strongly urge the PUCN to hold TASC to their word and not allow them to circumvent the legislative process by bringing you the very same request that was rejected by the Legislature and the entire group of stakeholders who gave countless hours to this compromise," she wrote in a letter to commissioners.
NV Energy has submitted a lengthy filing proposing a new rate class for rooftop solar customers to the PUC, asking that it be adopted by Sept. 15. The Legislature gave the PUC until Dec. 31 to adopt the new policy, but there is a concern that the rooftop industry would grind to a halt if the current cap was reached without a new policy in place.
Kevin Geraghty, vice president of generation for NV Energy, said Friday the new rate structure will create "a long-term sustainable future" for the rooftop solar industry.
The new net metering rate would provide a credit of 5.5 cents per kilowatt hour to residential rooftop solar generators instead of the current 11.6 cents.
But the utility, operating as Nevada Power in Southern Nevada, also acknowledged that the new tariff for rooftop solar customers might end up costing them more for power than other rate payers when the cost of the solar installation is factored into the equation.
A rooftop solar official on Monday called the proposed rate structure "the most extreme anti-solar proposal anywhere in the country." Bryan Miller, vice president of public policy and power markets for the rooftop solar company Sunrun Inc., said the proposal would end the rooftop solar industry in Nevada along with its 6,000 jobs.
The NV Energy rate proposal is a separate filing from the rooftop solar petition. A pre-hearing conference on the rate filing is planned for Aug. 19.
Contact Sean Whaley at swhaley@reviewjournal.com or 775-687-3900. Find him on Twitter: @seanw801.