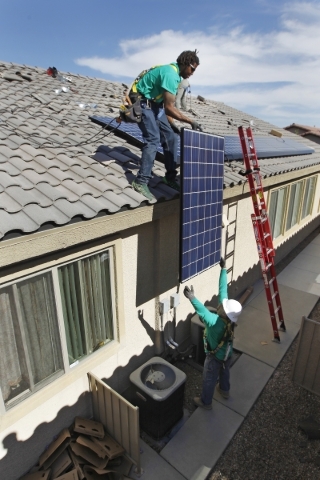 CARSON CITY — The rooftop solar firm SolarCity has received a second $400,000 grant in support of its Las Vegas-based financial services business from the governor's economic development office. The Catalyst Fund grant — the second of up to three — was awarded earlier this week.
The company, which has stopped sales and installations in Nevada as a result of the new net metering rates adopted by the Nevada Public Utilities Commission, was eligible to receive $800 per primary job, up to $400,000, provided that at least 250 to 500 primary jobs, paying an average wage of $19.73 per hour, were created in their financial services division from July 1, 2014, through June 30 last year.
During the second period, Solar City created 1,219 primary jobs paying an average wage of $20.64 per hour, or more than 1,500 cumulative jobs since April 2014.
SolarCity's contract with the state for incentives is based on jobs that have been created as a result of the company moving its national service center to Las Vegas and has nothing to do with the 550 layoffs that have been announced related to its installation division.
Conservative think tank Nevada Policy Research Institute has challenged the constitutionality of the Catalyst Fund based on the SolarCity grants. The case is awaiting a decision from the Nevada Supreme Court.
"The Catalyst Fund is an economic development tool to provide a performance-based incentive for the creation of high-paying, long-term jobs," said Steve Hill, director of economic development office. "It is exciting to see that the company has been able to exceed job creation expectations by 145 percent, and we look forward to seeing the company continue to expand this division in Nevada through Period 3 of their contract requirements."
The final $400,000 grant period ends June 30.
Contact Sean Whaley at swhaley@reviewjournal.com or 775-461-3820. Find him on Twitter: @seanw801