Southwest Gas wants to raise Nevada rates to pay for homes, massages
Updated October 4, 2018 - 7:59 pm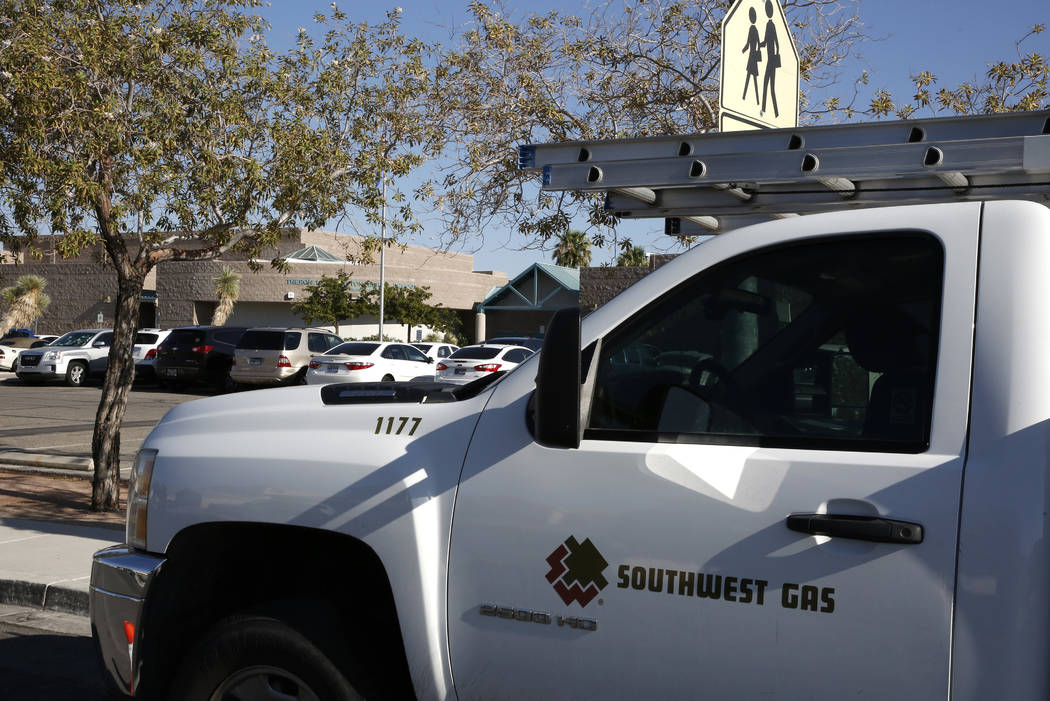 A utility company wants Nevadans to foot the bill for costs associated with houses for its employees, "frivolous" charges for consultants and even employee massages, a state review found.
In May, Southwest Gas applied to the Public Utilities Commission to increase its retail natural gas services. As part of that process, the PUC reviews a plethora of charges submitted by the company to justify the need to increase rates for each customer by $2 to $3 per month.
The review of Southwest Gas' charges, which was filed Wednesday, calls into question many of the expenditures and recommends that the PUC not allow many expenditures to be included in setting new utility rates.
"It became very clear during the course of my investigation that SWG does not prudently manage its contracts or expenditures and does not properly document the justification of its actions," Adam Danise, an electrical engineer with the Public Utilities Commission, wrote in 42 pages of written testimony that detailed, down the the penny, the purchases and charges he deemed inappropriate.
Those charges included $1,645 of vouchers for regular 10-minute chair massages in August and September 2015; multiple charges for lunch and dinner meetings, including one for $800 at Brio in Las Vegas; bartender costs; membership at a golf club in Las Vegas; and $90,000 for a backhoe, which Danise described as "the most egregious" because Southwest Gas had previously agreed to remove it as part of a safety violation.
Southwest Gas also submitted $7,568.39 in charges for a Casio digital piano, a Yamaha home theater system, a grill and multiple Bose wireless speakers and JBL Bluetooth headphones, as well as $41,000 for non-travel meals and $3,000 for non-travel entertainment.
The company would pass on all of those costs to customers if the PUC approved them.
"I find it troublesome that, based on the documents provided, SWG never questioned any charges, never questioned the booking of those costs as project costs for ratepayer recovery," Danise wrote.
Danise also criticized the company for a lack of preparation in the review. He said he gave Southwest Gas more than 20 business days to round up documents he wanted to review, but when he showed up "not one single document had been gathered."
"It is very troubling that SWG did not have the documentation readily available during my on-site audit, which suggests to me that SWG either is very haphazard with how regulatory audits should operate, has inadequate internal processes and documentation, or it was intentionally making the process difficult to frustrate the investigation."
Danise added that it appeared the company "was not expecting that the $600 plus million in capital costs it is requesting be placed into rates would be vetted/examined in detail."
When asked about Danise's findings in the review, Southwest Gas spokeswoman Amy Washburn said it would "file rebuttal testimony with the Nevada Public Utilities Commission later this month."
Consultant problems
The audit also criticized Southwest Gas' use of consultants for several capital projects, citing throughout the report "excessive consultant expenses" tied to their overall pay, travel, lodging and meals.
One consultant, for example, was paid $130 per hour, received a $165 per diem and was flown back and forth from Las Vegas to his home in Washington each weekend. Danise said Southwest Gas gave no justification for those charges.
Danise also pointed to the consultants' use of rental cars included in the rate base application. Those included $135.58 to rent a Dodge Charger that was driven 10 miles, along with a Volvo S60 that was rented for three days at the cost of $184.72 but driven a single mile. Danise questioned why less expensive alternatives like a taxi were not used.
Homes for employees
Another item submitted into the rate base that caught Danise's eye was $307,000 to buy a house in Winnemucca for the company's Winnemucca district manager.
According to Danise's testimony, Southwest Gas said it needed to buy the existing district manager's house when he took a new position in the company. It also said it kept the house when the new district manager couldn't find "suitable housing."
The company doesn't charge the new manager rent, according to the audit, but it includes the cost as additional income in the employee's pay. It also rents out two apartments in Las Vegas for a total of $2,350 to temporarily house new hires, according to the audit.
But the auditor also found that Southwest Gas pays for the home for the district manager in Incline Village. That house was bought by the company in 2004 for more than $750,000. As it does with the Winnemucca house, it includes the costs as additional income for the Lake Tahoe district manager.
"If SWG wants to offer free housing for its employees as part of its compensation plan, its shareholders should pay for those costs, not ratepayers," Danise wrote.
The PUC will hold a hearing on Southwest Gas' rate increase application Oct. 22, and it will make a decision on the application by Dec. 25.
Contact Colton Lochhead at clochhead@reviewjournal.com. Follow @ColtonLochhead on Twitter.