'Sticker shock': NV Energy customers react to bills from record-hot July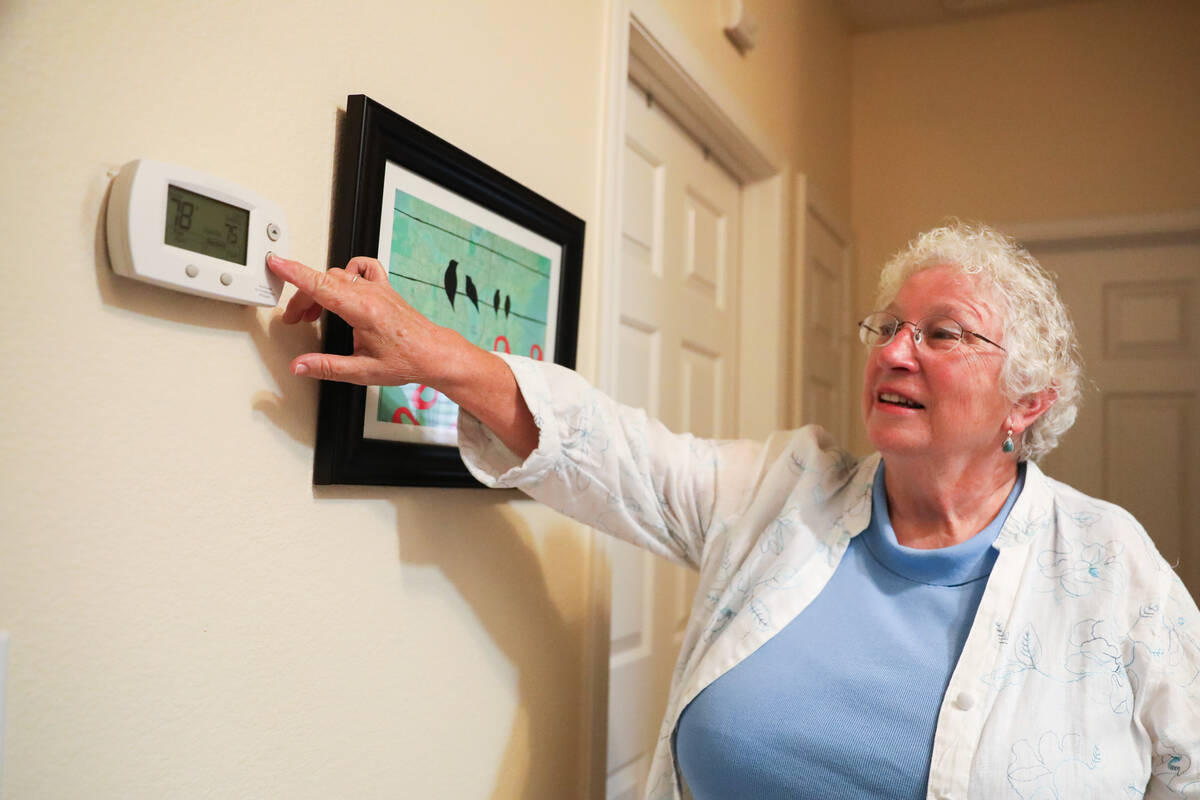 Henderson retiree Pamela Williams was shocked when she opened her July electric bill.
Through she was bracing for a higher than normal bill, she never thought it would be nearly 82 percent higher than the one she received for July 2022, said Williams, who lives in and is on the board of directors of the 55-plus Sun City Anthem community.
"A lot of people when they got their bill, it was kind of like sticker shock," said Williams, who received a $178 power bill for her 1,500-square-foot home. "They were expecting some increase, but nothing like what I think people are seeing."
July was one of the hottest months on record in Las Vegas, with intense temperatures pushing air conditioning units to the brink and causing electric bills to soar for many NV Energy customers.
Last month set the record for being the hottest July on record in Las Vegas when the average temperature was 97.3 degrees. Topping it off, a two-week stretch during the month was the hottest-ever recorded for Las Vegas when the average temperature was 100.7 degrees.
Big demand for power
The prolonged intense heat also was evident in the demand for power. NV Energy's peak demand for the month was 8,135 megawatts — that's roughly 3 percent higher than July 2022's peak demand of 7,889 megawatts, said Ryan Atkins, vice president of resource optimization at NV Energy.
According to the state's largest utility, July 21 was its six-highest day for demand ever. On that day, the National Weather Service said the day's high in Las Vegas climbed to 113 degrees and the low was 90 degrees.
July also brought multiple all-time Top-10 usage days for NV Energy's system. Atkins said the utility recorded its seventh, eighth and 10th highest demand days in NV Energy's history last month.
"Those are all-time records, not just July records," Atkins said. "It just really shows you, it was hot and the demand in Nevada reflected that."
Increased demand and higher energy costs are what caused some Las Vegas-area residents to see higher bills, NV Energy said. The utility had to buy over 30 percent of its energy from the open energy market and the cost of energy on this market increased by about 10 – 15 percent compared to last year, Atkins said.
NV Energy also raised its quarterly rates for the last half of 2022 and the first half of 2023, before implementing some slight decreases that started in July and will continue in the fall months.
The utility estimates the average bill for July was $376 for single-family homes and $188 for apartments, both which were higher than the estimates that NV Energy shared with the Las Vegas Review-Journal in May which were $304 for single-family and $180 for apartments.
High bills, high temperatures
Although NV Energy implemented some slight decreases for July, the high temperatures boosted overall consumption of energy and bills were high for customers like Jess Stuart, a day care worker who lives in a three-bedroom house in Henderson with a roommate. Her bill was for $273 in July. Her highest bills to date before that were in the $150 range, she said.
When Stuart saw their projected bill was set to be well over $200, she decided to take some steps to help lower it like turning up the thermostat a few degrees, using more fans and sometimes turning off the air conditioning all together when they were going to be away. She said the measures only saved a few bucks.
And turning up the thermostat isn't a solution for everyone.
Chase Michaelson, who lives in a four-bedroom house in Southwest Las Vegas with three roommates and a dog, said the house needs to stay around 72 degrees because of the dog. This coupled with a crack in the front window of the rental home led to an $850 electric bill in July.
"We're in a position in our house, where there are four incomes and no kids, no extenuating medical situations or anything like that, we can pay it but it sucks," Michaelson, who works at an area sportsbook, said. "It's kind of getting to the outer limit of what's reasonable for anybody to pay for pretty standard usage."
The crack has now been fixed and Michaelson said he enrolled in NV Energy's Equal Pay program that allows an account to be billed at the same rate each month, which is based on 12 months of usage.
Other residents have taken bigger steps to avoid higher bills, including retired Summerlin resident Kaye Bence — whose July bill was $325 and about 62 percent higher than last year — who decided along with her husband to invest in solar panels for their home. The installation cost $5,000.
"We went ahead and bit the bullet and got solar panels," Bence said. "We want to be comfortable, both be comfortable for the time that we're in this home and for resale value."
Cooler days ahead
So far, August has seen much milder temperatures than July, with Tropical Storm Hilary bringing in lower than normal temperatures as well. This could mean slightly lower electric bills for August, NV Energy said.
Even with a dip in temperatures, Williams hopes that energy bills can lower to a more reasonable rate in the future since other bills and expenses such as taking out non-functional grass to comply with water usage regulations have caused seniors in her community to tighten their budgets and do without some essentials.
"Utility usage is a necessity of life and people shouldn't have to choose between refilling a prescription or paying their bill," William said. "That's just crazy."
Contact Sean Hemmersmeier at shemmersmeier@reviewjournal.com. Follow @seanhemmers34 on X.