Tesla asks new rooftop-solar rates be reconsidered
February 10, 2016 - 11:55 am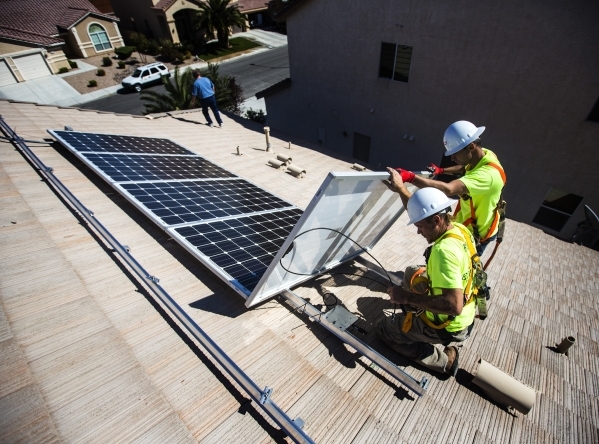 CARSON CITY — Electric car manufacturer Tesla has weighed in on the net metering debate before the Nevada Public Utilities Commission, asking state regulators to reconsider new rooftop-solar rates that took effect Jan. 1.
In a letter dated Tuesday, Diarmuid O'Connell, vice president of business development for Tesla Motors Inc., expressed particular concern about a new, higher monthly fixed charge being assessed against rooftop solar customers of NV Energy.
The new fixed monthly rates for Nevada Power net metering customers in Southern Nevada increased to $17.90 on Jan. 1 from $12.75, and will continue to increase in steps to $38.51 by Jan. 1, 2020.
"This change to a higher fixed charge provides no incentive for customers to alter their energy consumption behavior to support the grid and lower overall costs, yet new distributed energy technologies such as energy storage and electric vehicles, amongst others, are making it easier than ever for customers to be active grid participants responding to price signals built into their rates," O'Connell said.
The PUC is expected to decide Friday whether to reconsider its new net metering rates for rooftop solar customers. It is also expected to decide whether to grandfather existing customers in under the former, more favorable rates for 20 years.
Tesla CEO Elon Musk wants to see his battery technology put to use in homes in conjunction with rooftop solar. SolarCity was founded by Musk's cousins, Lyndon and Peter Rive. Musk is SolarCity's chairman and largest shareholder. Tesla is now building its large battery plant east of Reno as part of an effort to make a less expensive electric car for consumers.
SolarCity has been fighting to get the PUC to reconsider the new rates since they were adopted in December. The company also stopped sales and installations in Nevada because of the new rates, saying 550 jobs were lost as a result.
While focusing on the fixed charge, O'Connell also said that the PUC should consider distributed energy resources as part of an integrated grid and assess how customers can be encouraged to install rooftop solar "in support of a modern, resilient, and cost-effective grid."
The letter recommends that state policymakers take a more holistic approach to the issue of net metering.
Contact Sean Whaley at swhaley@reviewjournal.com or 775-461-3820. Find on Twitter: @seanw801