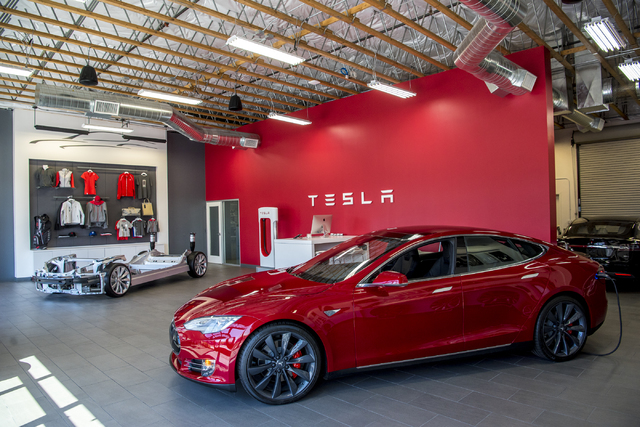 CARSON CITY — Tesla has made an offer to acquire the rooftop solar company SolarCity.
In a blog announcement, the electric car company said: "If completed, we believe that a combination of Tesla and SolarCity would provide significant benefits to our shareholders, customers and employees."
The proposal will only move forward with a positive vote of shareholders in both companies.
Elon Musk, CEO of Tesla, said the acquisition would create the world's only vertically integrated energy company offering end-to-end clean energy products to our customers.
In a brief telephonic conference to announce the proposed development, Musk said the acquisition would allow Tesla to "have a highly integrated sustainable energy company that answers the whole sustainability energy question from generation of power to storage to transport.
"This is something that we've been thinking about and debated for many years," he said. "But the timing seemed right at this point because Tesla is wrapping up its activities with Powerwall and Powerpack with energy storage."
The powerwall products are storage batteries for home and business use.
"This would start with the car that you drive and the energy that you use to charge it, and would extend to how everything else in your home or business is powered," the blog announcement said. "With your Model S, Model X, or Model 3, your solar panel system, and your Powerwall all in place, you would be able to deploy and consume energy in the most efficient and sustainable way possible, lowering your costs and minimizing your dependence on fossil fuels and the grid."
During the telephone call-in, Musk said the value of the deal would be between $2.5 billion and $3 billion.
The all-stock bid announced Tuesday values SolarCity Corp. at $26.50 to $28.50 per share, depending on a review of the company's books.
SolarCity's stock surged $3.31, or 16 percent, to $24.50 in after-hours trading following the announcement of the deal.
Tesla's shares sank $24.86, or 11 percent, to $194.75, signaling that many investors don't like the idea of the company relinquishing 8 percent to 9 percent of its current market value of $32 billion to expand into the solar energy industry.
Both of the companies, located about 17 miles apart in Silicon Valley, are burning through cash as they try to expand in still relatively small markets. Tesla has lost $1.2 billion in the past two years alone while SolarCity has suffered losses exceeding $1.1 billion during the same span.
Yet both have fared well in the stock market, particularly Tesla. That's largely because its CEO, Elon Musk, has been widely viewed as a visionary since he co-founded online payment service PayPal.
Musk said the deal would not affect the roll out of Tesla's Model 3, he said. The company still plans to start production of the Model 3 in July 2017, Musk said. It will not affect the construction of the gigafactory either, he said.
During a visit to the gigafactory east of Reno earlier this year, Tesla officials said they plan to install rooftop solar on the 800,000-square-foot section of the factory now under construction.
Tesla's planned $5 billion, 10 million-square-foot gigafactory, a joint project of the electric vehicle maker and the Panasonic Corp., will produce batteries for the moderately priced vehicle, the Model 3, expected to be in the price range of $35,000 when it becomes available next year.
"Culturally, this is a great fit," the Tesla blog post said of the proposed SolarCity acquisition. "Both companies are driven by a mission of sustainability, innovation, and overcoming any challenges that stand in the way of progress."
The Tuesday offer to acquire SolarCity is only the first step toward a successful combination of Tesla and SolarCity, the blog post said.
"We will provide a further update if and when an agreement is reached," the blog post said.
SolarCity was founded by Musk's cousins, Lyndon and Peter Rive. Musk is SolarCity's chairman and largest shareholder.
"Our proposal is subject to the satisfactory completion of due diligence, the negotiation of mutually agreeable definitive transaction documents, and final approval by the Tesla board," the company said. "While a transaction would be further subject to customary and usual closing conditions, we believe that Tesla is well positioned to negotiate and complete the transaction in an expedited manner. We do not anticipate significant regulatory or other obstacles in consummating a mutually beneficial transaction promptly."
SolarCity had a major presence in Nevada's booming rooftop solar industry until a new rate structure for residential customers adopted by state regulators earlier this year brought the industry to a standstill.
The Associated Press contributed to this report. Contact Sean Whaley at swhaley@reviewjournal.com or 775-461-3820. Find him on Twitter: @seanw801
RELATED:
Tesla asks new rooftop-solar rates be reconsidered
SolarCity receives $400,000 grant
Lawmakers tour Tesla's secretive battery factory