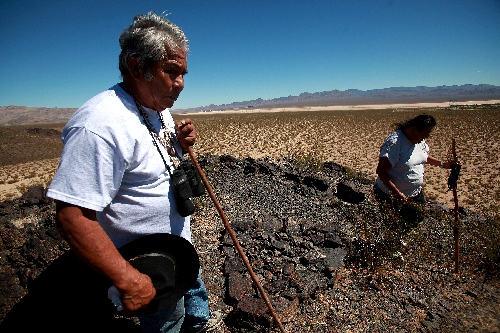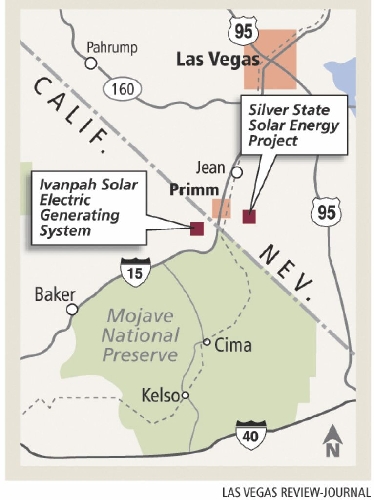 IVANPAH VALLEY, Calif.– They trudged through soft sand and used walking sticks for balance as they ascended a ridge crowned with black boulders and triangular-shaped piles of rust-colored rocks.
Phillip Smith, a Chemehuevi who's an elder in the Colorado River Indian Tribe, and the Rev. Ron Van Fleet of the Fort Mohave Indian Tribe, call this a sacred place. Their ancestors have come to these "altars" for centuries to worship the divine and admire the Mojave Desert.
On Tuesday, they came to the sacred site to join about 20 protesters who want to protect a 5.6-square-mile stretch of desert below the ridge.
That's where BrightSource Energy expects to break ground next month on what will be the world's largest system of mirrors, or heliostats. The system will focus the sun's energy on three solar towers to create heat to drive turbines to generate electricity for Southern California.
Smith said the project threatens the tribes' heritage and the habitat shared by federally protected desert tortoises, bighorn sheep, mountain lions, hawks, snakes, and many sensitive and medicinal plants.
"They're getting squeezed out. We're their protectors," said Smith, 73, in a soft, deliberate voice.
Van Fleet added, "Ants, rats, turtles, nobody speaks for them."
Smith wore a black hat with a shiny, abalone shell resting on its brim. Another shell dangled from a string of beads worn around his neck.
The creature that lived in the abalone shell "lived in that for protection," he said. "And the turtle lives in his shell for protection."
He said what the company's project will do is destroy their homes to profit from the sun's cheap power.
"It's fast money. It's all fast money," said Smith, of Needles, Calif.
"There's hawks, there's snakes. They live here. We live here," he said. "You've got to remember there was no L.A. There was no Las Vegas. Where do you think we lived?"
BrightSource Energy spokesman Keely Wachs defended the project, saying the system with a capacity of nearly 400 megawatts will generate enough electricity to power more than 140,000 homes and reduce carbon dioxide emissions by 400,000 tons per year.
In a telephone interview, he noted that the project underwent three years of review by the California Energy Commission and the Bureau of Land Management.
"This is the first I'm hearing of any American Indian concerns," Wachs said. "We actually share their passion for the desert and we think the approach we're taking is the right approach from an environmental perspective."
Surveys of the project area turned up only 17 desert tortoises. They will be captured and relocated to protected areas west and north of the site.
Natural vegetation, Wachs said, will be trimmed to 18 inches and allowed to grow under the mirror field.
The system, he said, will be a "dry-cooled" operation, meaning it will use less than 100 acre-feet of water per year, about as much used by 300 homes annually.
The project has been fast-tracked and has been granted a loan guarantee from the Department of Energy for nearly $1.4 billion.
Across the Nevada border east of Primm and in view of the ridge, another company, NextLight Renewable Power, plans to build the Silver State Solar Energy Project. The BLM's Las Vegas Field Office released a final environmental impact statement for the Silver State project this month.
It will be the second utility-scale solar project in or near the valley known as Ivanpah, which Smith said means "clean water, good water, or pure water" in the Chemehuevi language.
At Camp Ivanpah, protest organizer Chris Clarke said the Mojave Desert is "going the same way as the ancient California redwood forest. This is the ancient desert and shouldn't be ruined for 30 to 40 years of solar power."
Southern Nevada environmentalist John Hiatt, who visited the BrightSource project area Tuesday, said there are better areas to build solar farms, such as places that are already disturbed or contain less sensitive habitat.
"Solar energy is really necessary in the future but it doesn't make any sense if we're trying to save the environment and we destroy the best parts of it," Hiatt said.
Contact reporter Keith Rogers at krogers@reviewjournal.com or 702-383-0308.